One of the best solutions for keeping your digital camera sensor clean! This sensor gel stick will work on any interchangeable lens digital camera – from a compact mirrorless to a full-frame DSLR. All you have to do is set the camera to "Mirror Lock-Up" mode (with the battery fully charged) and once the sensor is exposed, gently "walk" the whole sensor with the gelled side of the stick. After a single pass, use the adhesive paper (included inside the metal case) to remove the dust from the gel. Simply expose the sticky side of the paper, set it on a firm surface, then hold it with your fingers, while firmly pressing the gel on top of the adhesive surface. The gel should stick, but it will be easy to remove. Once cleaned, the gel can be reused over and over again (see maintenance tips below). Repeat this process as many times as necessary to clean your sensor. Once done, turn off the camera, mount your lens, set it to the smallest aperture like f/32, then take a picture of a white surface. When you analyze the image, there should be no spots left.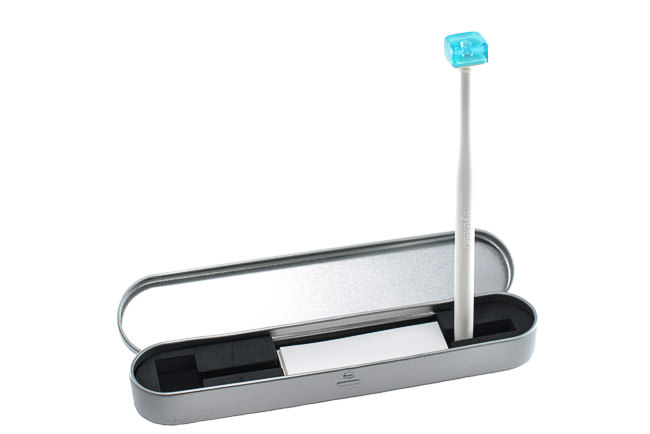 WARNING: You might find a similar looking item on Amazon from sellers in China. Please do NOT buy those – we have received some horror stories from people who had their AA filters ripped out from their cameras, thanks to using a fake Chinese version of this product. We are the only distributor of the Sensor Gel Stick in the USA and our product is proudly made in Germany!
This particular product is used professionally by many service centers, including a number of rental companies in the USA.
For information on how to use the sensor gel stick, please see this article.
Disclaimer: Photography Life is NOT responsible for any potential damage or other sensor-related issues on your camera. While the above product and methodology are much safer than applying wet cleaning or other solutions directly on the sensor, improper handling could result in damage.
Includes: 10 sticky papers, product manual and aluminum box.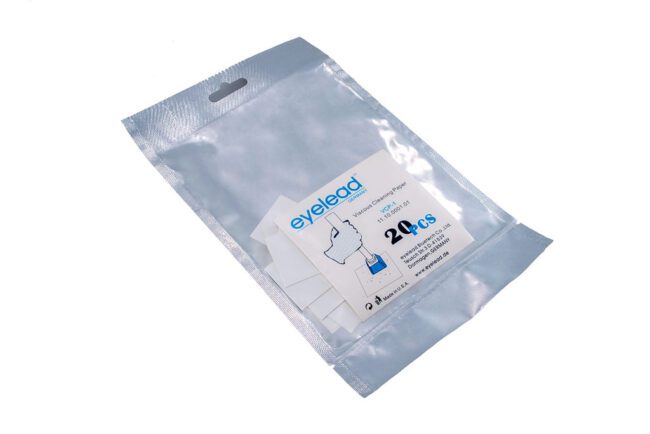 Operating Environment: Please do not use the sensor gel stick in very hot and humid environments. If the gel stick is not as "sticky", it probably has to do with humidity. While the sensor gel stick should operate normally in cold temperatures, we do not recommend to use it under 40F. Room temperature (around 70F) is ideal for best performance.
Application: Different manufacturers apply different coating technologies on the filter in front of the sensor. These coatings can affect the stickiness of the sensor gel stick – in some cases it will be less or more sticky than in others. Because of this, we do not recommend to use the same sensor gel stick to clean different cameras, especially from different manufacturers. Please read the product advisory section below regarding the use of the product on Sony mirrorless cameras.
Supported Cameras: The latest version of the Sensor Gel Stick is known to work with all other brand digital interchangeable lens cameras, including: Nikon, Canon, Sony, Leica, Fujifilm, Pentax/Ricoh, Olympus, Panasonic and Samsung. Some of our customers also reported successful use with medium format cameras from Hasselblad, Mamiya and Phase One.
Sony A7 II-IV, A7R II-IV, A7S II-III and A9 I-II advisory: Please be extremely careful when using the product with the newer A7 and A9-series cameras with in-body image stabilization – the sensor will move during cleaning. Instead of picking the Sensor Gel Stick straight up, we recommend to detach it gently from the side and be attentive during the process of cleaning, so that the IBIS system does not get moved too much. We have tested the product on the A7 series with IBIS successfully, but one must perform the procedure with extreme care on such moving sensors. If the gel sticks a bit too much, please detach it slowly from the side instead of moving it straight up, as shown in the videos.
Maintenance: The beauty of the Sensor Gel Stick is that it can be used over and over again for years without having to re-purchase it. If you accidentally touch the tip of the sensor with your finger, if you accidentally drop it on the ground, or if the stickiness property disappears over time, all you have to do is wash it with clean tap water and air dry it! To avoid potential damage, we do not recommend to use any cleaning chemicals / solutions during this process. Just make sure to wash your hands with soap first to remove all the oil / grease, then put the gel part in running water and wash the surface with your fingers. Let it air dry for several hours until it is completely dry, then your sensor gel stick will be as good as new. If you end up with a lot of oil / grease on the gel and regular water does not clean it, some liquid dish detergents can be used in those situations as a last resort. For more details, see this article.
Return / Replacement Policy: The sensor gel stick can be returned for a full refund or exchange within 30 days of purchase. It must be returned in its original condition without any damage, including the aluminum case, manual and remaining sticky papers.
Note on International Orders: Shipping via USPS Internationally can take a long time – anywhere from 3-4 weeks to 5-6 weeks in some cases. Sometimes packages are held up by the country's local post office for customs clearing, which is a normal part of the process. If your order is not delivered within 4 weeks, please call your local postal office and see if they are holding it.
Reviews
The sensor gel stick has been reviewed and praised by many top photography sites and photographers. Below you will find a few links and YouTube videos from those that had a chance to test the sensor gel stick on their cameras:
Fstoppers Review
YouTube video from the above review:

NOTE: Please do not try to clean the mirror using the sensor gel stick as shown in the video – it can potentially dislocate the mirror and cause autofocus issues!
Where to Buy
We have moved all of the sales of the Sensor Gel Stick to Amazon. If you would like to purchase the product, please use the links below: