So I wasn't sure that I wanted to write about shooting this location (especially since my last post was about finding local subjects) but I've shot a few waterfalls around the world, and plenty at home in the UK, so I thought I might offer some small, meagre insights into capturing their spectacle. Even if the insights aren't useful to you it may stand alone as a fluff postcard piece. Niagara Falls, whose popularity is undoubtedly due in part to their easy accessibility, are not the most spectacular waterfalls I've ever seen. But I did spend a few hours here (on the Canadian side) looking for evermore interesting shots and, of course, in the changing light throughout the day.
This isn't going to be a tutorial on shooting waterfalls because that's been done before and better than I could do it. I'm simply sharing a few ideas from my compositions. And as much as I absolutely abhor talking about gear let's get it out of the way because it did make a contribution. These images were shot using a variety of lenses on my trusty (and now rusty) old Olympus E-M5 at focal lengths between 7.5mm (fisheye) and 210mm (15mm and 420mm equivalent FOV). Only the later images after sunset were shot on a tripod; everything else, including the slow shutter speeds behind an ND Grad filter, was achieved hand-held thanks to the image stabiliser and touchscreen.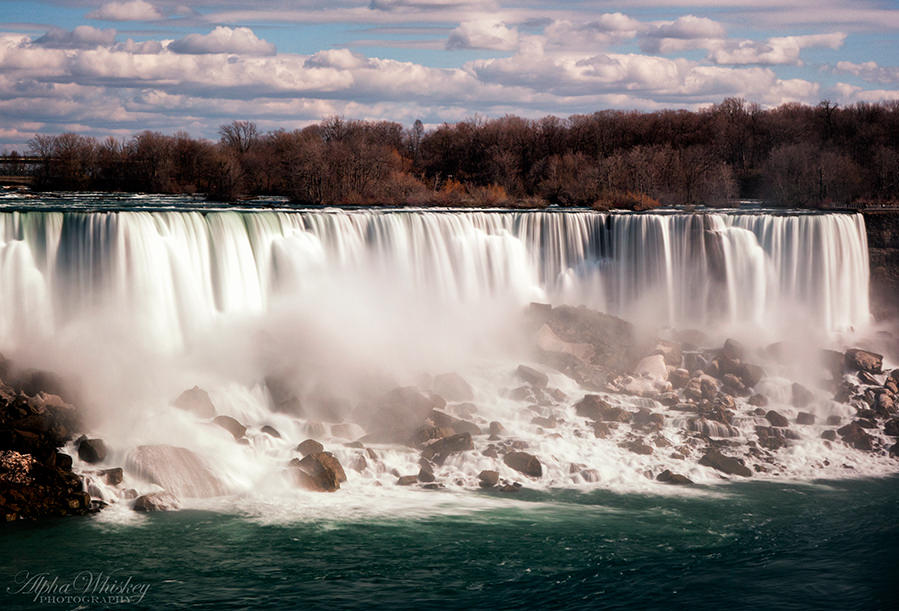 The sight of a large waterfall can be breath taking and I would encourage one to see it from a multitude of viewpoints whenever possible. The shots below were taken from a brisk helicopter ride above the falls and I got the rainbow shot I was hoping for. I have also taken boats into waterfalls before but the Hornblower service at Niagara was not in season so I couldn't add that to my list.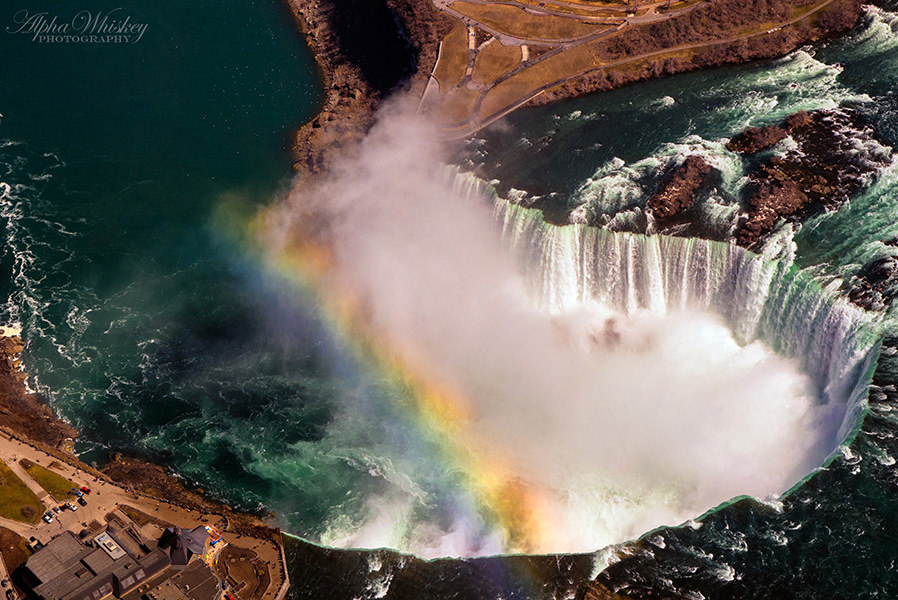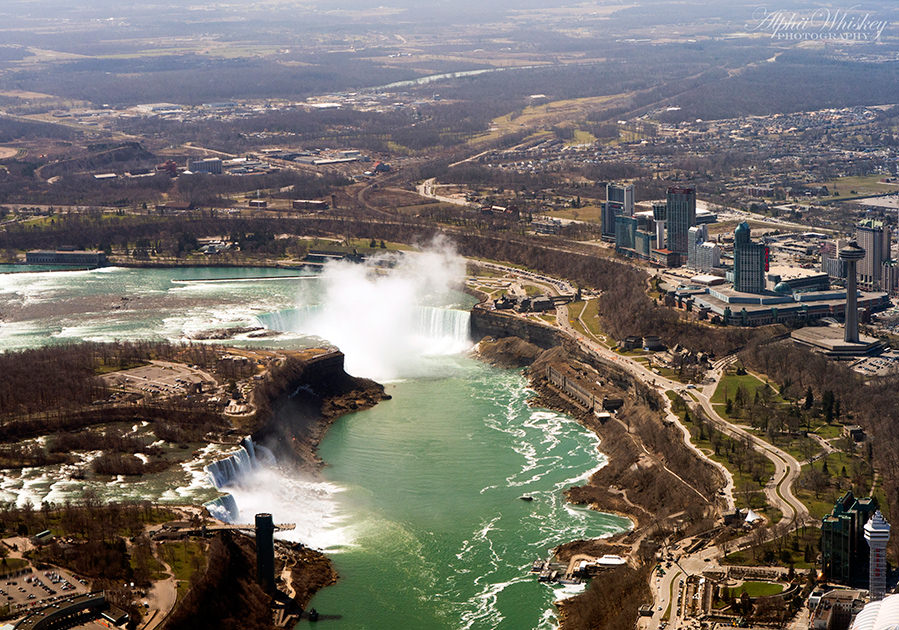 Overlooking the falls nearby is the Skylon Tower and I wouldn't spend much time up here fighting the wind but again, it will offer some different views. The second shot was taken with the fisheye lens, keeping the horizon centred to avoid distortion as much as possible.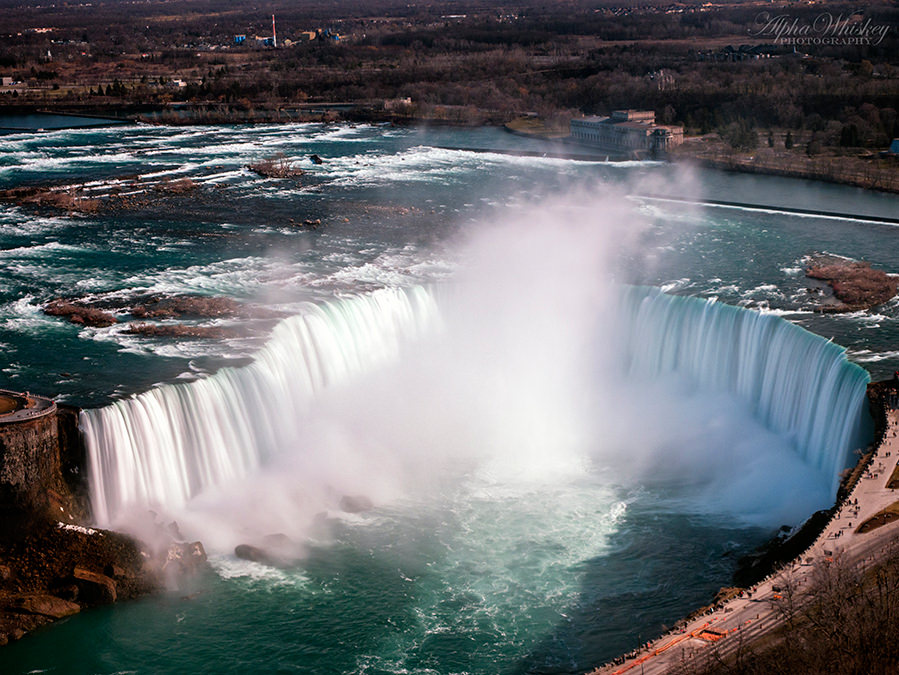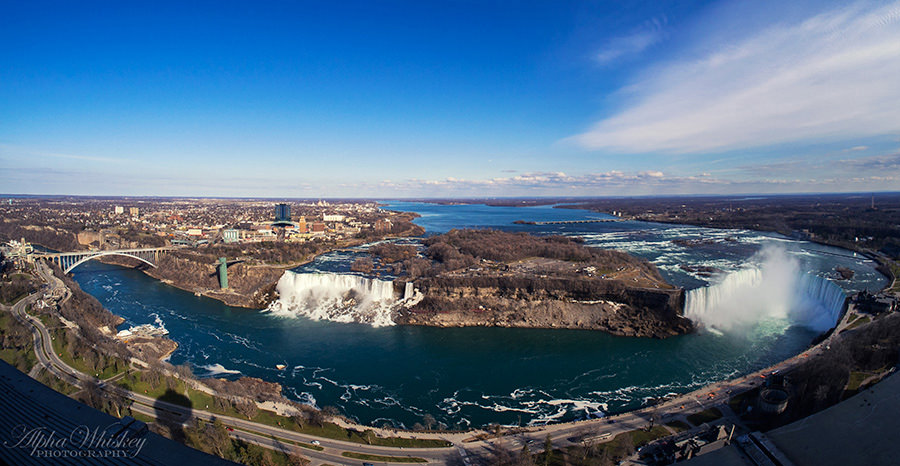 It's not all about the grand spectacle, though. Closing down your frame can capture the rush of the water, either at normal speed or slowed down.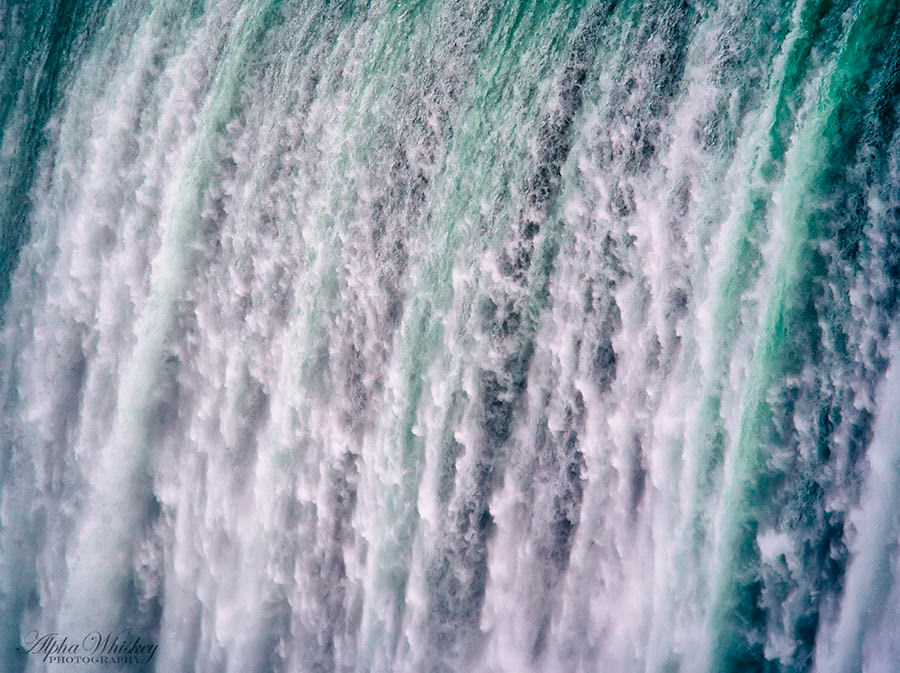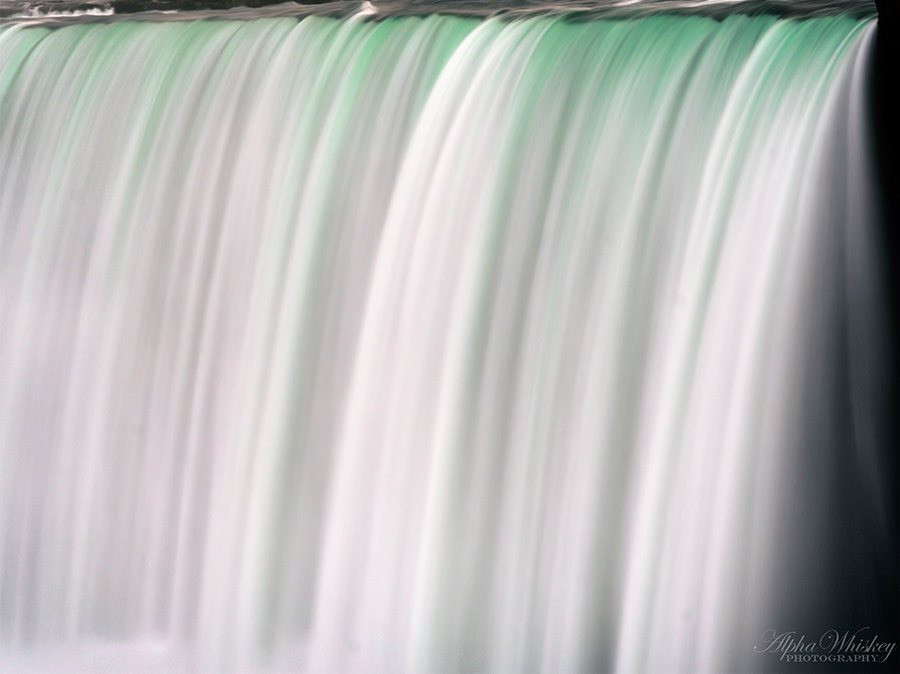 To further prove that you don't have to capture an entirety to demonstrate its might the shot below is my personal favourite of all the images I took at Niagara Falls. The bird flying across the American Falls offers not only scale but also hints at the danger and power of the water gushing towards it. Obviously, this could not be the typical slow shutter speed or the bird might not be in the image.
Following on from that point, as much as everyone loves to shoot waterfalls with slow shutter speeds to achieve the silky smooth water, shooting a section of it at normal speed/flow, especially next to a viewpoint or structure for scale, can better convey its magnitude and ferocity (at least I happen to think so).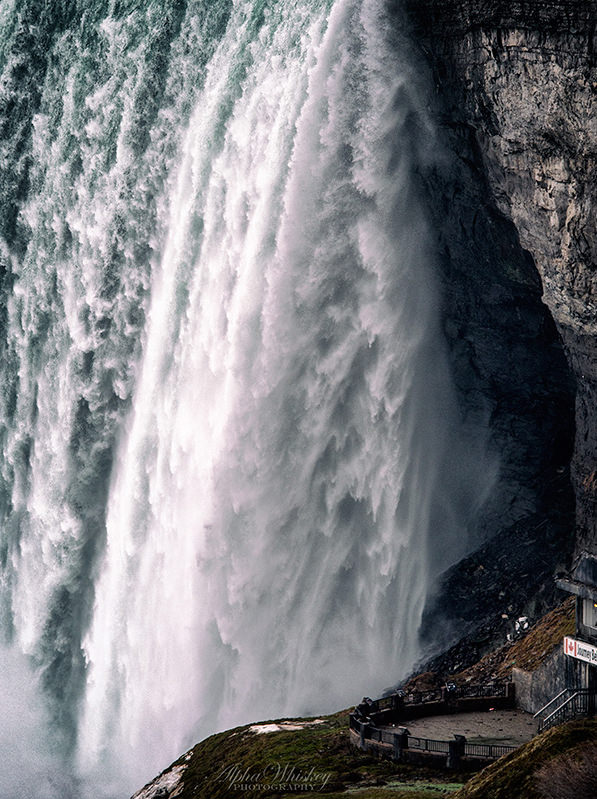 Sunlight (or any bright light) above will generate beautiful rainbows, of course, but if you really want to see these I think it's best to be at the waterfall earlier in the day when the sun is high. In winter months the window of sunlight is even smaller and by afternoon the sun here was too low so I didn't see that many. Again, feel free to zoom closer and make the rainbow colours the subject of your shot.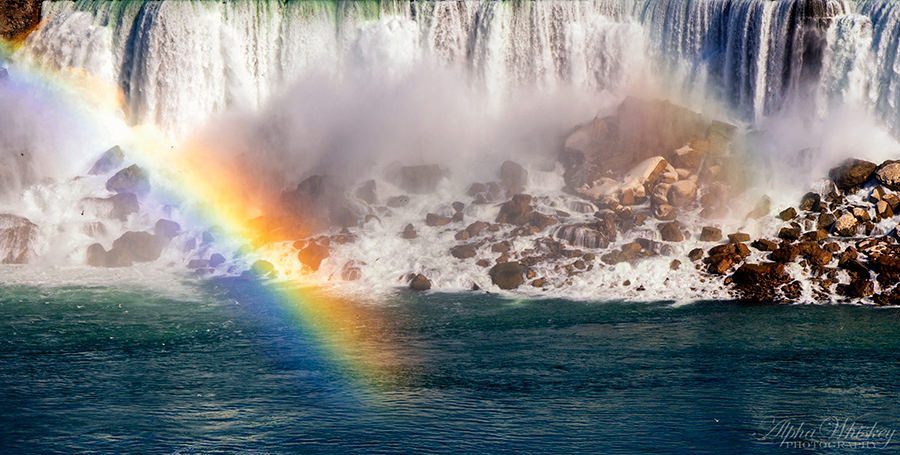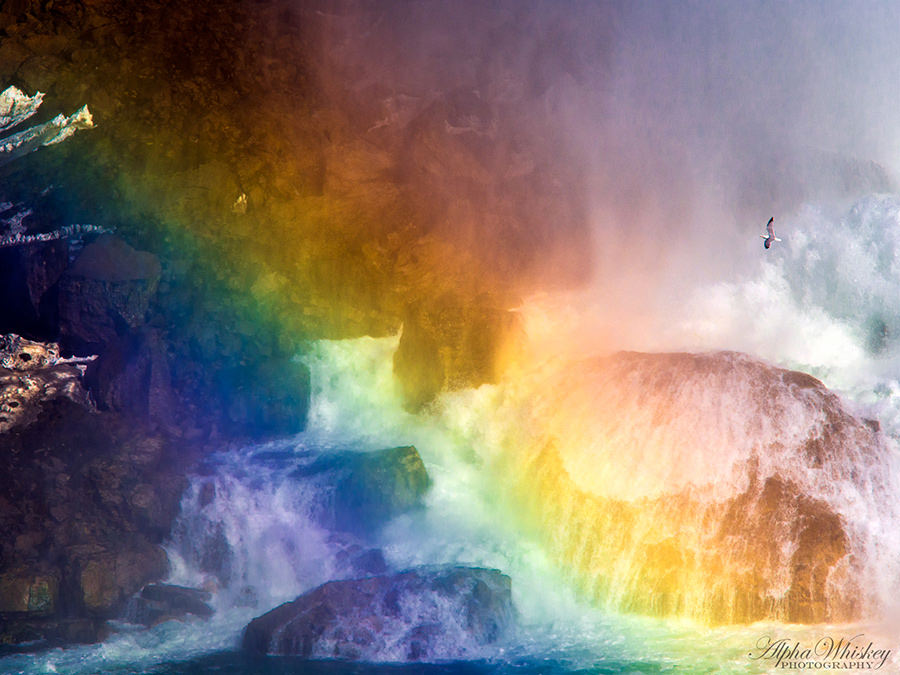 By evening the sunset takes more of your light away so it's even easier to achieve your slow shutter speeds without having to resort to filters. I did shoot the Horseshoe Falls in their entirety under the sunset but I wanted to present these tighter frames here to demonstrate that compositions don't always have to be the cliched wide angle shot. Sections convey just as much drama and interest.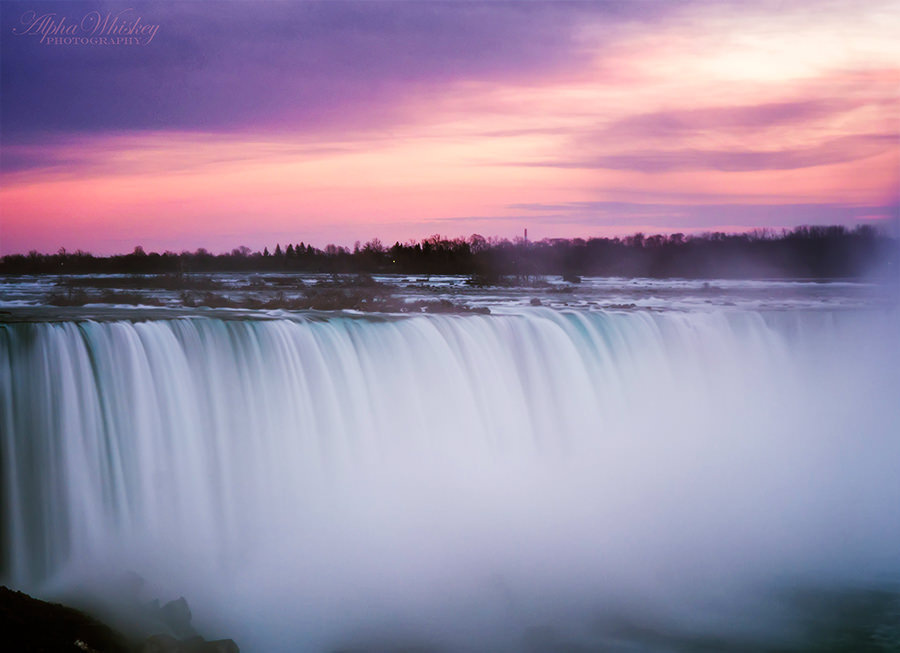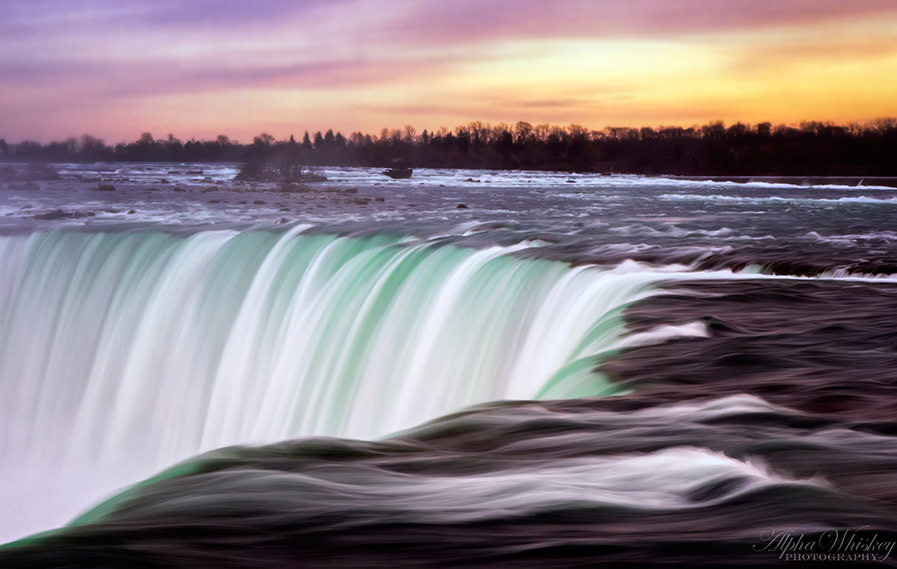 After dusk the falls are lit up in colours of the American and Canadian flags. Not necessarily a must but fun to see. As mentioned before projected bright lights can also generate rainbows.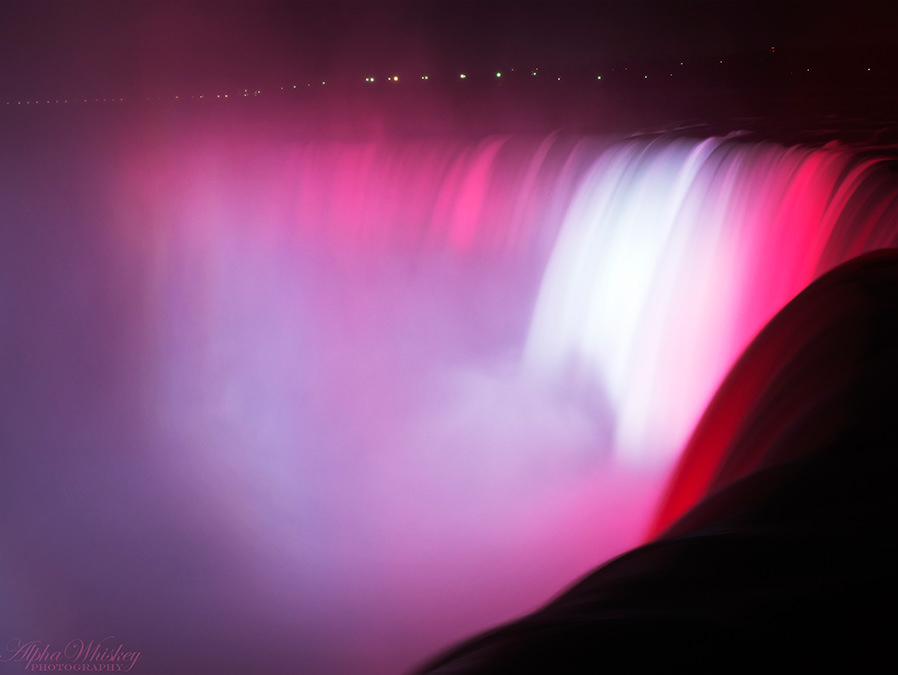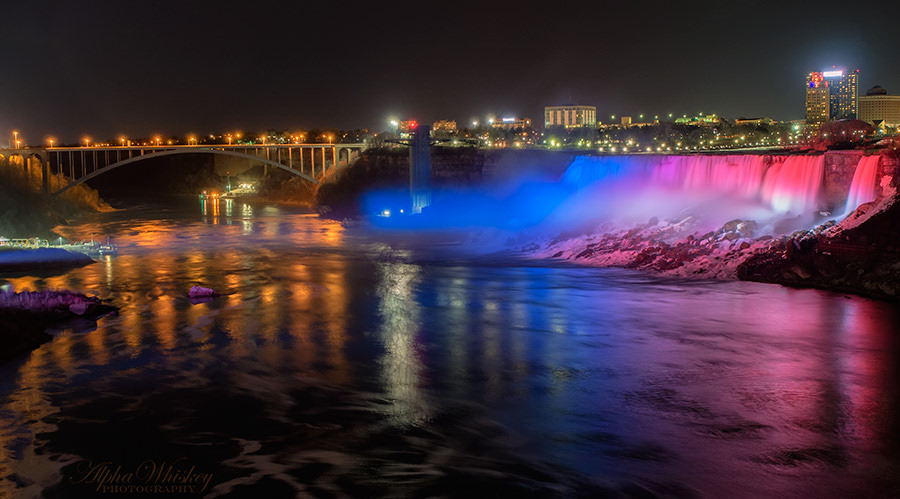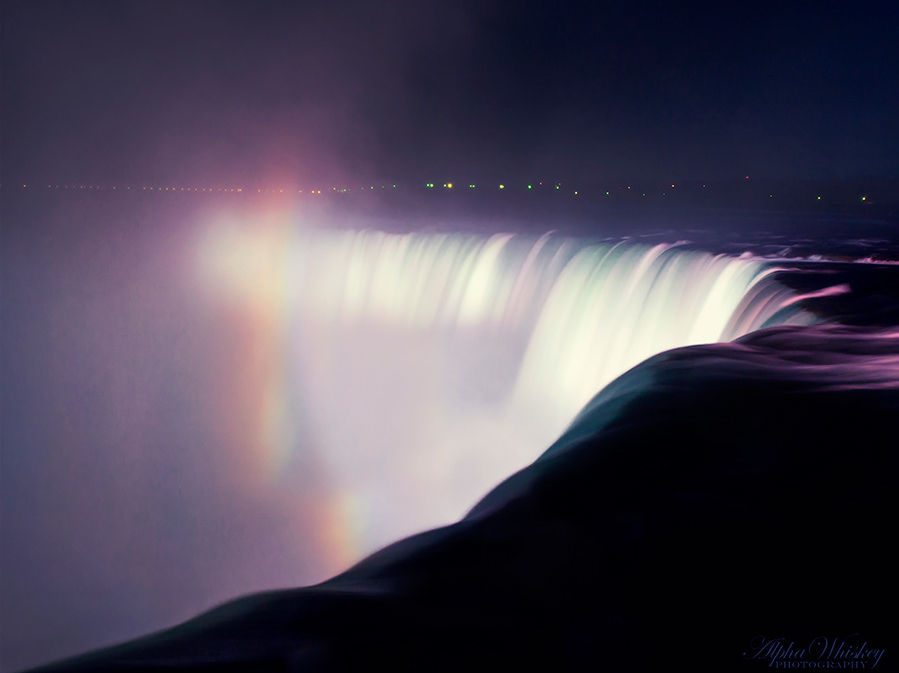 Most people visiting Niagara probably take a tour. But the tours had items on their itinerary that just didn't interest me and thus I planned and executed my own excursion, giving me the freedom to spend as much time as I needed getting the shots I wanted. You don't need that much time to appreciate these falls and there are plenty of other attractions in the area to keep you occupied (for instance, I visited the Butterfly Conservatory).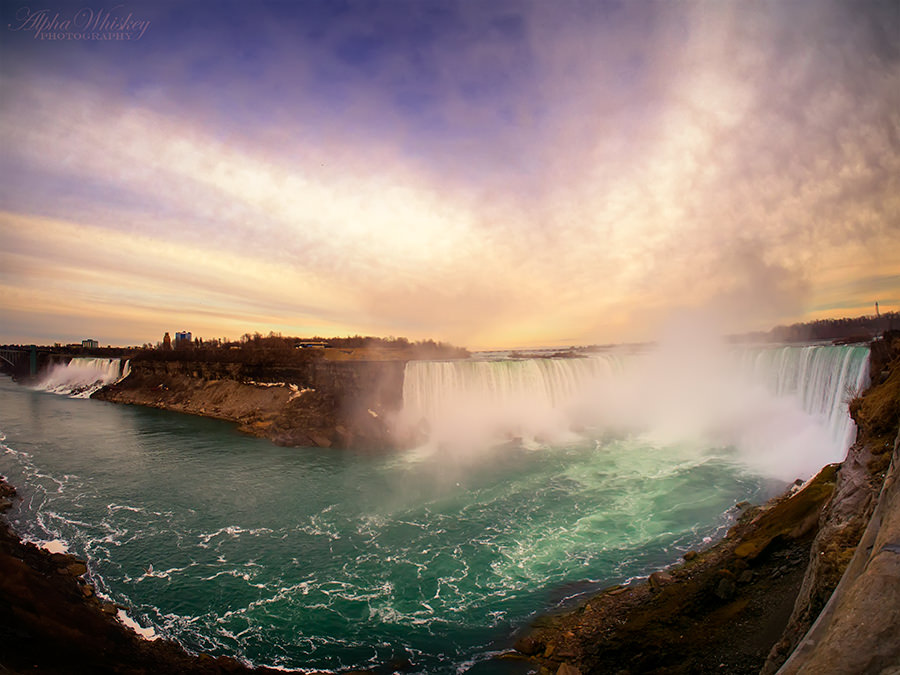 Well, I hope these images offer some ideas to anyone thinking of visiting either these or any other waterfalls. More images can be found here. As usual worry not about your gear; just go out and shoot. Good luck!