I recently spent a lot of time working with some quite challenging files to prepare my recent article "Photographing aircraft in flight with the Tamron 150-600mm", and a Photography Life reader asked if I could share some of the details of the processing that I do with difficult files.

So, for those of you who don't mind wading through a lot of screen shots with some commentary, this article tries to capture the various adjustments I made, and process I used, with one of the shots that did not make it into my "photographing aircraft" article. Those of you who don't like wheelbarrows full of detail should probably skip this article.
I should also state upfront that I don't profess to be any kind of expert with post-processing so my approach may seem somewhat scattered or unstructured to some folks. This may be due to the fact that I never do any batch processing of images and I only post process the ones I intend on using for some specific purpose. Plus, I'm self-taught by mucking around a lot…which does not lend itself to creating a disciplined approach.
I treat each photograph as an individual challenge and how I treat it tends to fluctuate with the image. My basic flow for difficult files is DxOMark Optics Pro…then into CS6…then into Nik Suite. For files needing only very simple adjustments I'll just pop them in and out of CS6 quickly, with the odd tweak in Nik.
So, let's get back to the subject image of this article…and its unprocessed RAW appearance.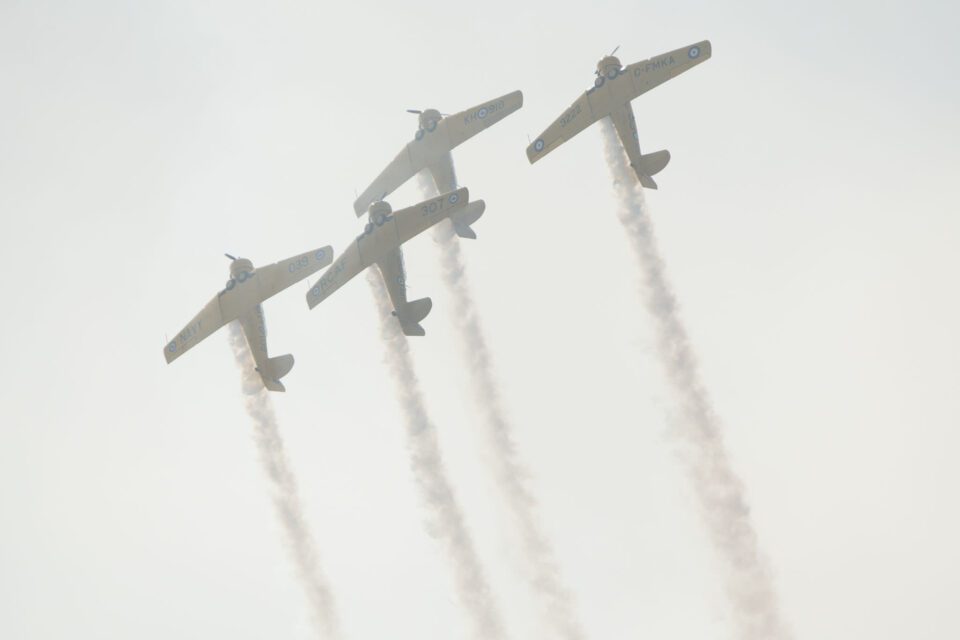 My first step is to bring the RAW file into DxOMark and allow the software to do its automated lens/camera adjustments.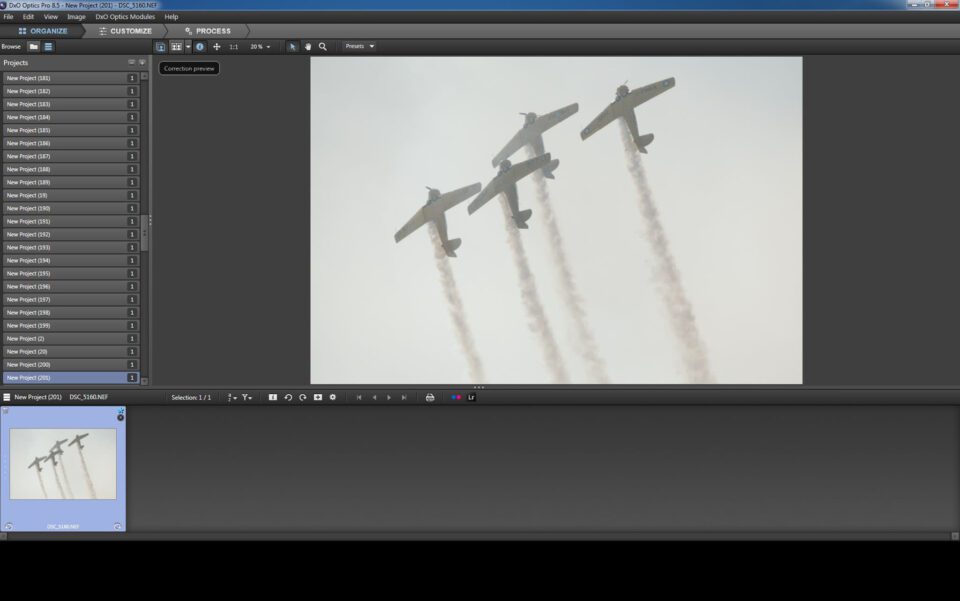 While I don't use too many presets there are two that I do use quite a bit in DxOMark Optics Pro; 'Sharpen Fine Details' and 'HDR (single shot)'. When working with an image that is very flat and grey, like the subject photo in this article, I find these two presets in Optics Pro can be very helpful to start bringing out details.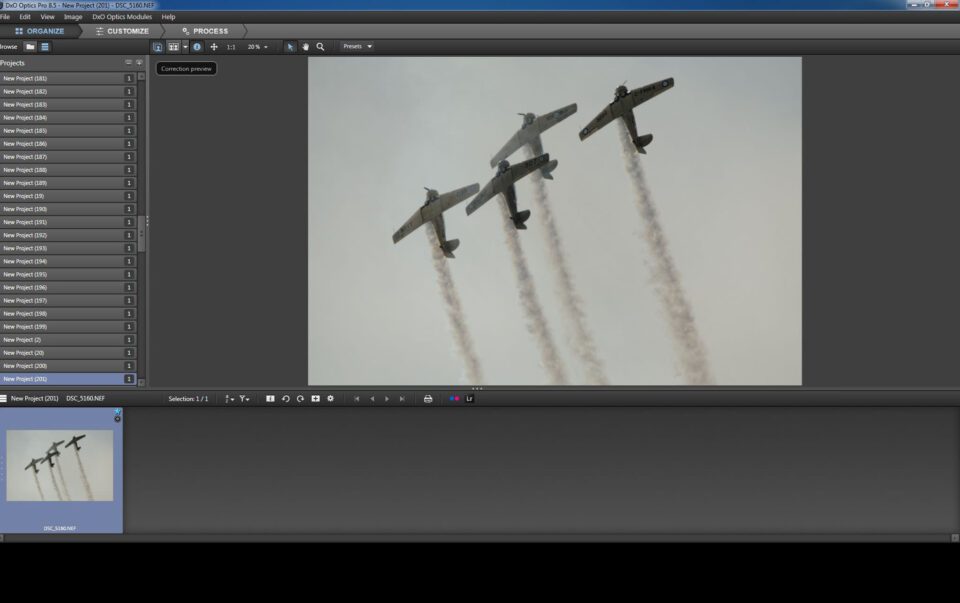 Then I open up the Customized menu in DxOMark Optics Pro and make some initial adjustments. These often include 'Smart Lighting', vibrancy and saturation. When working with a flat, grey image I'm often very aggressive and I have no hesitation taking vibrancy to the max and also cranking up the saturation a fair bit.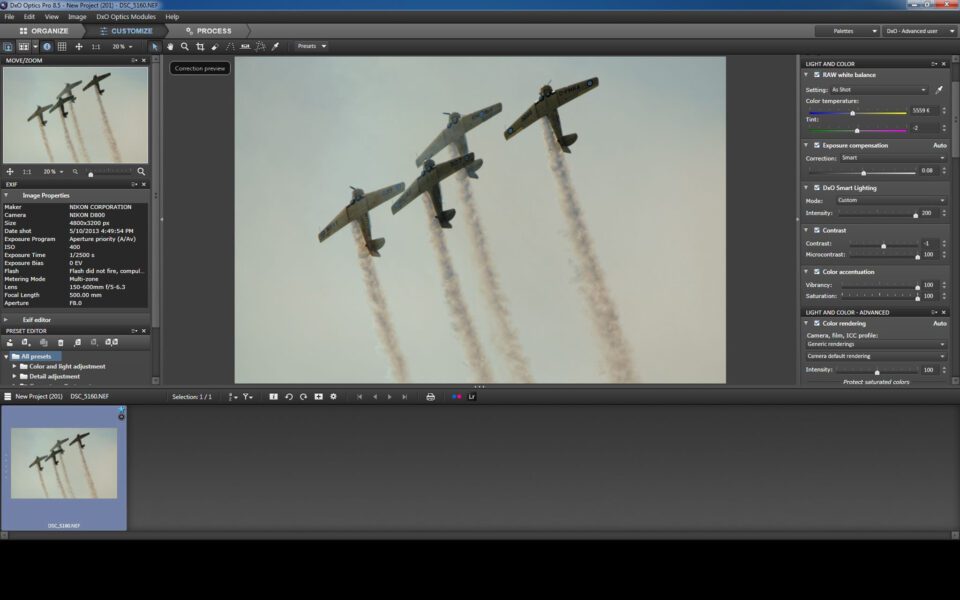 After having a quick look at the results, then I typically make some adjustments to highlights, mid-tones, shadows, and black as needed in DxoMark Optics Pro.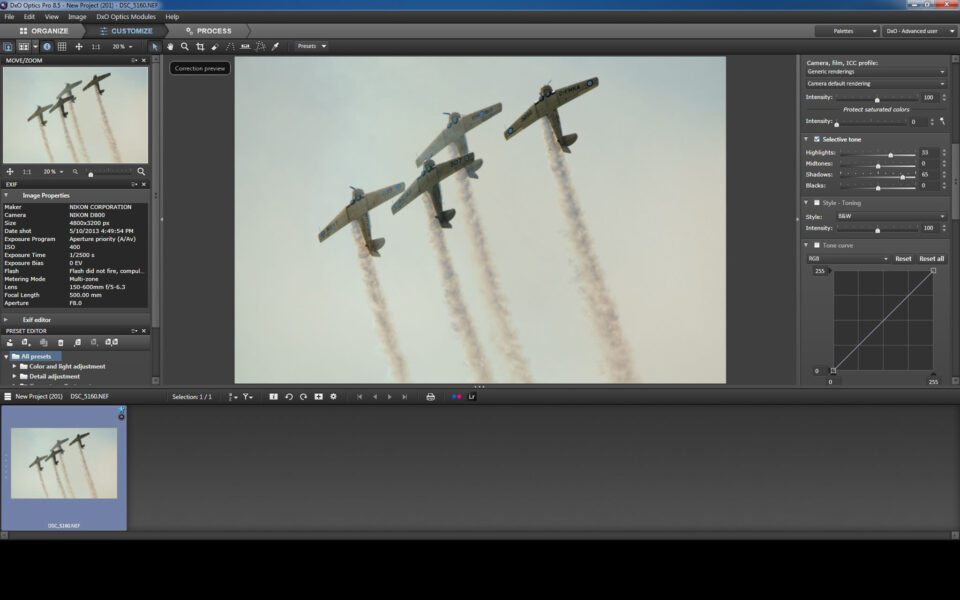 Then I process the file as a TIFF and move it into CS6.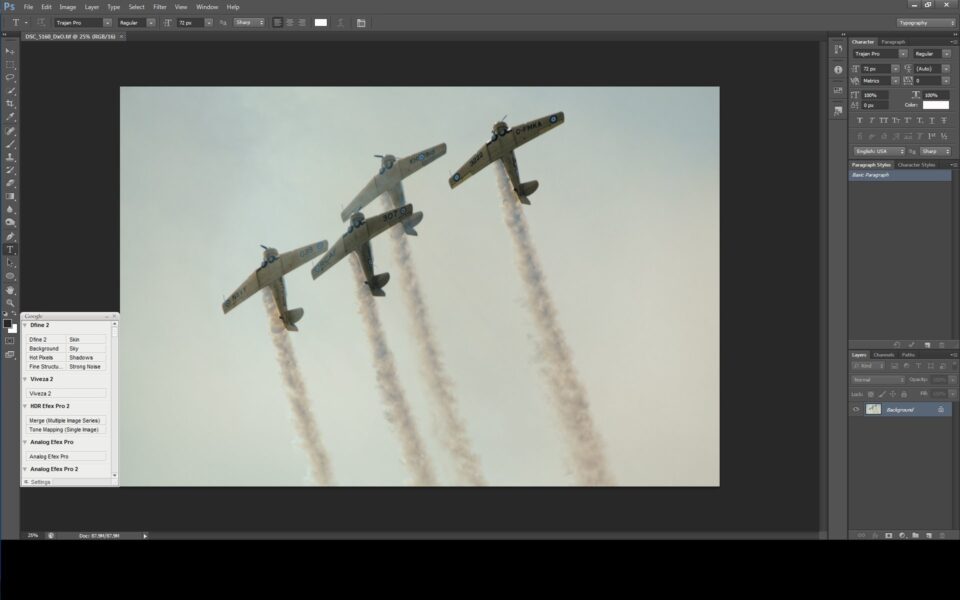 The first thing I do in CS6 is adjust the exposure and gamma correction.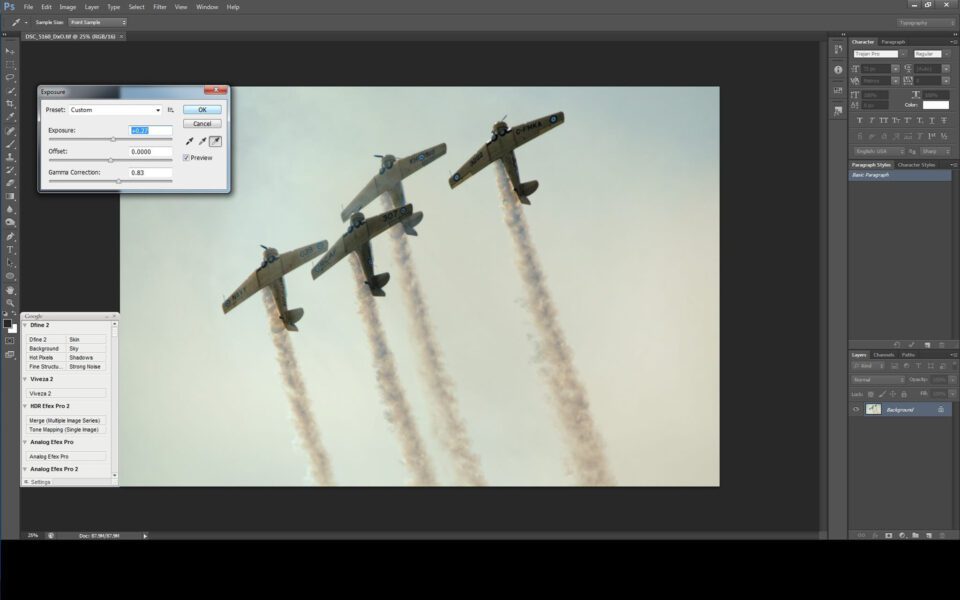 Then I'll play with the standard curves to see if one of them does something dramatic that I like with the image. If it does, I use it. If not, I move on.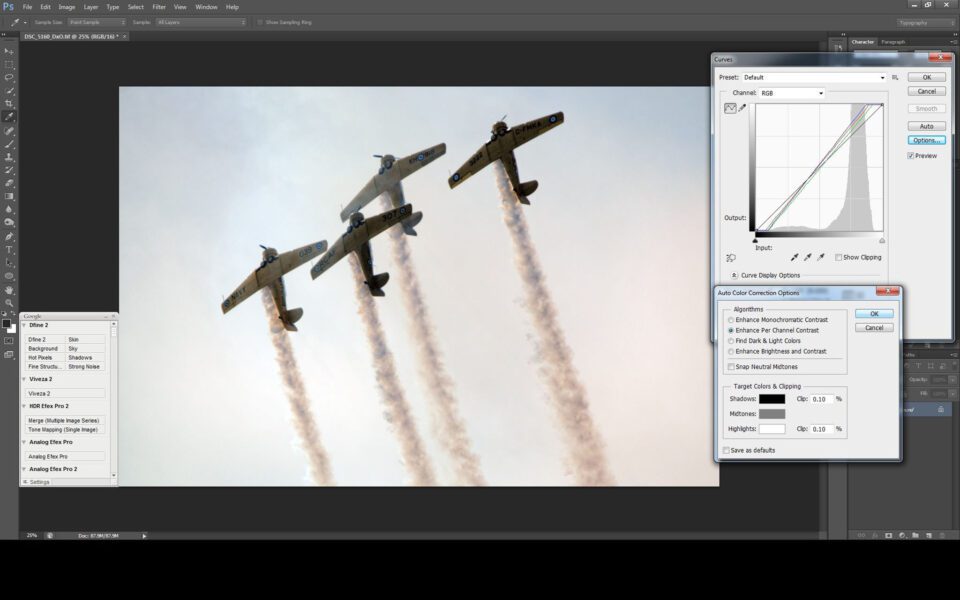 Next, I will typically make some adjustment to the levels to try to create higher levels of differentiation in the shot. Most of the post-processing I've done to this point is to work with the overall 'greyness' of the image to try and create more density that I can begin to work with later on in terms of getting some colours back in the image.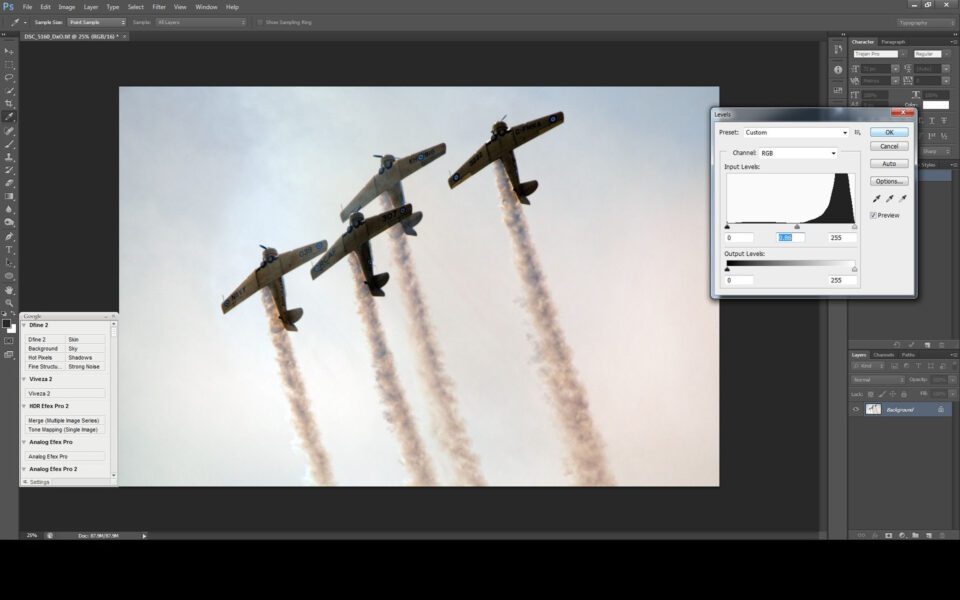 Then I open up Viveza 2 and make adjustments to brightness, contrast, saturation, structure and shadows. At this point the image starts to take shape.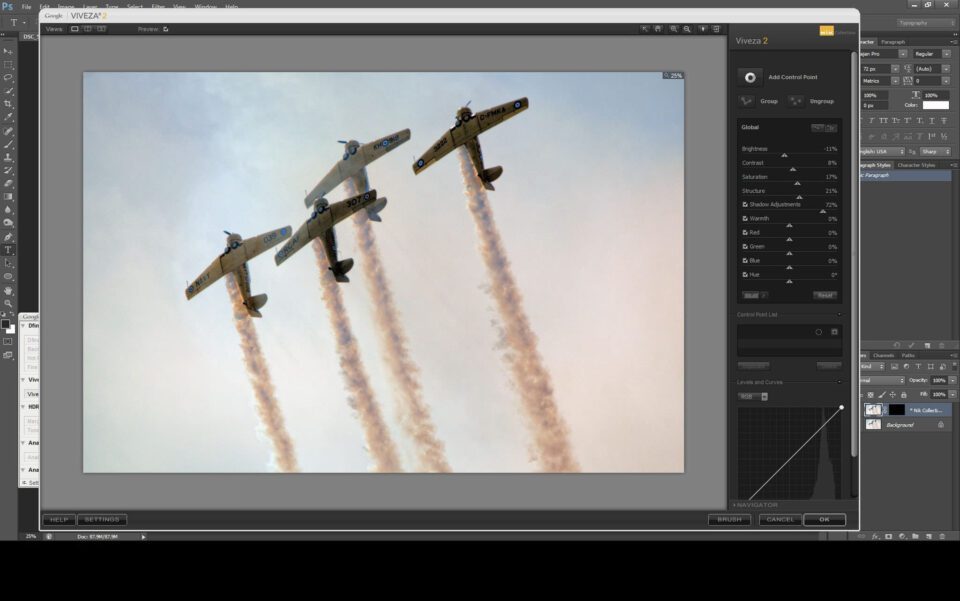 Depending on what I see in the image I'll often open up Color Efex 2 and adjust polarization and dynamic contrast.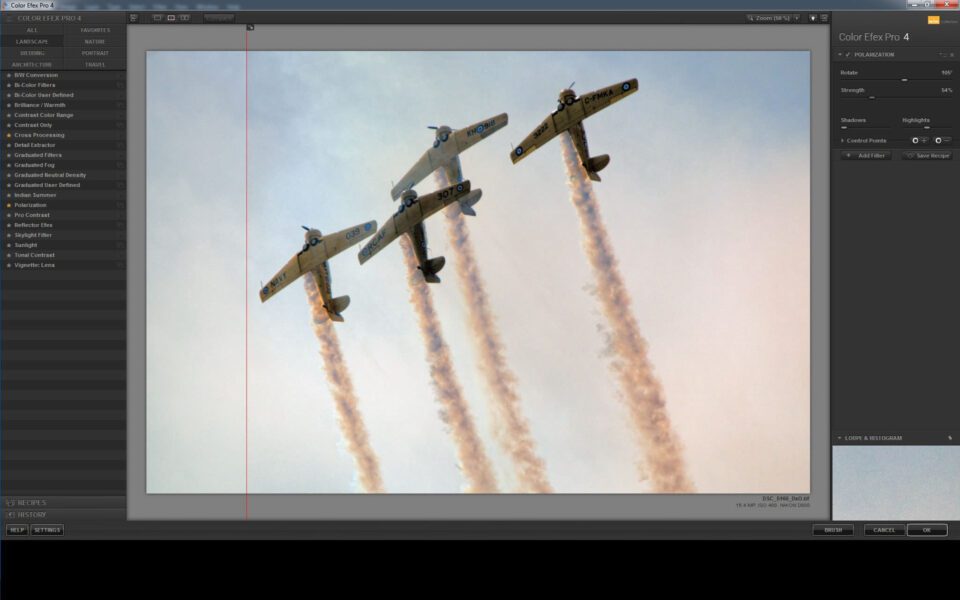 At this point I find it is often useful to go back into CS6 and make some readjustment to the gamma correction so I can get a bit more balance with the image.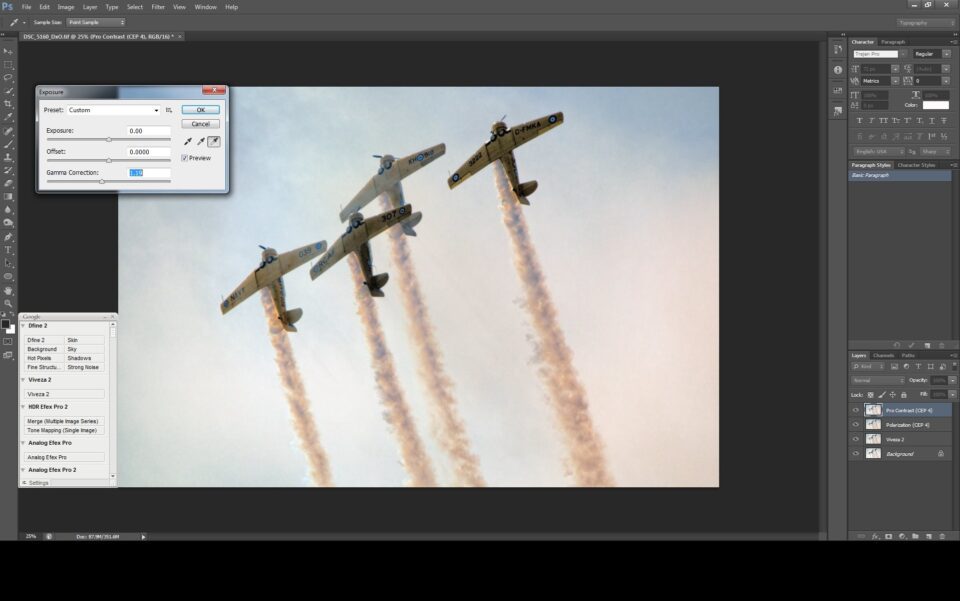 Then I revisit the vibrance and saturation in CS6 and often bump them up a fair bit…again to bring some colour back into the shot.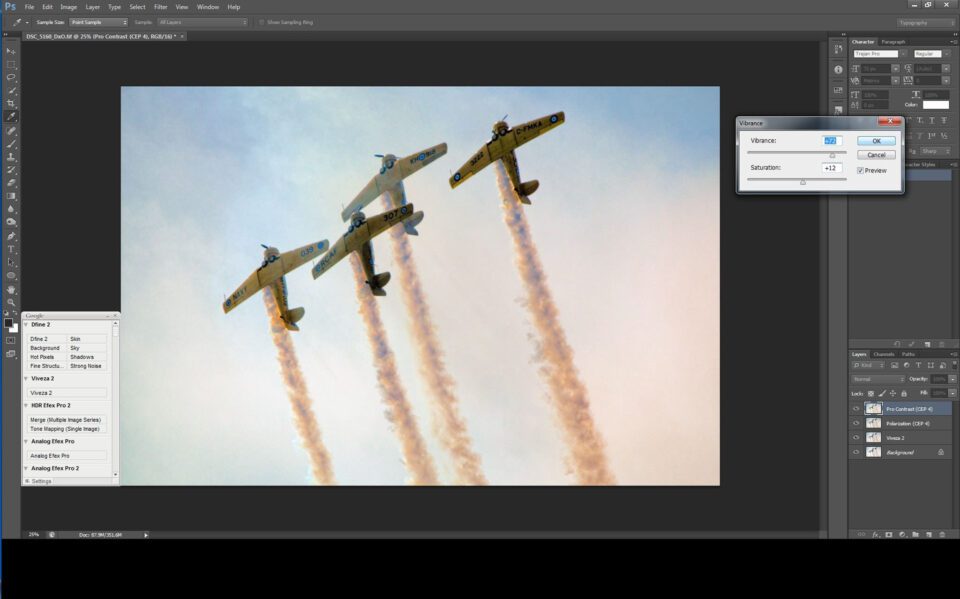 I often revisit the levels and make some subtle readjustments as necessary.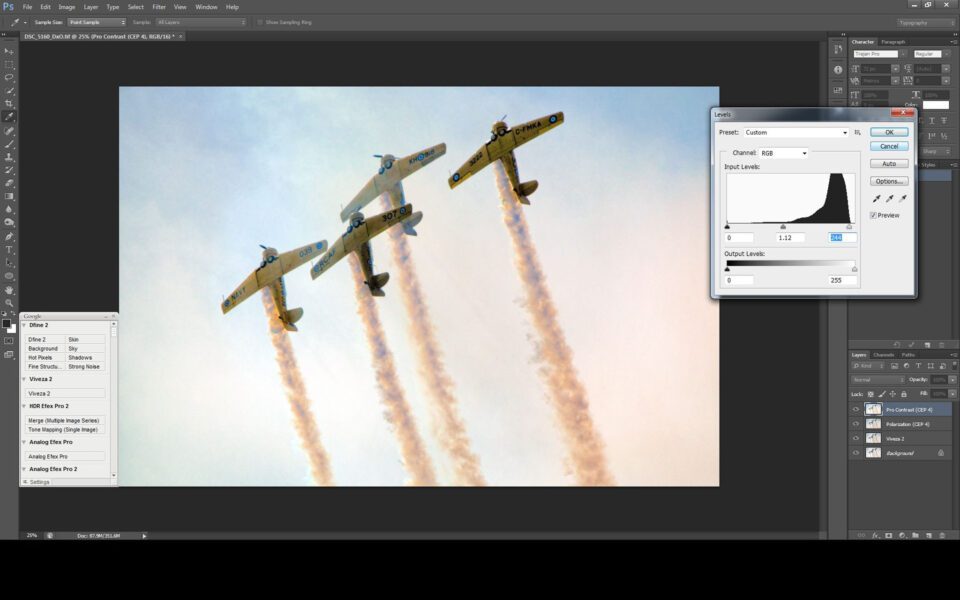 With the subject image in this article I then made some adjustments to the 'yellows' in the Hue/Saturation adjustment screen in CS6 to add some extra colour pop to the aircraft.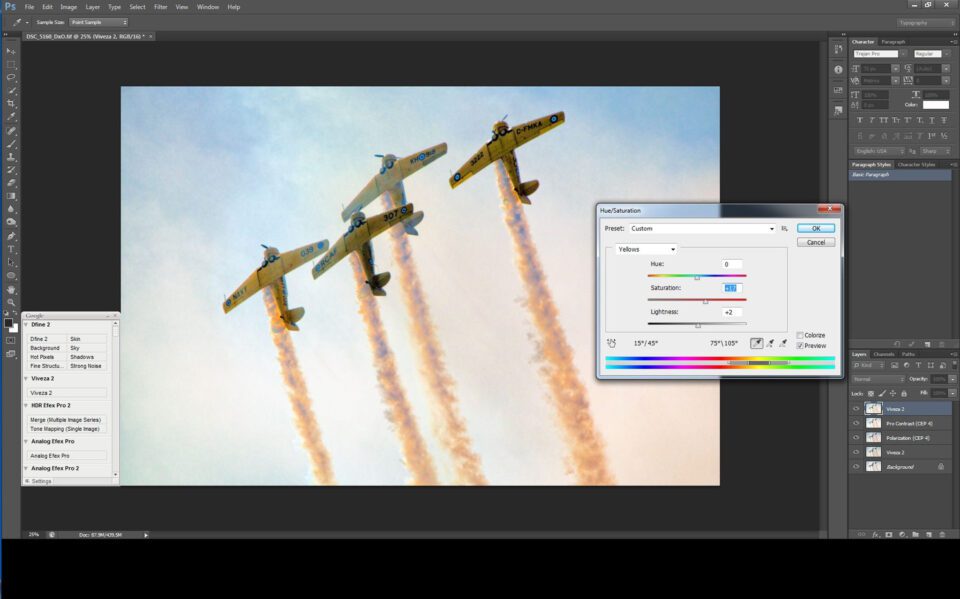 Then as part of the final image tweaking, I'll often go back into Color Efex 2 and make some small adjustments to the polarization and dynamic contrast settings.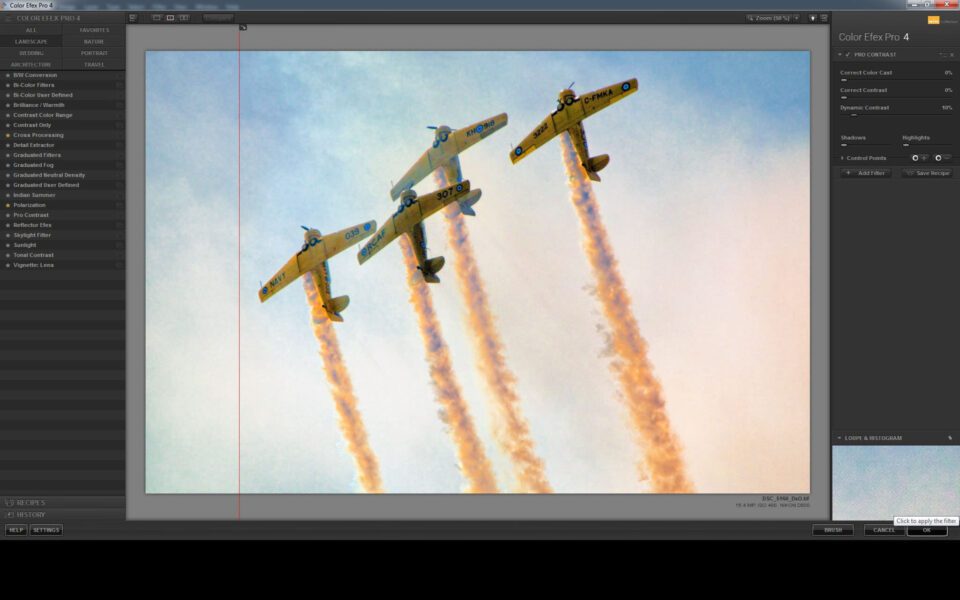 If the image has gone through a ton of work it sometimes needs a bit of clean up so I will then sometimes use Define 2 for that purpose.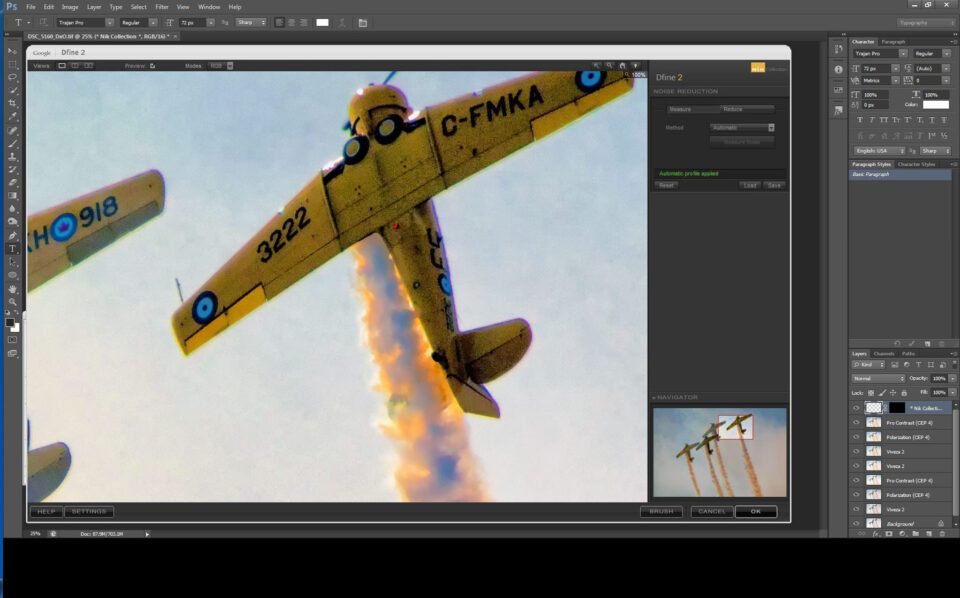 On occasion I'll then take the image into Sharpener Pro 3 and make a few adjustments.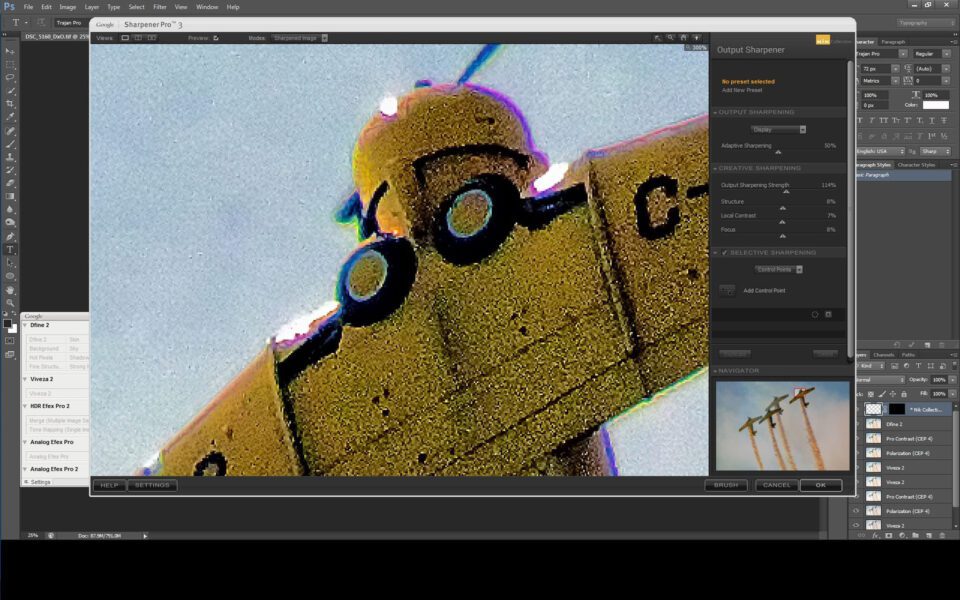 If I'm diligent….or just plain lucky I've gone from the following image…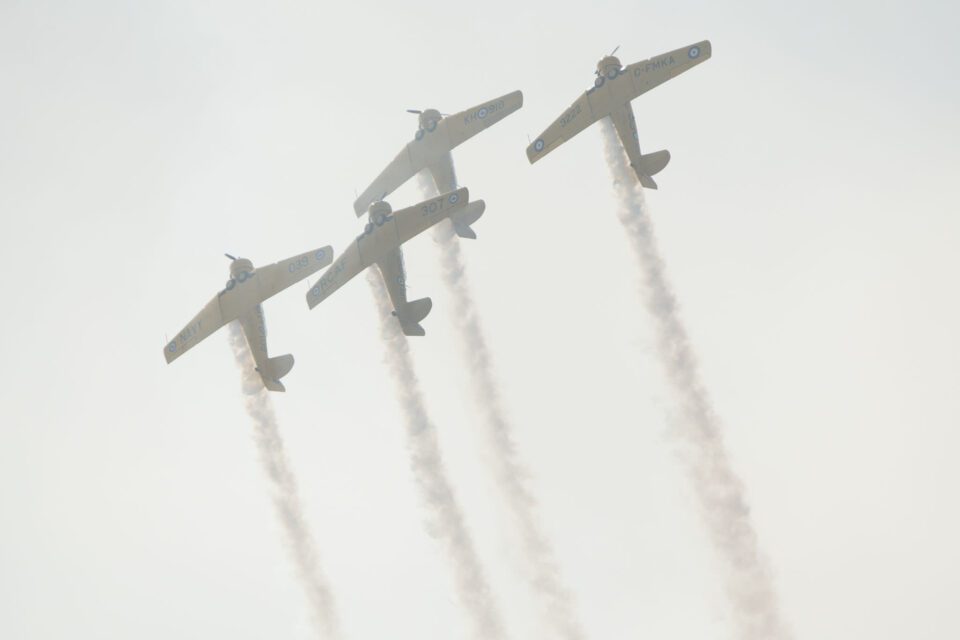 To something like this one below…or hopefully better.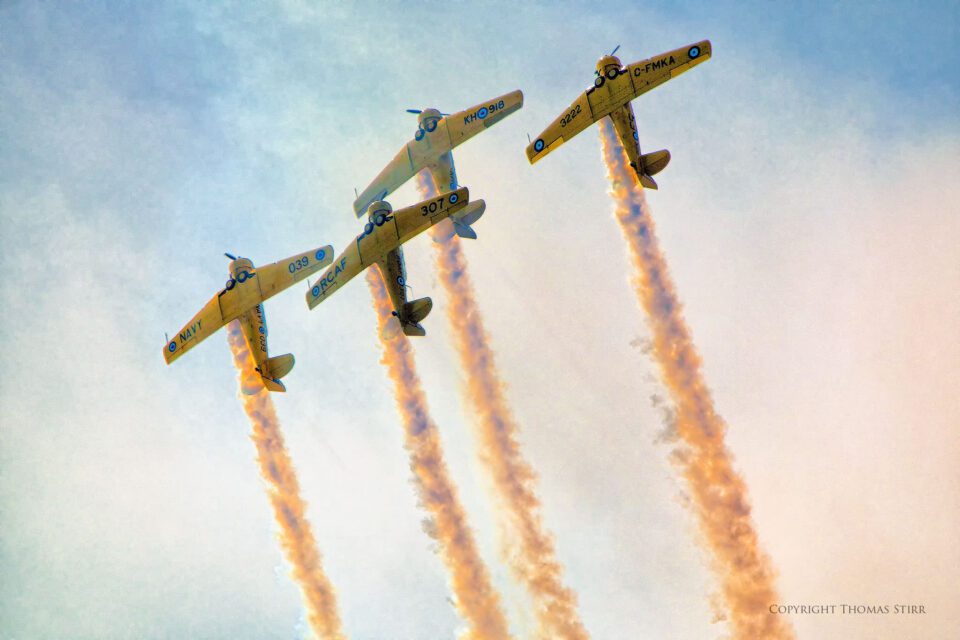 When it comes to using software in post-production I'm not much into experimenting with more and more new programs. I know I drive my tech-savvy son crazy with my lack of enthusiasm for the 'latest and greatest' software.
I'm sure I'm only scratching the surface with my current programs…and I'm loathe to spending time learning more new software when I'd much rather be looking through a viewfinder than at a monitor.
Article and all images are Copyright Thomas Stirr. All rights reserved, no use, reproduction or duplication including electronic is allowed without written consent.