One question that keeps coming from our readers all the time is about Lightroom vs Photoshop – many beginners do not know the differences between Lightroom and Photoshop and have a hard time choosing which one to use. In this article, I will show the main differences between these two software packages from Adobe, what they are used for and what you can do in Photoshop that you cannot in Lightroom.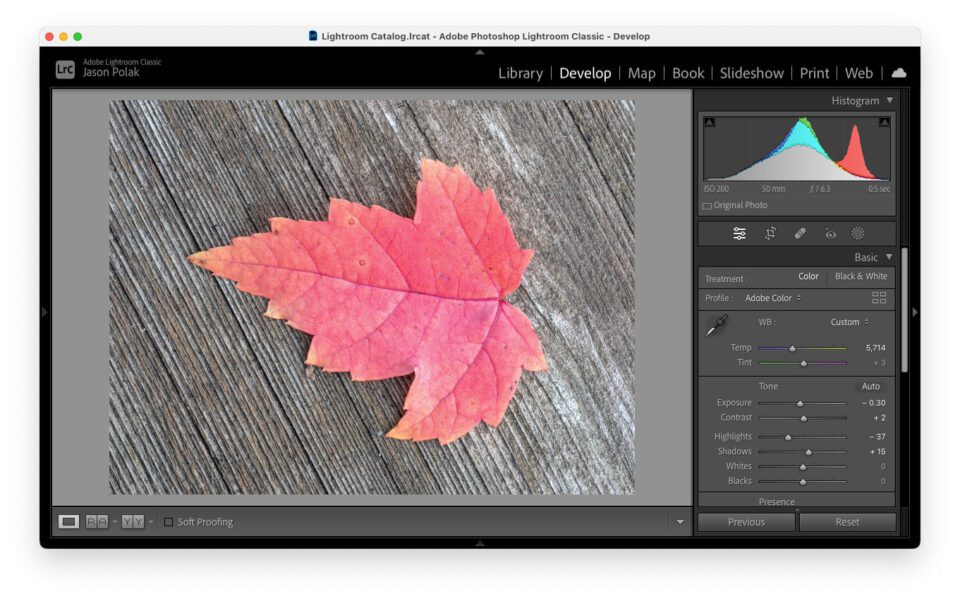 What is Photoshop?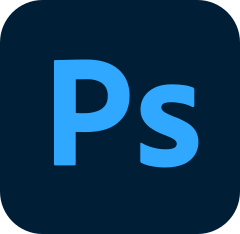 Photoshop was originally created as a tool for simple image editing, which since 1990 has grown into a monster software suite with many functions and capabilities to accommodate not just photographers but also graphic designers, architects, animators, publishers, and even 3D artists. Think of it as a Cadillac of image editing with unlimited potential that can grow not only with software updates and upgrades but also with special plugins known as "filters" from Adobe and third-party software companies.
Photoshop's strength is image manipulation and advanced local editing. Want to stitch multiple photographs into a single panorama? Or create a finely-tuned High Dynamic Range photograph? Or get rid of skin blemishes? Or perhaps make a person look taller, shorter, thinner or fatter?
Yup, Photoshop can do all that and much much more. It would be pointless to try to list what Photoshop can do because it would probably be a never-ending list. The term "Photoshopped" is now a part of our daily jargon because we are constantly exposed to altered images that might look realistic while being fake – that's the power of Photoshop.
What is Lightroom?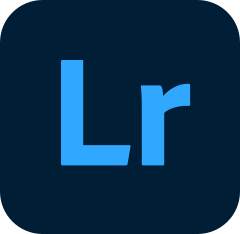 Lightroom is Adobe's program to develop Raw images from digital cameras. Instead of the finely-grained local and raster editing capabilities of Photoshop, Lightroom tends to be more about global editing and simple local editing rather than fully-blown image manipulation.
Before I started using Lightroom, my photography workflow solely consisted of Adobe Camera Raw (which allows opening, manipulating and converting Raw files) and Photoshop, which was cumbersome and inefficient.
The biggest challenge was organizing edited images on my hard drive, and sorting and cataloging them. As my file catalog grew, I realized that I had to find a better way to organize my photographs. And that's when I discovered Lightroom.
Lightroom is a database-driven Raw developing and management software that automatically reads image metadata (such as camera make and model, date/time captured, aperture, shutter speed, ISO, white balance and more), known as EXIF and writes information about each photograph in a new database known as "catalog".
As images are imported, Lightroom has built-in functionality to add additional information to each image, allowing you to tag images with specific keywords, flags and star ratings. This makes it very easy to sort through thousands of images and pick the best ones, edit them selectively or in batches, and then export the best images directly to websites like Flickr and Facebook. This type of tagging and indexing is not available in Photoshop, because Photoshop does not keep a database with cataloged images.
Lightroom also has two versions: Lightroom Classic and Lightroom (formerly known as Lightroom Creative Cloud). To keep things simple, I will be talking about Lightroom Classic only, which is the desktop version that most photographers use. The single word "Lightroom" now refers to a cross-platform, cloud-storage-based version of Lightroom Classic that has fewer features meant for beginners. For a better idea of the differences, check out Lightroom Classic vs Lightroom.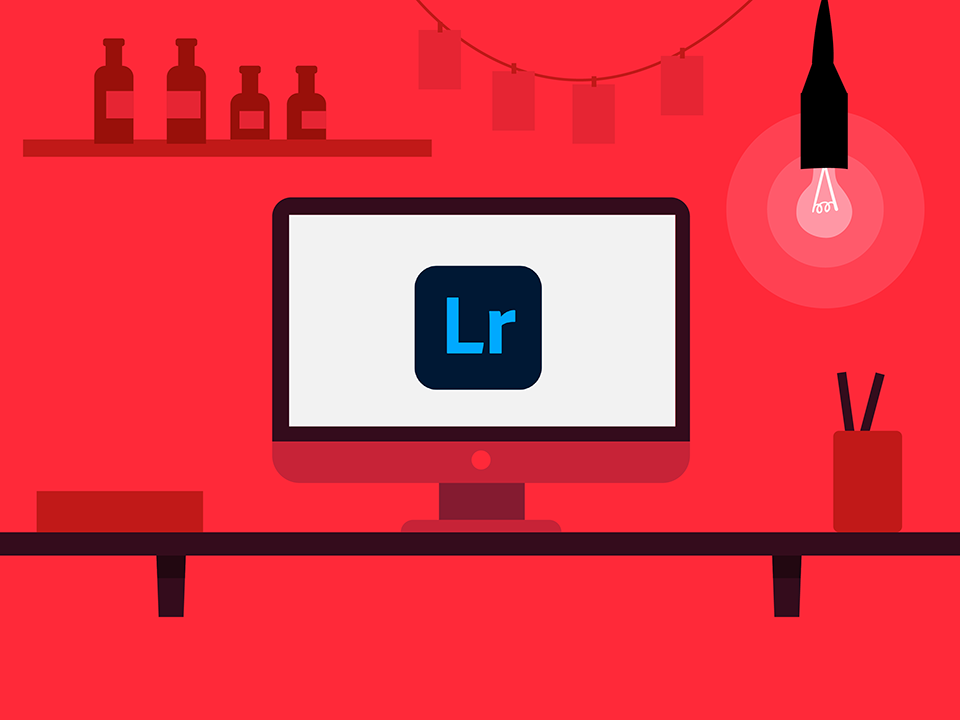 Lightroom Image Editing Capabilities
Lightroom has a specific set of tools specifically designed to transform Raw image data into a final, processed image suitable for display or printing. Here is a list of tools available in Lightroom's Develop Module:
Histogram and Tools Sub-Modules: Histogram, Crop & Straighten, Spot Removal, Red Eye Correction, Graduated Filter, Radial Filter, Adjustment Brush.
Basic Sub-Module: Treatment: Color and Black & White; Camera Profiles; White Balance: Temp and Tint; Tone: Exposure, Contrast, Highlights, Shadows, Whites and Blacks; Presence: Texture, Clarity, Dehaze, Vibrance and Saturation.
Tone Curve Sub-Module: Region: Highlights, Lights, Darks, Shadows; Point Curve.
HSL / Color / B&W Sub-Module: Hue, Saturation, Luminance.
Split Toning Sub-Module: Highlights: Hue, Saturation and Balance; Shadows: Hue and Saturation.
Detail Sub-Module: Sharpening: Amount, Radius, Detail and Masking; Noise Reduction: Luminance, Detail, Contrast, Color, Detail and Smoothness.
Lens Corrections Sub-Module: Lens Profile: Remove Chromatic Aberration, Enable Profile Corrections; Manual: Distortion, Defringe and Vignetting.
Transform Sub-Module: Auto Transform, Transform: Vertical, Horizontal, Rotate, Aspect, Scale, X Offset, Y Offset.
Effects Sub-Module: Post-Crop Vignetting: Style, Amount, Midpoint, Roundness, Feather, Highlights; Grain: Amount, Size, Roughness.
Camera Calibration Sub-Module: Process Version, Shadows: Tint, Red Primary: Hue and Saturation, Green Primary: Hue and Saturation, Blue Primary: Hue and Saturation.
As you can see, the list of tools is rather long—from cropping and changing basic exposure to fixing lens-specific problems like barrel distortion. Here is a screenshot of the Histogram and Basic sub-modules: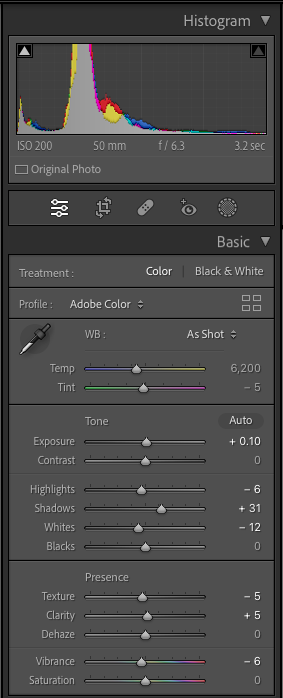 Specific changes can be saved as Presets and applied to a group of images. As Adobe develops new versions of Lightroom, new sub-modules and other sub-module-specific features become available.
In addition to the image editing capabilities highlighted above, Lightroom also has built-in modules for creating slideshows, printing images, exporting image galleries for the web and more.
Photoshop Image Editing Capabilities
Photoshop also has Lightroom's image editing capabilities through Adobe Camera Raw, which fires up when a Raw image is opened from Photoshop. Although it looks different than Lightroom, every single image-editing function like White Balance adjustments can also be done in Photoshop and Camera Raw. When Adobe releases updates to Lightroom, it also releases updates to Camera Raw at the same time, so even small things like Lens Profiles get refreshed in both. Here is a screenshot of the Camera Raw panel: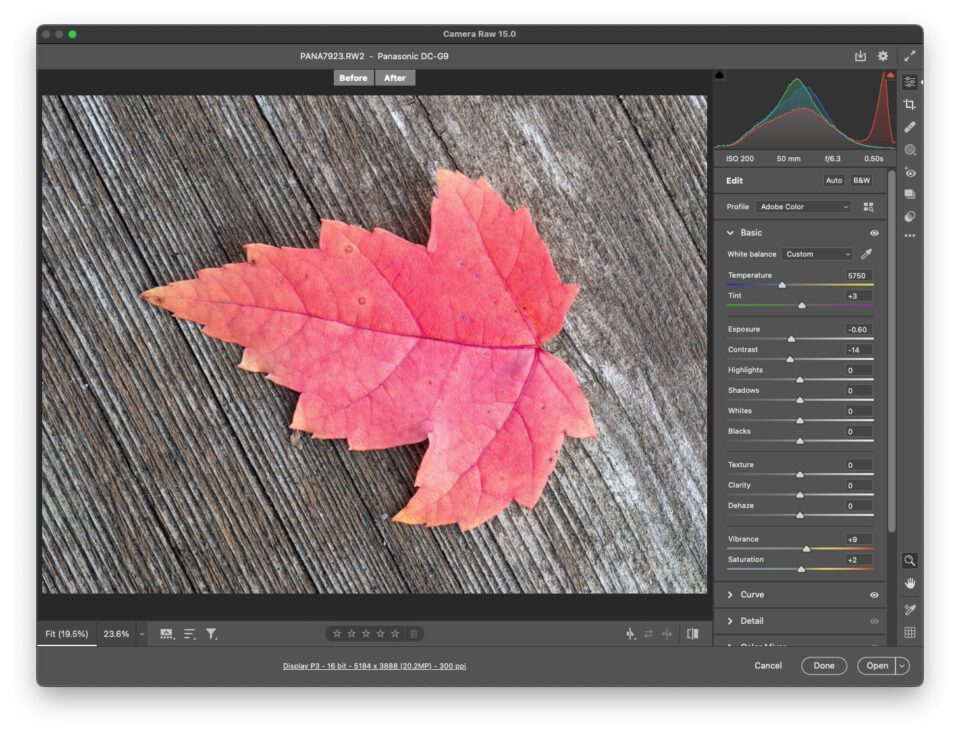 And here is a comparison of the exposure sub-module: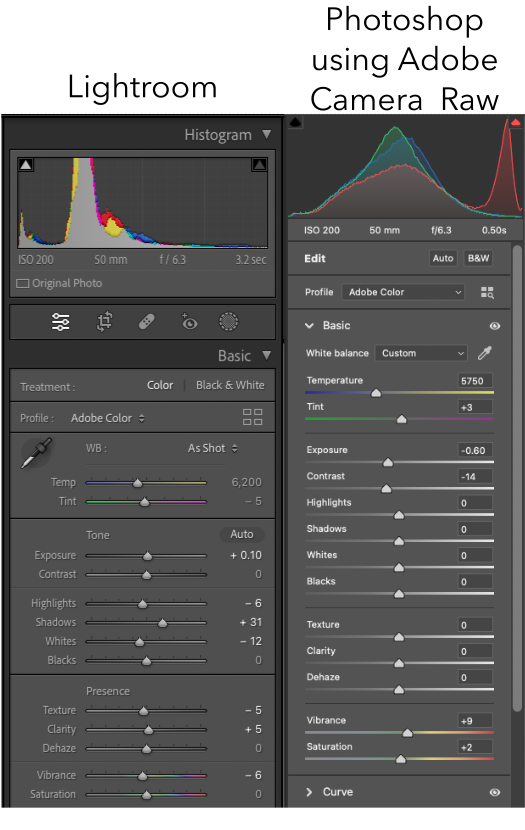 On the other hand, Photoshop goes way beyond Lightroom in local editing capabilities, and can even enter the realm of graphic design and digital art. With Photoshop, endless layers can be combined to create finely-tuned HDR images. You can even perform more complex edits, like replacing cats with dogs. Basically, if you need to make very complex, local edits like removing objects, Photoshop is the right tool.
Some photographers use Adobe Bridge with Photoshop as part of their workflow without Lightroom. While Bridge has some of the Lightroom functionality, it is not a database/catalog system. Think of it as a browser or file manager. Searching for an image requires going through all files, which could take a long time, whereas a similar search in Lightroom could be done in a matter of seconds – again because Lightroom's database is optimized for search. If you have been using Adobe Bridge, try Lightroom and you will never go back to Bridge again.
Which to Start With – Lightroom or Photoshop?
The real question is, should you start with Lightroom or Photoshop? Since all of Lightroom's image manipulation tools are already available in Photoshop, wouldn't it make sense just to start using Photoshop? I always recommend that most photographers use Lightroom for the following reasons:
Lightroom is easier to learn than Photoshop, and its user interface is tailored specifically for Raw development and photo editing
Lightroom already contains a big number of post-processing tools, suitable for most photographers
Lightroom sets a solid photography workflow process from the start
Lightroom makes you more efficient because you can go through and process many photos quickly, without having to deal with opening and closing files. For example, in Lightroom, you can quickly copy white balance corrections to hundreds of photos in the same shoot
Lightroom will keep you organized by cataloging all of your images in one place, making it easy to find and work with images.
As a file and media management tool, Lightroom allows creating folders and sub-folders in your hard drive and can mass-rename files using templates.
Editing images in Lightroom is non-destructive, which means that the original file never gets permanently changed, whereas Photoshop is a mix of destructive and non-destructive editing.
Unless separate layers are kept for every change, Photoshop does not keep historical changes. With Lightroom, you can go back and restore earlier settings after making changes.
Lightroom can display image metadata as an overlay as you edit photos. Photoshop cannot do that once an image is opened.
I am sure there are many other advantages to using Lightroom, but these are the ones I personally find important.
Now, remember when I said, "I always recommend to start off with Lightroom"? This is because in some cases, you will need Photoshop to do things you cannot do in Lightroom. For example, removing objects in Lightroom can be done but is limited, whereas Photoshop's healing tools are very powerful in comparison. Many other tools are simply not available in Lightroom, such as the ability to focus stack images, or working with different layers and merging multiple exposures with full manual control.
Note:
As a rule of thumb, photographers who do extensive retouching, stacking, multiple-exposure merging, or local editing will benefit greatly from Photoshop in addition to Lightroom. On the other hand, if most of your edits are global with some local editing, then you will likely be fine with using Lightroom only.
Which Version to Buy
In order to obtain Photoshop and Lightroom, you must subscribe to the Adobe Creative Cloud Photography Plan. We have written a number of articles at PL criticizing Adobe's subscription platform, but the company will not offer any retail versions of the software.
You can subscribe to Adobe Creative Cloud plans through Adobe's website, or through our trusted partner B&H Photo Video below: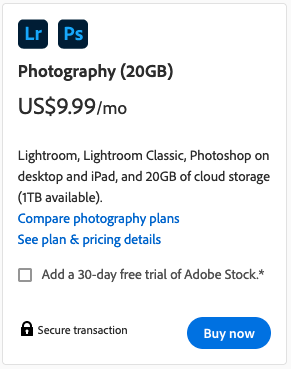 Adobe has a Lightroom-only plan as well with 1 TB storage, but be aware that this is not the more advanced Lightroom Classic program referred to in this article, but rather the leaner, cloud-based version with fewer features. Thus, most photographers should start with the "Photography Plan" that features both Photoshop and Lightroom.
If you are just getting into photography, but want to explore an alternative image editing software without having to pay a monthly subscription fee, then you might want to check out Adobe Photoshop Elements. It has many of the features, tools, and filters from Photoshop, with some stripped-out features.
Think of Photoshop Elements as a light version of Lightroom and a light version of Photoshop combined. While you can use Photoshop Elements to organize, edit, print and publish photographs, it can also nicely integrate with Lightroom if you choose to use Lightroom's image organization features instead. If you just take pictures of your family and occasional landscapes & nature photos, then Photoshop Elements is a good choice. If you are wondering about the differences between Elements and Lightroom, see our Photoshop Elements vs Lightroom article.
For many photographers, the best photography workflow involves both Lightroom and Photoshop. When you come across an image in Lightroom that you need to edit in Photoshop, you simply right-click the image and click on "Edit in Adobe Photoshop". The image opens up in Photoshop and once you are done with all the changes, saving the image imports that new image back into Lightroom and this kind of two-way communication is automatic. No need for imports or exports.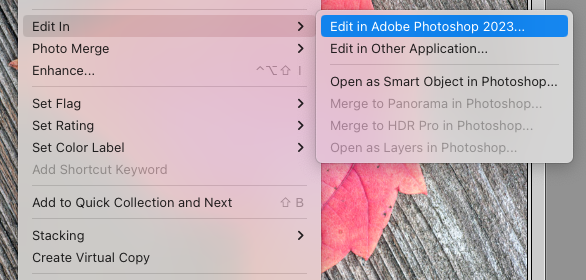 At the end of the day, good and reliable software is important for every photographer. Start with Lightroom and once you learn its functionality, take a look at Photoshop if you feel you need more local editing tools. But be warned—Photoshop can be both a rewarding and frustrating experience. It is a complex piece of software that has a significant learning curve.