Having just spent almost two weeks conducting a workshop in Jordan, I wanted to share a few images that I was able to capture during this incredible trip. We spent a total of 11 days touring and photographing this stunning country and although I have not yet had a chance to properly edit most of my images, I was able to go through a number of them using my portable laptop that I have been carrying around when traveling. Right after the workshop, I decided to tour Turkey for a week and explore both Istanbul and Cappadocia for future photographic opportunities, which is why I have not been able to post anything on the website. I will be posting images from Turkey after I get back home and catch up with some work. In the meantime, I hope you enjoy a photographic tour of Jordan!
Please note that I have previously published a detailed article on what to photograph in Jordan. I would highly recommend to check out that article first, as it shows much more information on what Jordan has to offer.
Amman
We started the workshop in the beautiful city of Amman, the capital of Jordan. I arrived a few days early and checked into the Rotana Hotel, the tallest hotel building in Amman. Seeing the city from the top of the hotel was an experience in itself, so I approached hotel management to see if they would let me shoot from the rooftop. After a few exchanges with the hotel management, they finally let me do it! I was escorted to the rooftop with an engineer, who was kind enough to show me around and put me in a safe location where I could shoot from. The day was somewhat cloudy, but I was still hoping for a beautiful sunset. Although I never got to see any colors, clouds did break through at one point and showed some of the sky, way after sunset. Armed with the Nikon D850 and the new Sigma 14mm f/1.8 Art beast (what a lens!), I was able to capture the below image: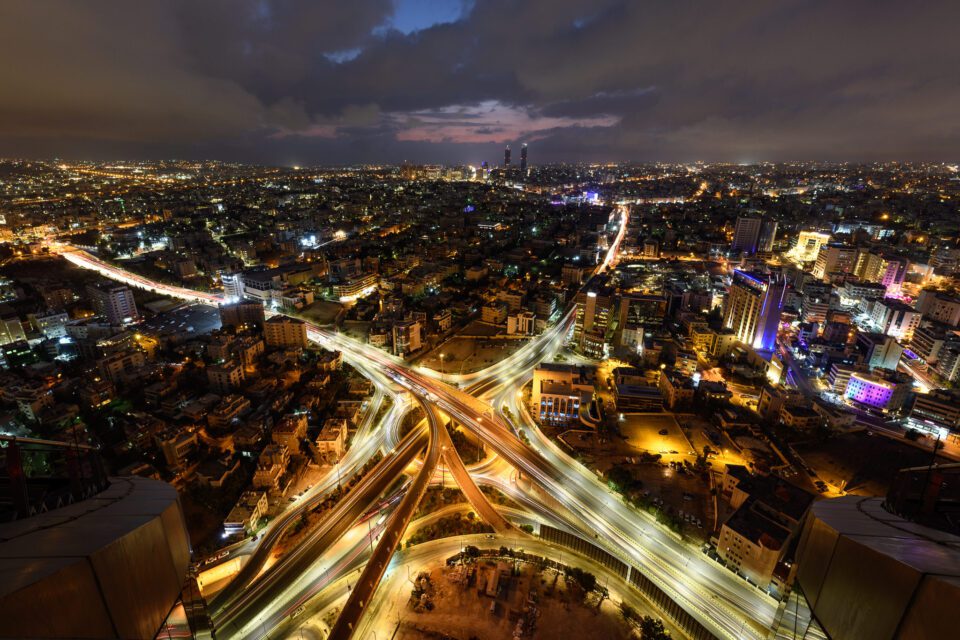 I also had a Fuji GFX 50S with me along with a few GF lenses on this trip, so I shot the below image of the highway crossing with the GF 32-64mm f/4: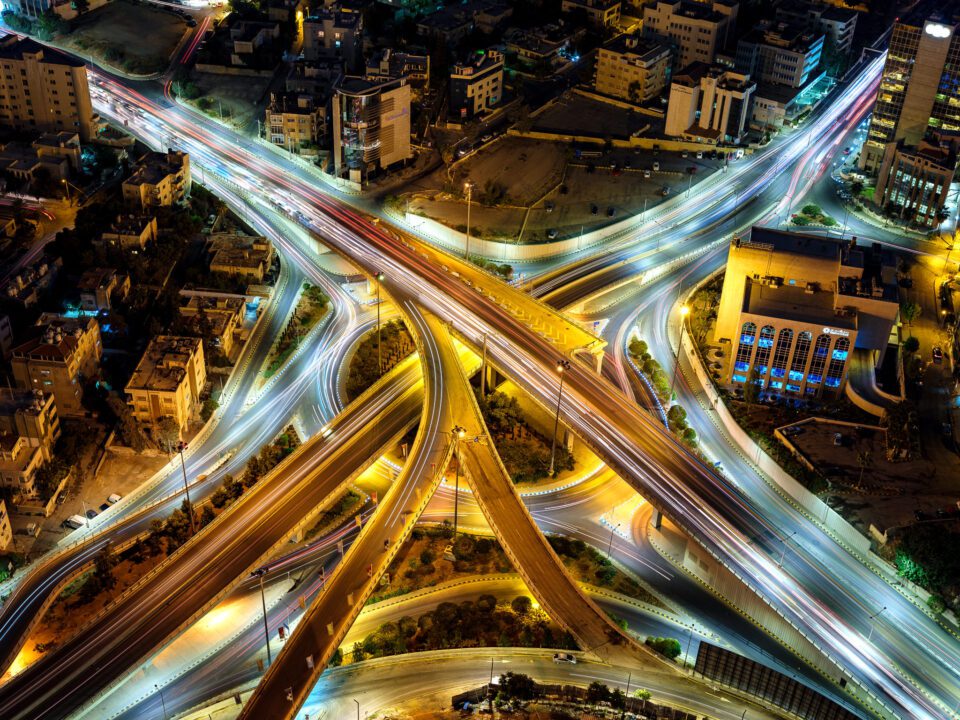 Photographing Amman is an amazing experience, as the city is full of all kinds of opportunities. The below image was captured on one of the busy roads, overlooking older buildings, contrasted by the modern tall rises in the background. The tallest building shown in this image is the same Rotana hotel where I photographed the first two images from. So much detail to look at!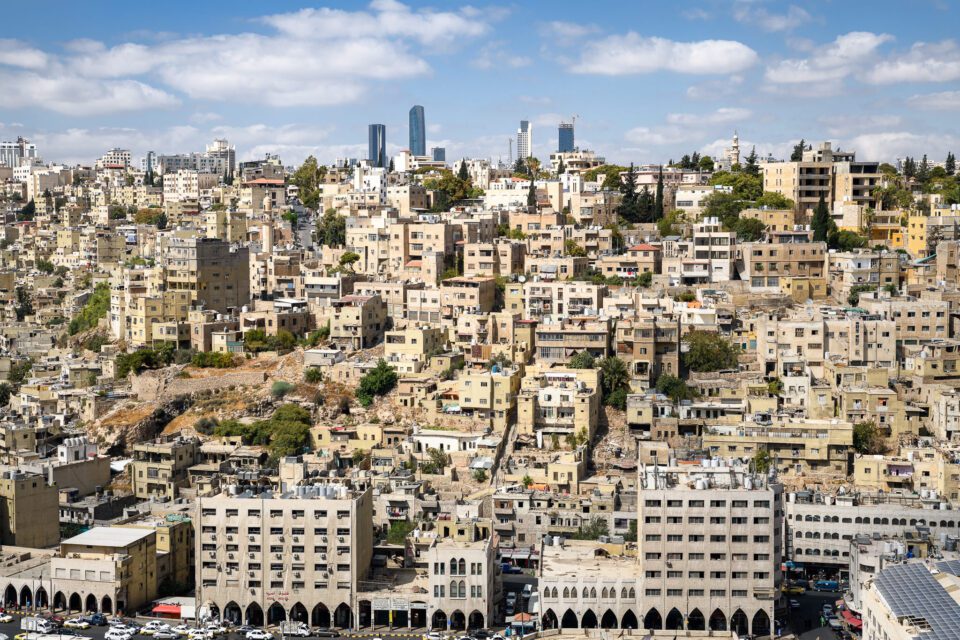 On the first day of the workshop, we had a chance to visit a number of locations around Amman. My favorite was the amphitheater – a vast and very historic location that offers a number of great views, including a smaller theater to enjoy.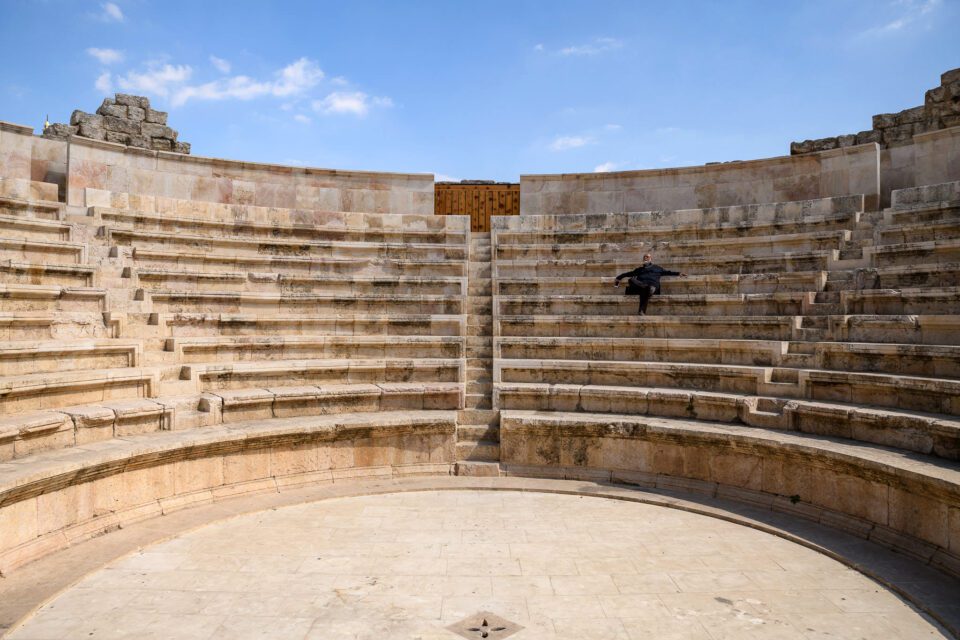 It was not a very busy day and it was rather empty there, but Mr Tareq Hadi, my good friend, mentor and workshop partner volunteered to fill in for us.
During the day, my "go to" gear choice was the Nikon D850 and the Tamron 24-70mm f/2.8 VC G2 lens, a great and versatile combination, although a bit heavy for travel needs. I will spare my detailed thoughts on camera gear for now, but overall, the lens seems to be of great value for those who shoot with a high resolution camera. Not particularly great wide open in the corners, but pretty decent when stopped down. For landscape photography, I personally favor the Nikon 24-70mm f/2.8E VR for its excellent overall sharpness though. For other types of photography, the Tamron 24-70mm f/2.8 G2 does quite well – it reminds me of the older Nikon 24-70mm f/2.8G in terms of overall performance, which is superb in the center, but visibly weaker in the extreme corners.
Here is a shot of a young Jordanian lady using her phone in an open area of the amphitheater, where a number of columns were visible from the side: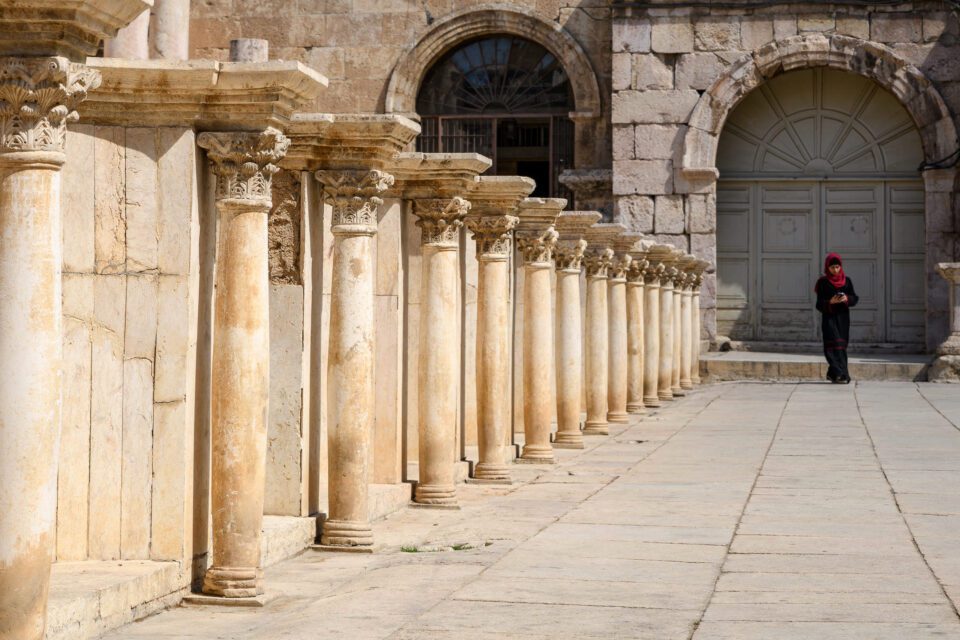 I waited for a while for an interesting and lone subject to walk by. To get this shot, I had to keep the D850 near the ground and look at the tilted screen. This is one of the reasons why every camera on the market should have a tilted LCD screen! Although I wish the Nikon D850 had a more versatile LCD screen to allow for vertical shooting, I am still happy that we have this feature on a pro-grade camera. I don't know why it took Nikon so long to make it happen…
We also photographed a number of beautiful and historic mosques and churches around the city. My personal favorite is the image of the entrance to a Coptic Church, which I was able to fit in the frame with the Sigma 14mm f/1.4 Art. I love the combination of blue, black and red here. I waited outside for a few minutes until a bird took off: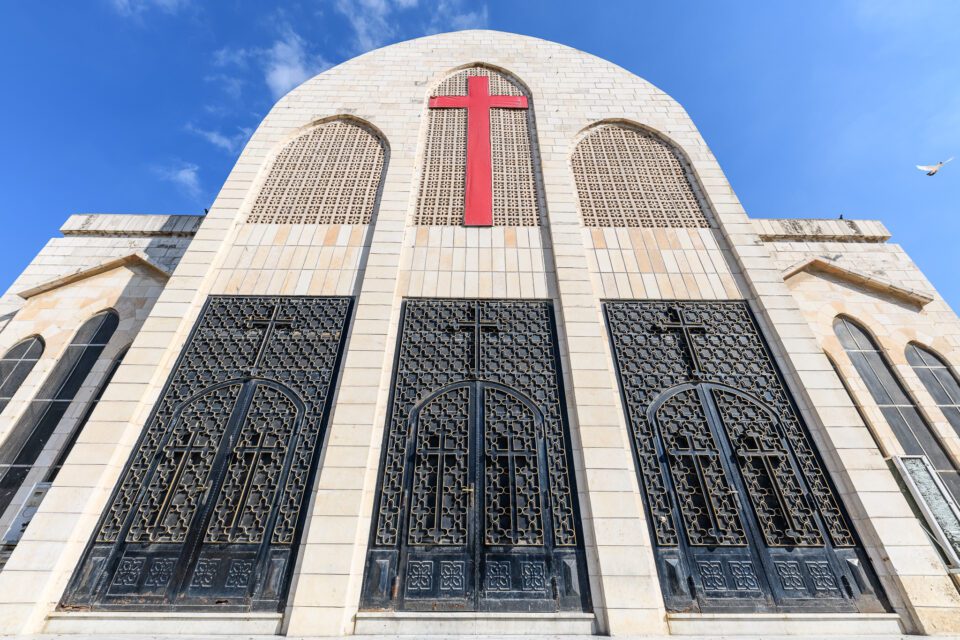 Photographing the Citadel was another great experience, since we were there before sunrise and the crowds – it was nice to have permissions from authorities, something Mr Tareq Hadi was able to organize for us. Although it was a very clear day, we were able to capture this historic location from a number of different vantage points. Below is my favorite composition from the back of the Temple of Hercules: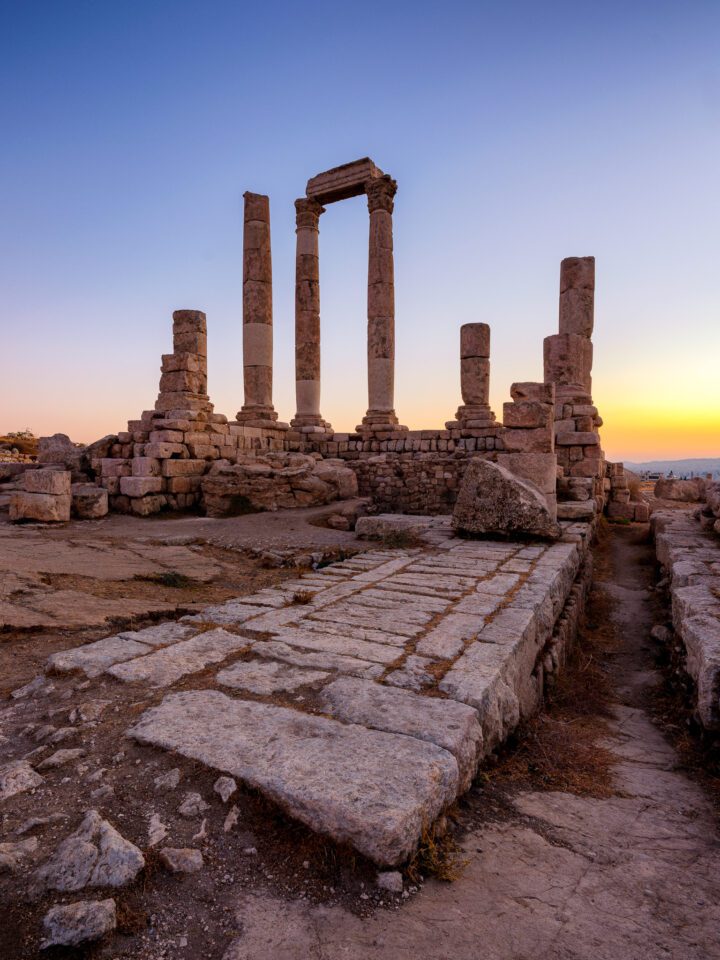 I was hoping to position the rising sun to the right of the frame, but the thick haze in the distance made it difficult to get a good sunburst.
Dead Sea
Although our initial plan was to discover some salt formations to photograph around the Dead Sea, the plan had to be changed after we discovered the dangers of walking on the soil around the Dead Sea. First of all, similar to some areas around the Badwater Basin in Death Valley (such as Devil's Golf Course), salt formations can be quite dangerous to walk on. Hardened salt can cut through one's flesh and leave a lot of damage behind, so if you step in a wrong spot or trip, you could easily fall, sometimes through some of the formations. Lastly, if one manages to drop camera gear into the salt water, it would be the end of it too – might as well just leave it there! Only a small team of us decided to hit the road and explore the surroundings.
The first area we stopped by was relatively easy to walk on, but still a bit tricky in a few spots. However, once we got to the shore, the experience was quite rewarding: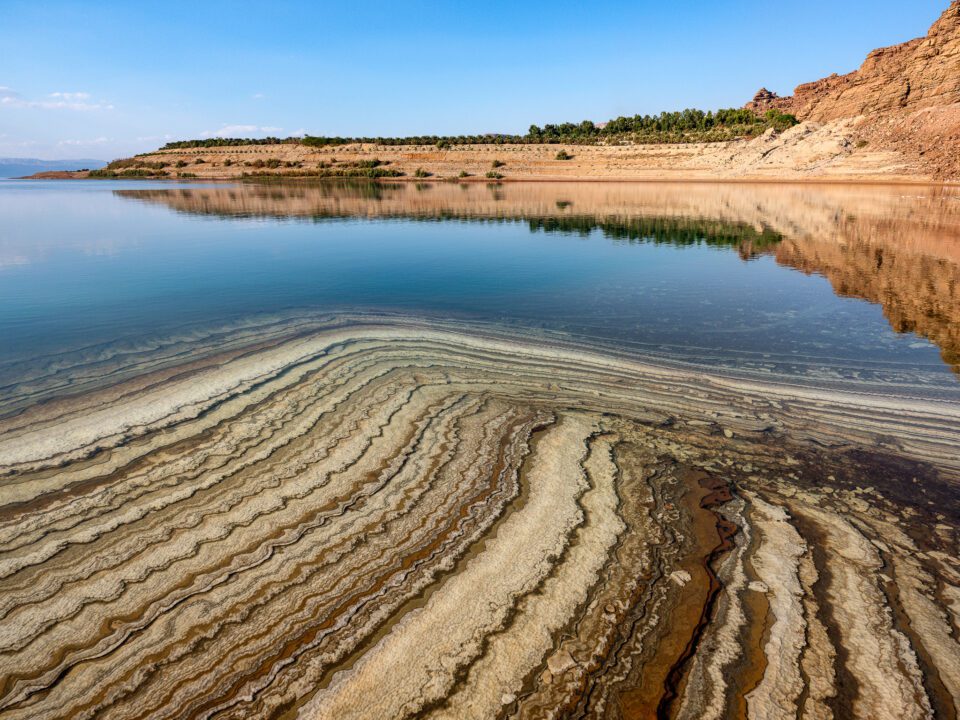 Those crazy lines in the water are different salt formations! Isn't that something? I walked around and found a few beautiful compositions like this one: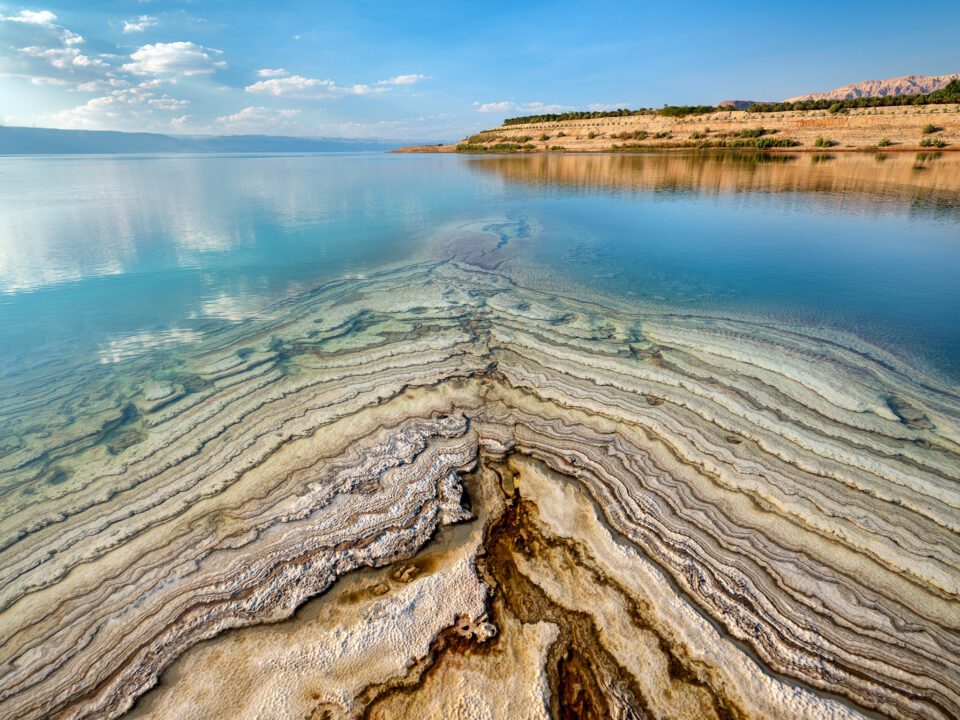 I loved this area and put it on my list of places to be at sunset, but we only had one sunset and one sunrise dedicated to the Dead Sea, so we had to make the choice of either moving on to another area, or staying there. We wanted to explore the location more and see if we can find beautiful salt formations, so we moved on further to the southern part of the Dead Sea. It did not take us very long to find salt formations, but boy, it was rough to get down to the water level. A lot of the ground was unstable and there were a bunch of potholes around us. It was not very dangerous, but pretty tricky and certainly not something I would be comfortable taking a group to. Only two of us decided to take up the challenge and find our way to the bottom – others stayed close to the car and photographed from a higher ground. It was a beautiful evening and the clouds were truly beautiful, something I did not want to miss shooting. Here is one of the views of the salt formations once we reached the water level: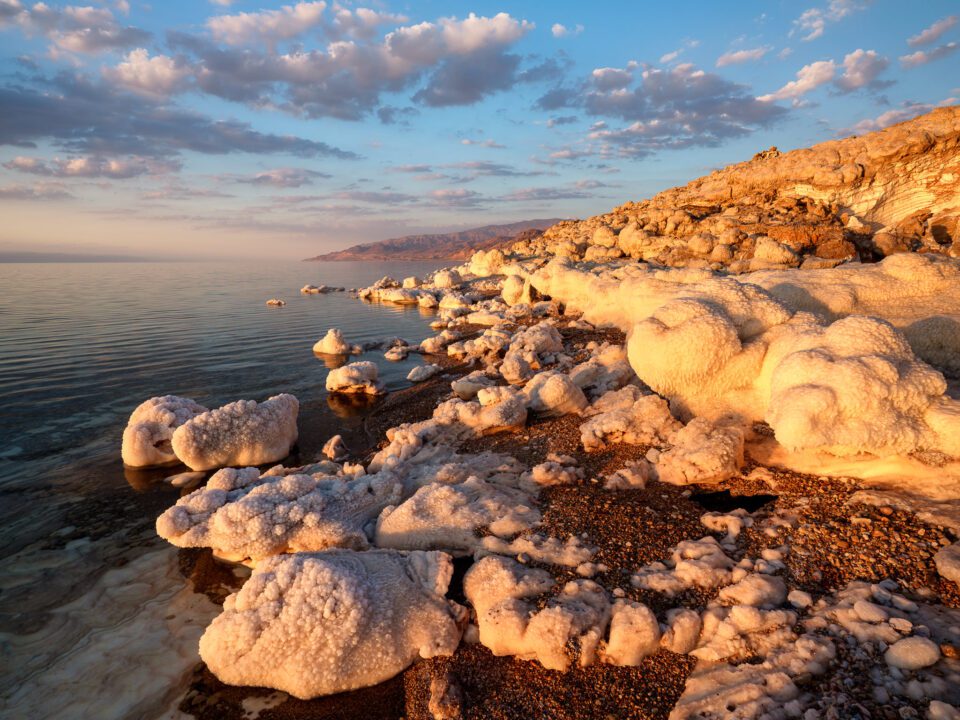 Finding a composition that works well is a challenge when you are surrounded by a bunch of rocks and salt formations. I did not want to move too far away from the car, because the driver told us that the area would be closed immediately after sunset – it turns out that the Jordanian military was very strict about the sunset rule. The issue is border crossing – anyone could easily swim over to the Israeli side and potentially cause issues, which is something both sides want to avoid. We were told that we could get into trouble if we did not leave before it started to get dark. The driver was on alert, constantly keeping his eyes on us, so we had to stay within the perimeter. After a few minutes of scouting, I managed to find a vertical composition I was pretty happy with. I set up the Fuji GFX 50S with the GF 23mm f/4 lens on a tripod and kicked off the intervalometer, while keeping the Nikon D850 with the new Nikkor 28mm f/1.4E lens on my hands for other hand-held compositions.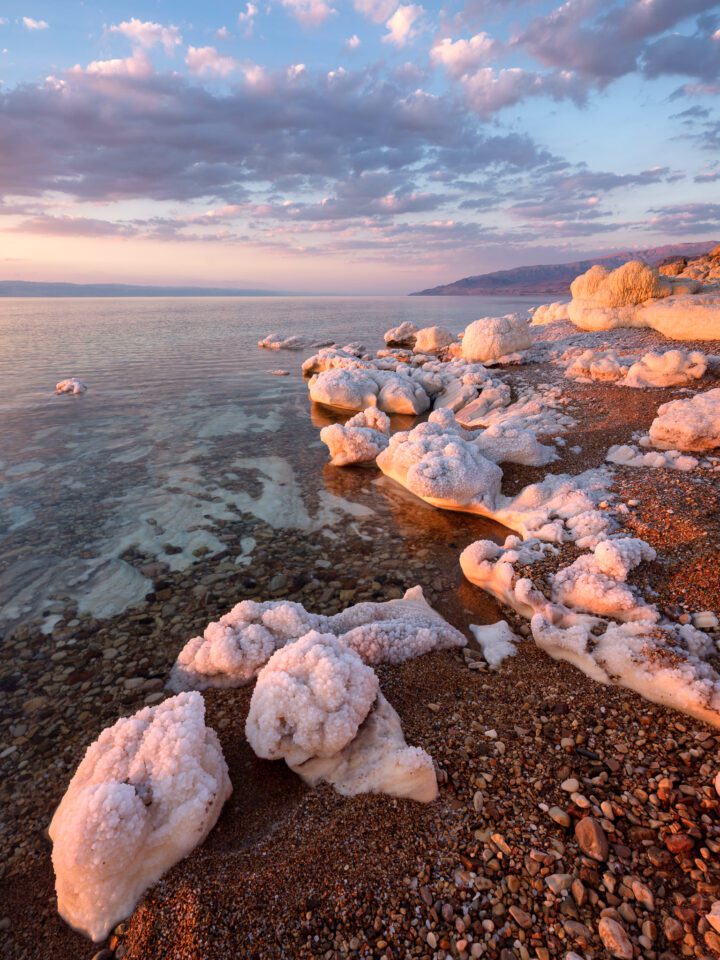 I found a nice rock shaped up by salt fairly close to where I set up the tripod and shot it at a very wide aperture in order to give it some depth: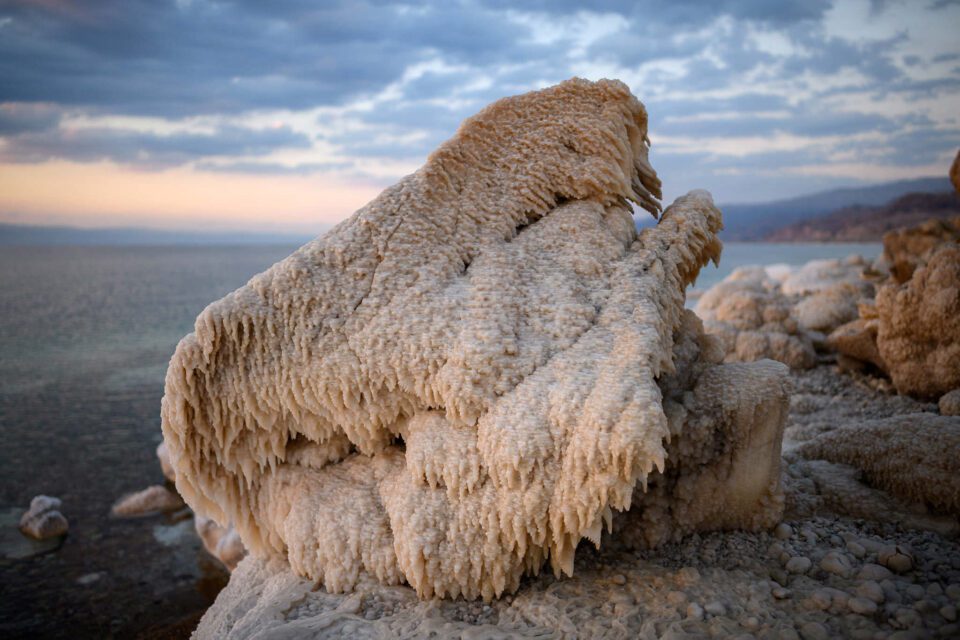 The sunset was beautiful and the sky started to light up, but unfortunately, it was time to leave the area. We did not want to get into trouble with the military, so we gathered our gear and took off early.
I thought about going back to the first spot the following morning, but it would not have worked anyway. Not only because the clouds were completely gone, but also because there was a tall hill right behind where the sun would rise from, so the sun rays would not make it to the shore until the sun was high enough in the sky. If I were on the Israeli side though, I would definitely go for a sunrise!
Photographing the salt formations was an incredible experience and something I would certainly do again. However, I am not sure if I would be willing to bring along a group of photographers, unless they were fit, well equipped and willing to take a risk – I would hate to see anyone fall or get injured there.
Jerash
Another location we had permission to access before sunrise was the historic city of Jerash. We arrived pretty early to capture sunrise and after seeing some clouds in the sky, I got excited about the potential sunrise opportunities. We set up on a high ground to photograph some ancient columns, with the city in the background, since this is where the first rays of the sun would hit. To fit the columns into the frame that close, everyone had to shoot as wide as possible. I once again went with the Sigma 14mm f/1.8 Art, which worked out well for this composition: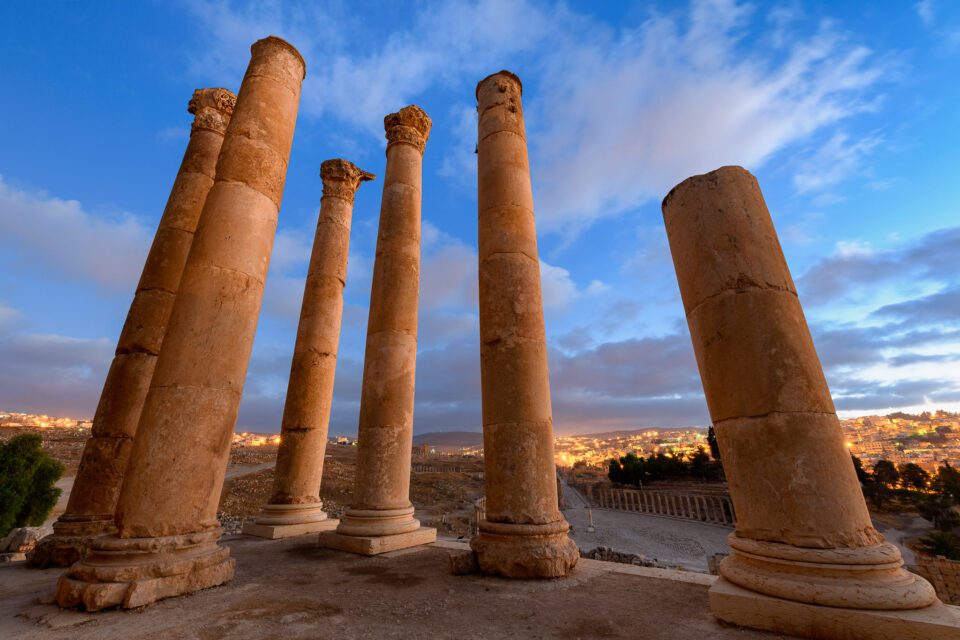 Unfortunately, the clouds quickly disappeared as we approached sunrise, so we did not get much cloud action that morning. Still, we got some beautiful golden light on those columns, which was great!
Jerash has a lot to offer photographically, especially if the light conditions are right. I mostly focused on photographing columns from different temples in the city: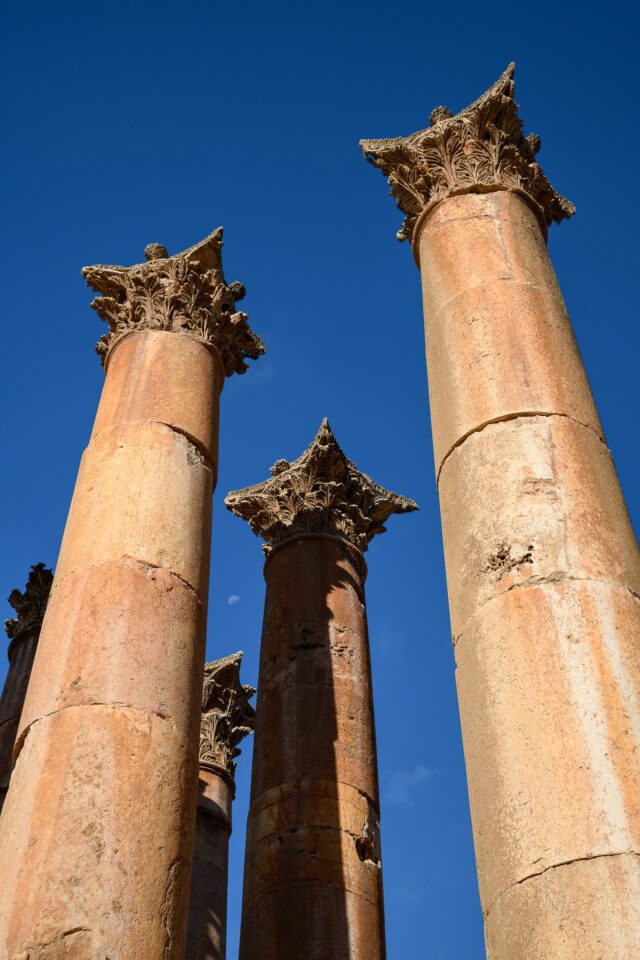 And here is a straight up shot of four columns from the Temple of Artemis that look pretty symmetrical: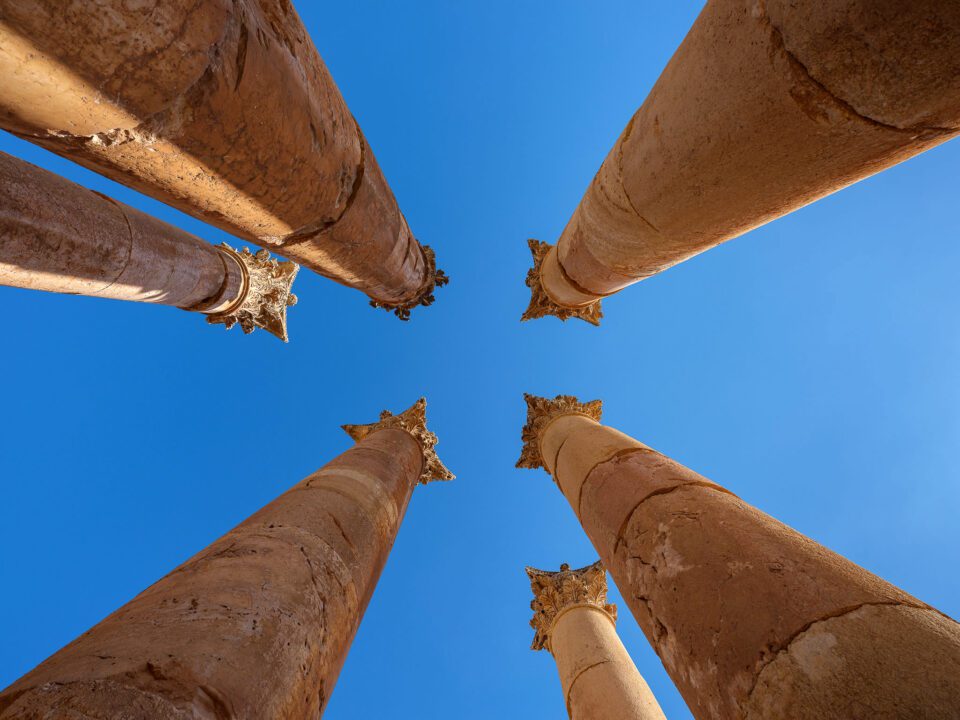 Portraits
Along with cityscape and landscape photography, I was also fortunate to photograph some portraits of the locals. Jordanians are very friendly people and surprisingly, a number of Jordanians specifically asked me to photograph them, something I have never previously experienced before in other countries. Below is a selection of some of the portraits I captured in Jordan.
This young man requested his photograph to be taken while I had the Nikon D850 with Tamron 24-70mm f/2.8 G2 in my hands. As soon as I heard the request, I switched to a more appropriate setup for portraiture – the GFX 50S with the GF 100mm f/2 lens. What a great combo! Extremely sharp wide open and capable of producing stunning portraits. I took a few shots, but this one is my favorite: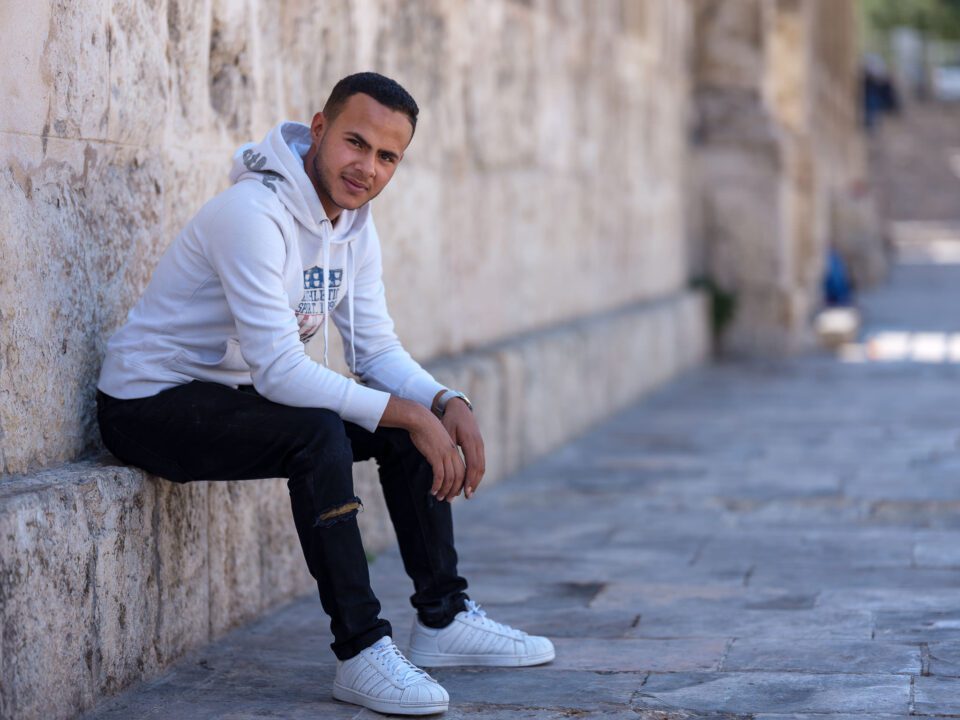 Another photo request came while we were enjoying drinking fresh juice on a busy street of downtown Amman. I positioned this gentleman in front of closed shop and it worked out pretty well as a background: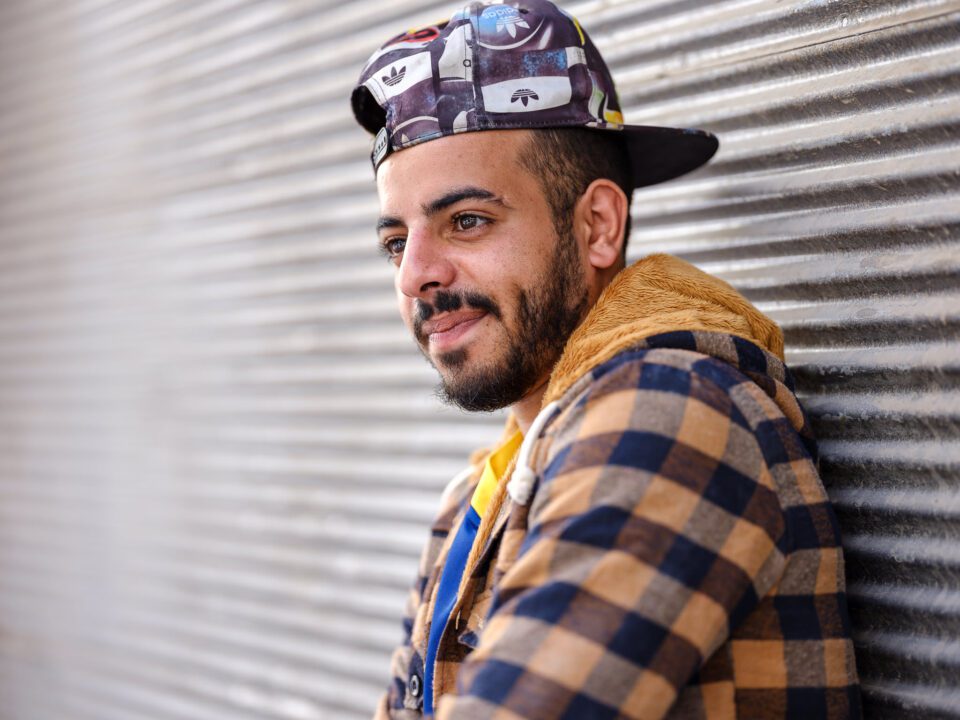 And here is another subject I photographed with the same combo: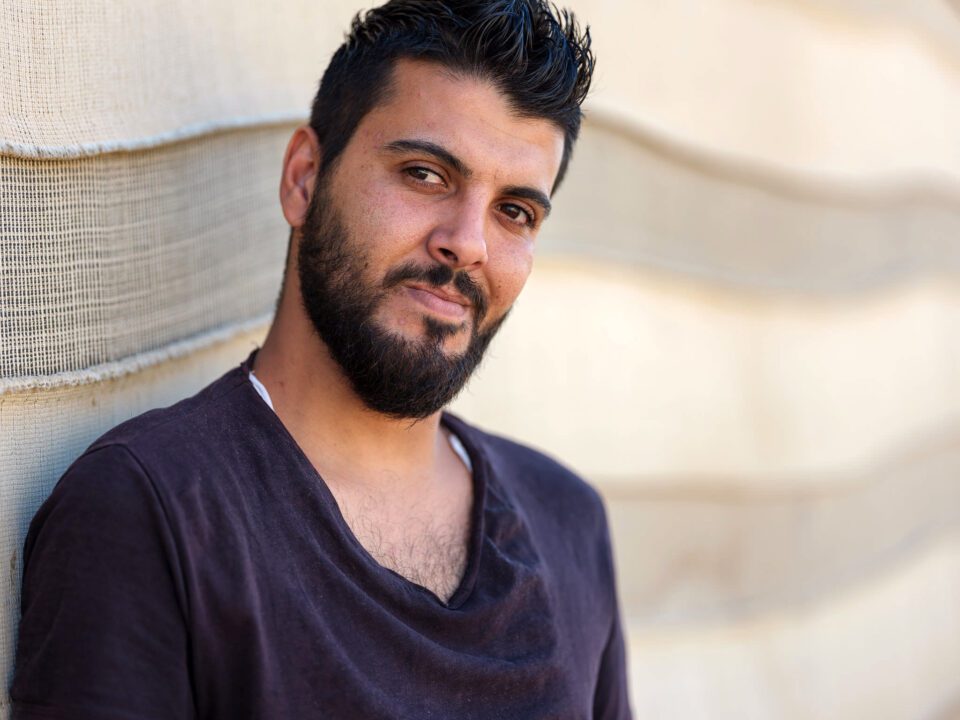 But who says that subjects should only be photographed with portrait lenses? While touring one of the castles around Amman, I came across a Bedouin boy, who happily posed for me while I had the Nikon D850 and the Tamron 24-70mm f/2.8 G2. I zoomed the lens to 70mm and shot his portrait wide open: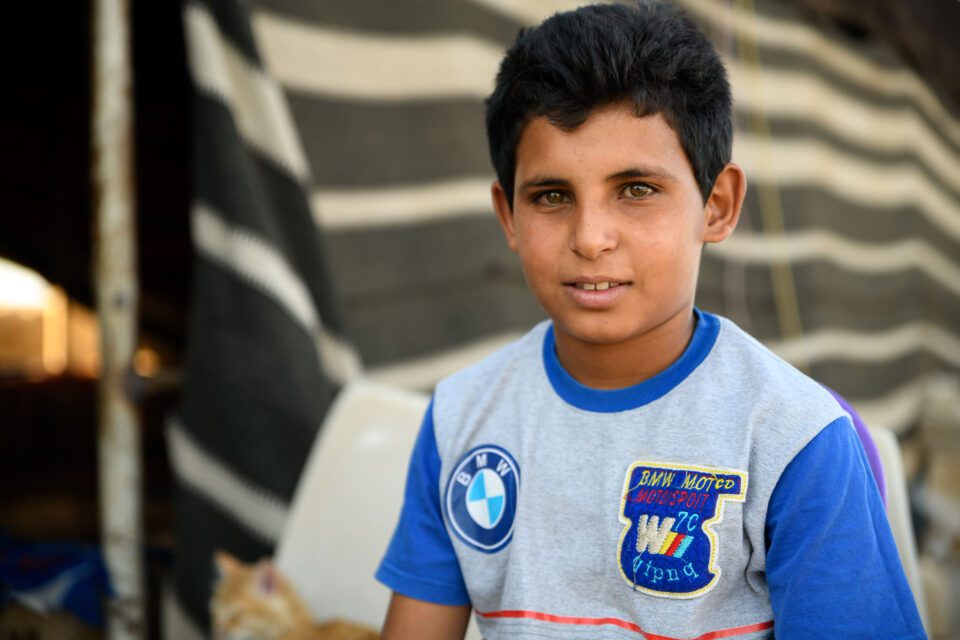 My next subject was Mr Tareq Hadi himself. I saw a spot of light inside a castle and I really wanted to place a subject in it, but everyone was gone and the castle was completely empty! Gladly, Mr Hadi was nearby and he volunteered to pose for me again: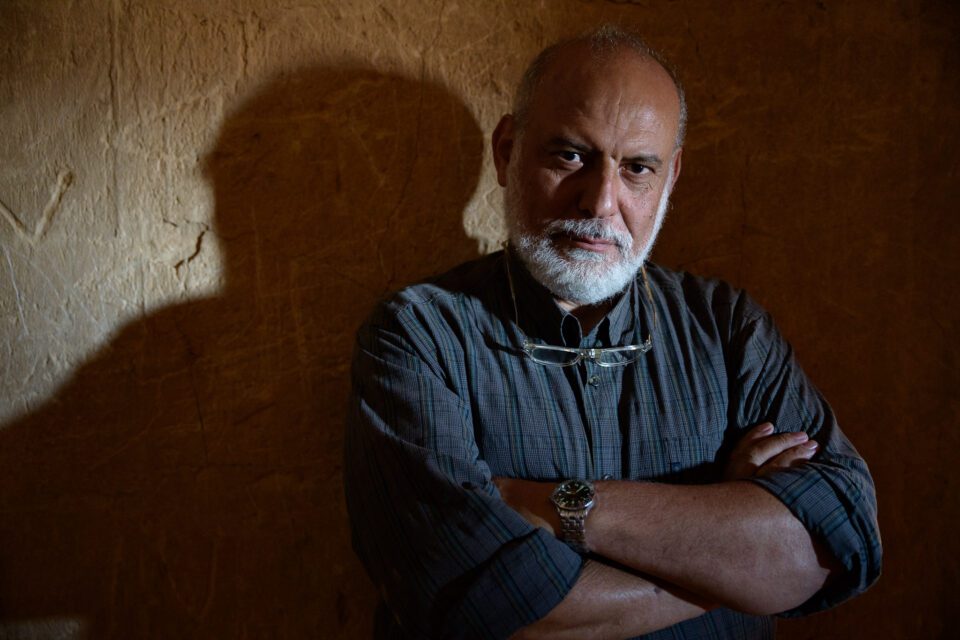 Great light on a great man. That's all I have to say!
As we drove towards Petra, we came across a Bedouin who was riding a donkey. We stopped by and I asked if I could photograph him. He refused. I was not sure why, but after Mr Tareq translated, it turned out that he did not want to be photographed on a donkey – it was an issue of status for a Bedouin. He walked me towards his camels that were a hundred feet away, then happily posed in front of these mighty animals: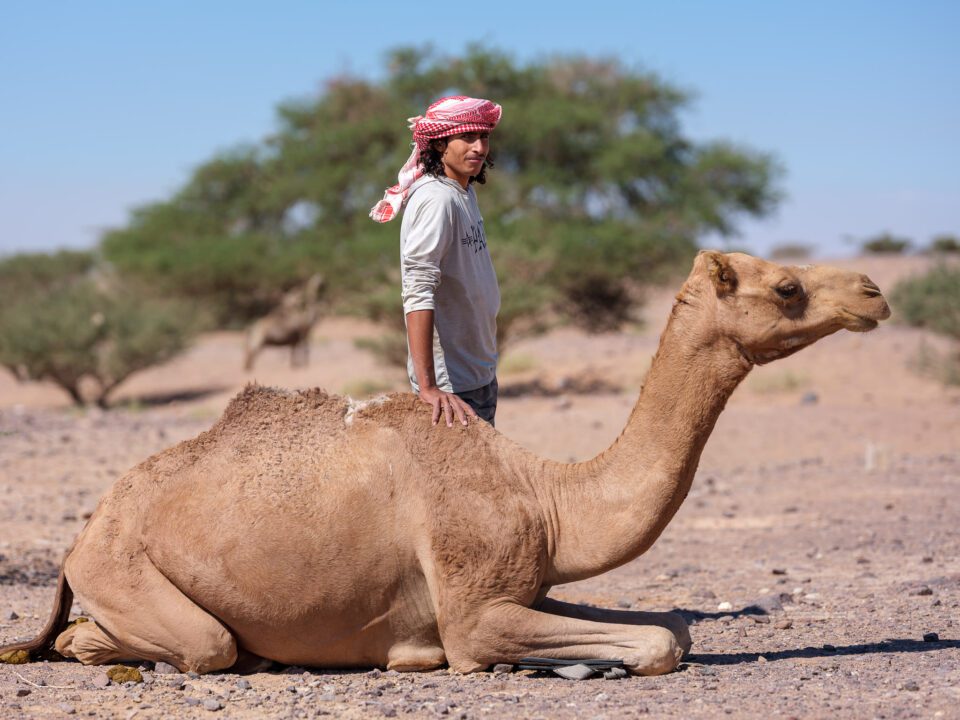 From there, it was time to move to some desert castles.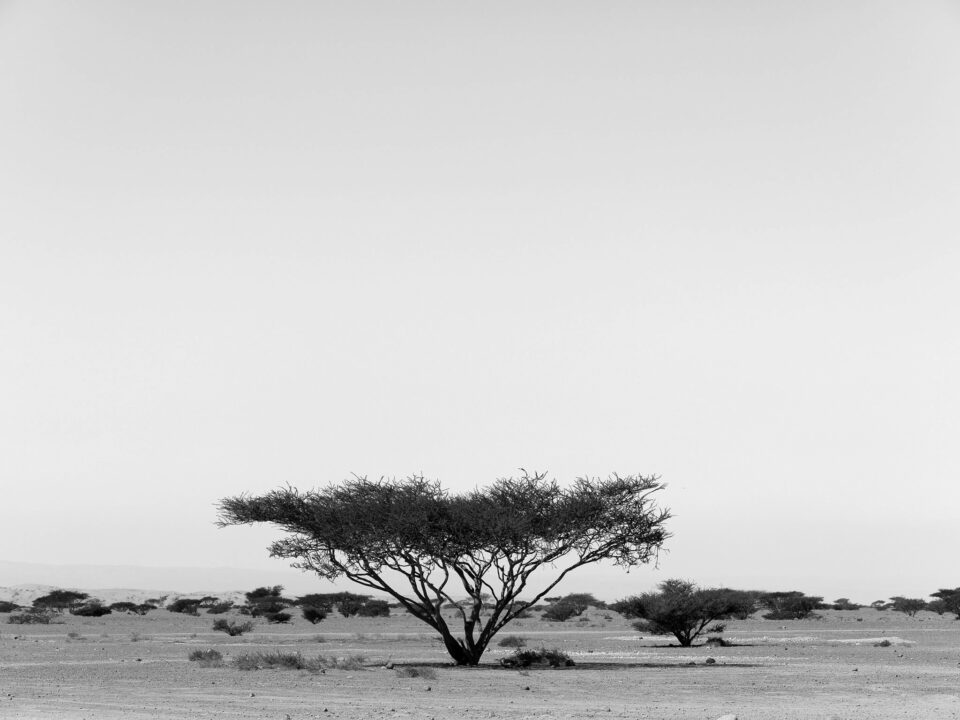 Desert Castles
We also had a chance to visit a number of desert castles. The most memorable of them was definitely the Azraq castle (Lawrence of Arabia stayed there), where the friends of Mr Tareq Hadi treated us with amazing Bedouin dishes prepared on wood and coal fire. It was a very delicious meal and I particularly enjoyed the spicy lamb cooked with onions. We arrived a bit late to the castle, so I had to go around and look for the last lights falling on its dark walls: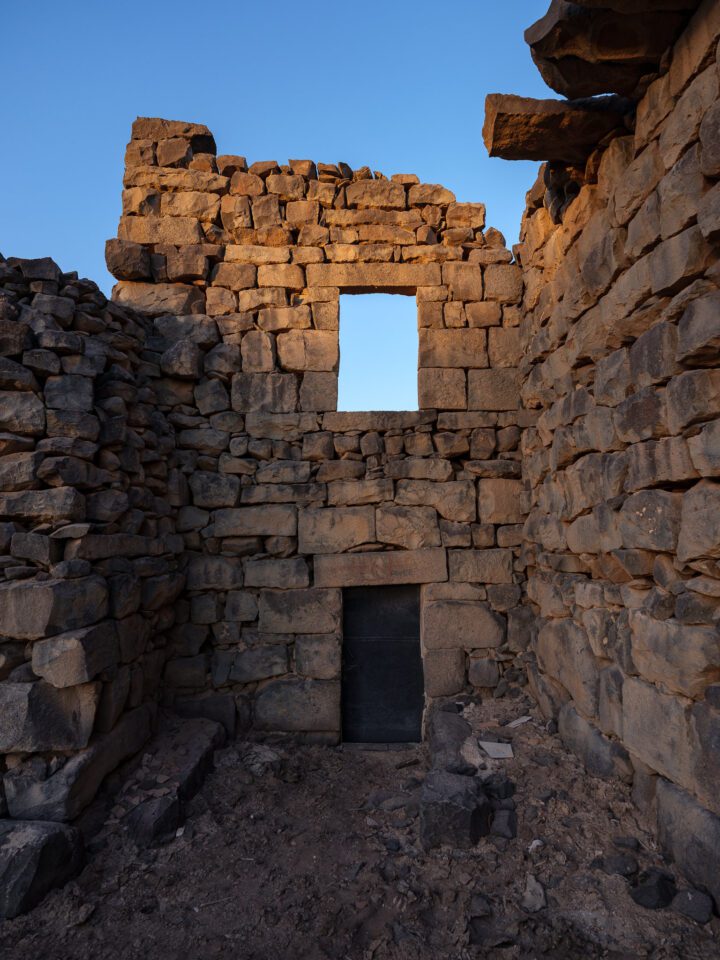 We planned on doing some night shooting though and Azraq didn't work due to its proximity to a town and lots of light pollution, so we had to go to another castle for night photography. The Al Kharanah castle was our next bet, which also did not work well due to its proximity to a highway. We first tried to shoot the Milky Way from within the castle, but the lights from the road made it impossible. So we decided to move out and photograph its exterior instead. Here, the road traffic came in handy, as it lit up the castle walls pretty evenly: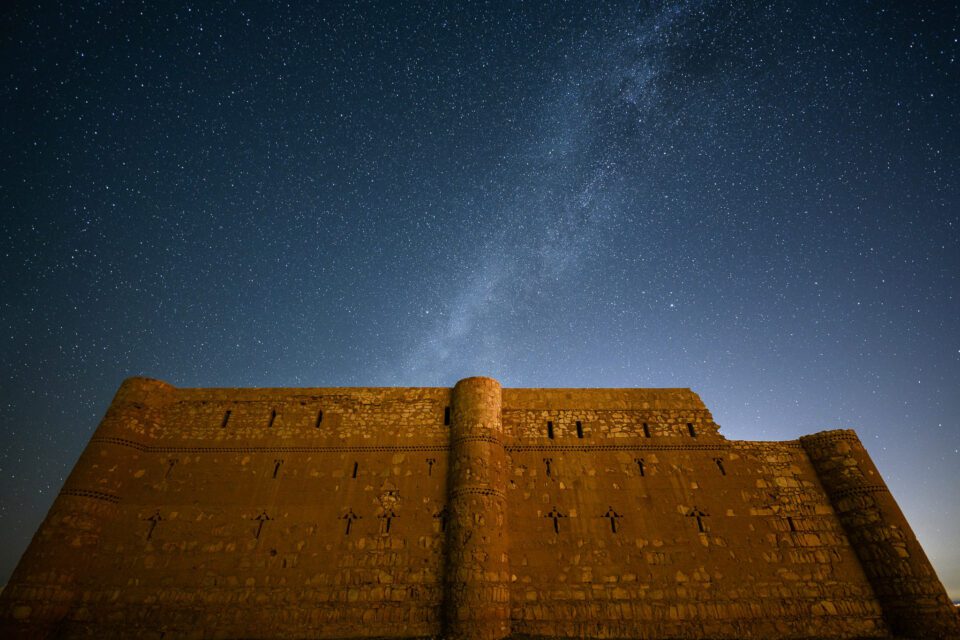 October is not the best month to shoot the Milky Way, so it turned out to be a bit faint, which is something we expected to see.
Petra
If you have never been to Petra, you should definitely put it on your list of places that you must visit in your lifetime. It is absolutely stunning in so many ways. Ever since it became the new World Wonder, it has drawn quite a bit of tourism from all over the world, so Petra is surely busier than ever. However, that should not be a detriment for visiting this ancient city. Most people who visit Petra only make it a day trip, so they come and photograph the famous Treasury: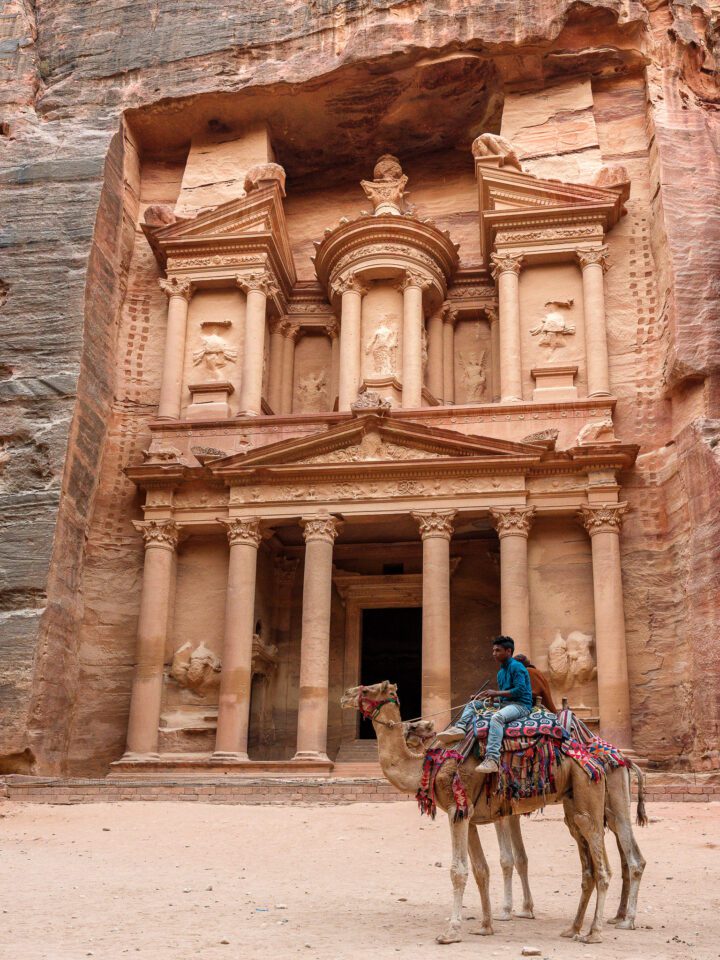 Or Bedouin camels parked and ready to go for those who want to explore Petra above the ground: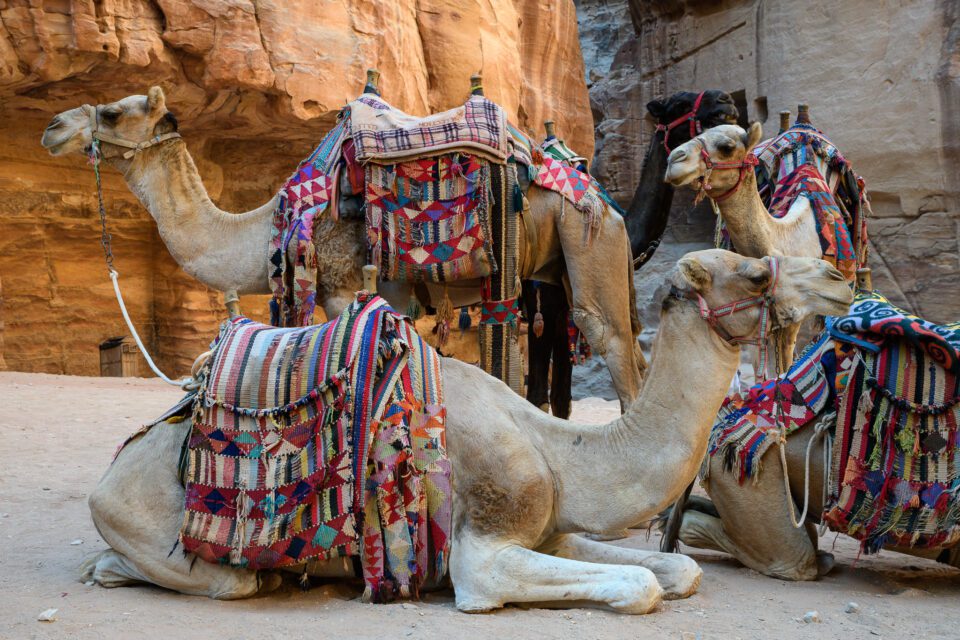 Most visitors go back after seeing the Treasury, thinking that it is all Petra has to offer. But they are so wrong, as the Treasury is simply a gateway to the actual city. There is so much more to see and explore – everything from ancient ruins and amphitheaters all the way to colorfully covered walls and tombs: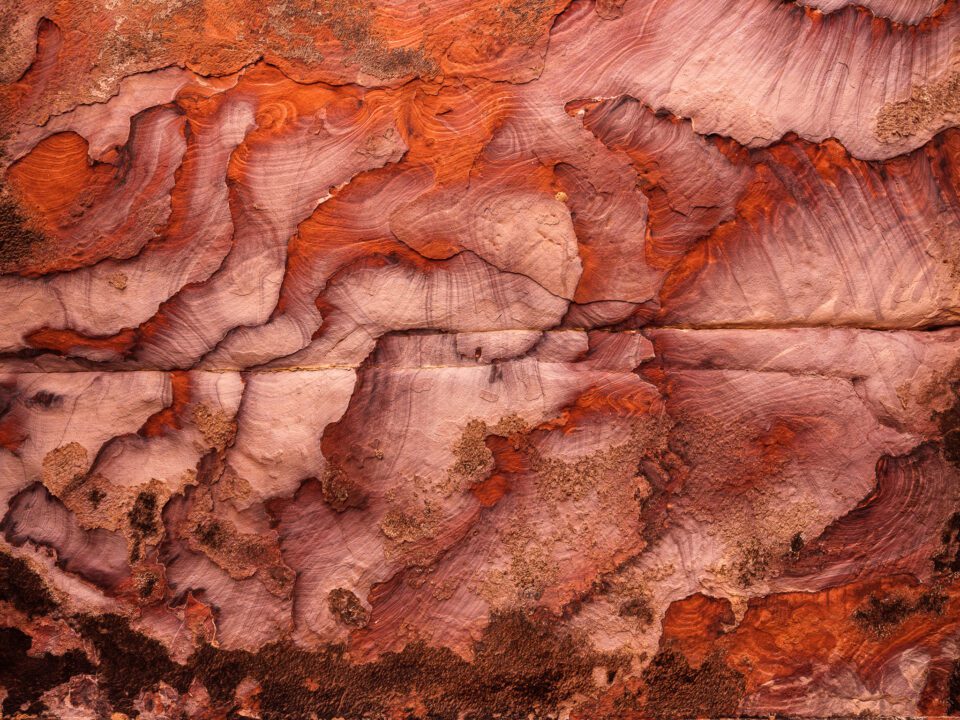 One could easily spend a week in Petra and still not see everything! While I have previously visited Petra twice, I never got very deep into the city, so my goal this time was to explore it more and make it to the Monastery. Everyone said it would be a tough hike, but it actually turned out to be fairly easy, especially for anyone in good shape. We made it to the top in roughly 30 minutes, taking pictures along the way. Here is a photograph of a lone mule that we saw on the side of the trail: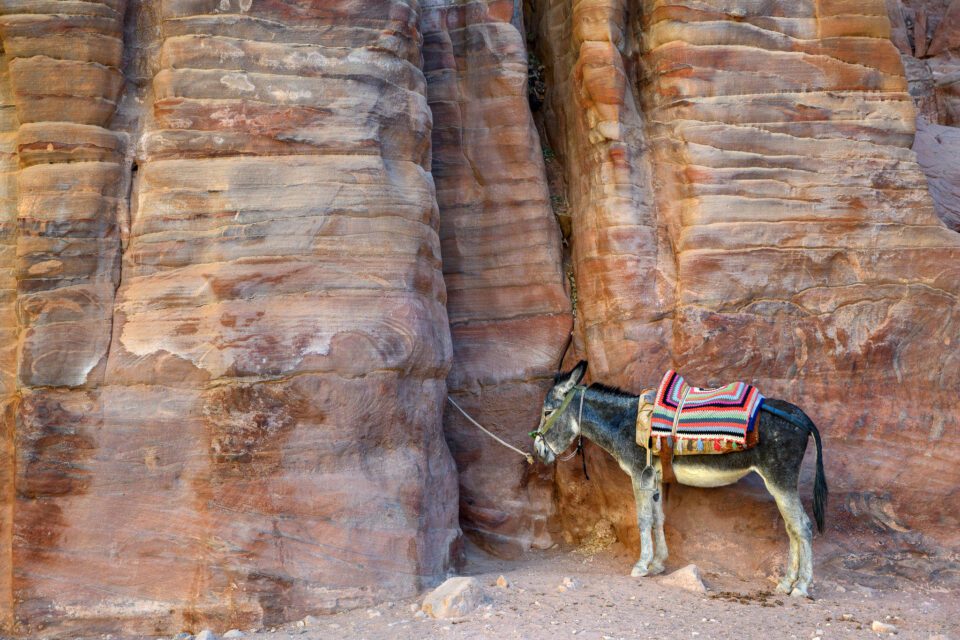 We made it to the Monastery a few hours before sunset, so I was able to explore the area a bit and photograph the surroundings. People on feet and on mules were passing by, so I waited until I got a chance to photograph a Bedouin boy riding a mule: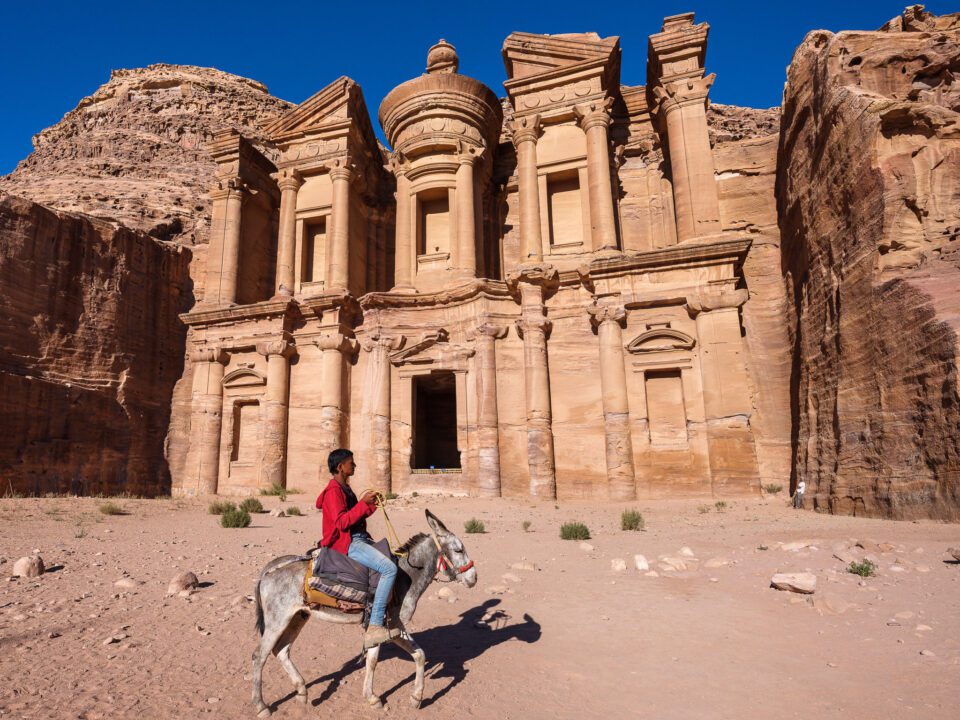 From there, it was a matter of waiting for the late afternoon light. It was a clear, cloudless day, but not particularly hot, which was great. As the sun started to set, temperature started to drop rapidly, so we were glad that we listened to Mr Tareq Hadi's advice to bring warm jackets. Once we got close to sunset, I walked around to photograph some of the details of the Monastery: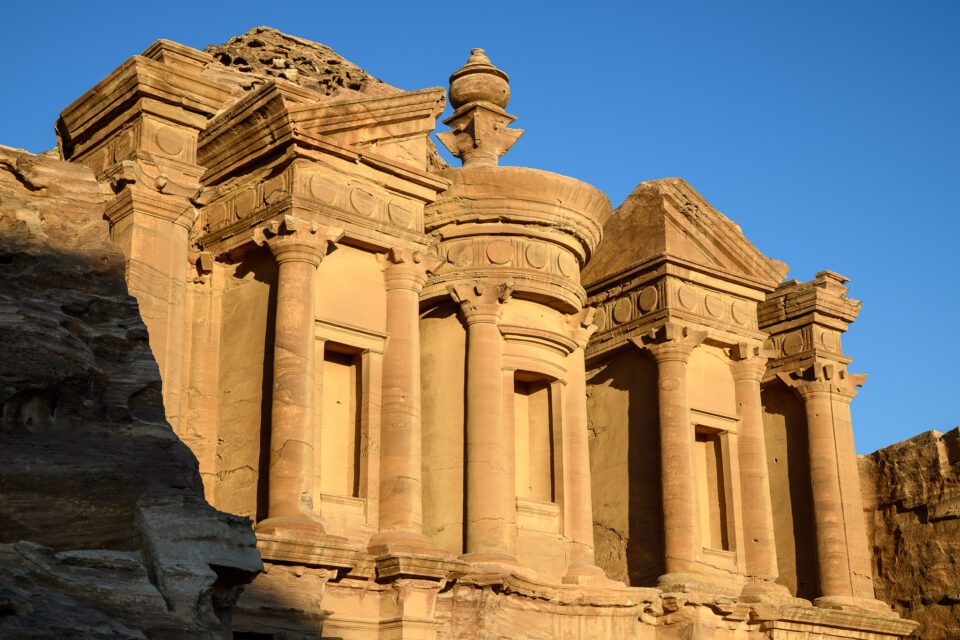 And we were able to find a few interesting compositions, including this "window" composition, shooting from a cave: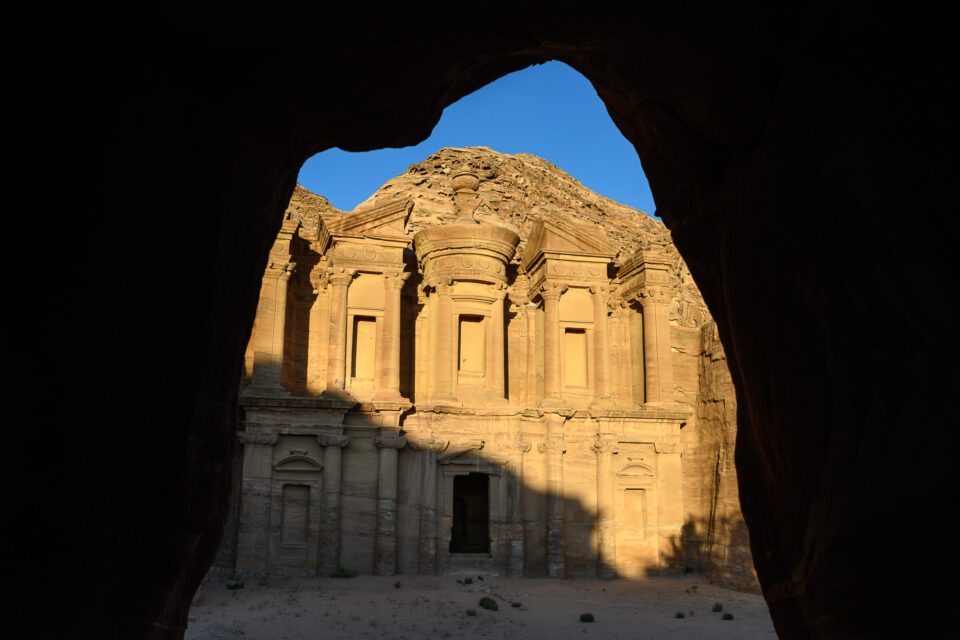 I walked around and looked for other interesting subjects, which is how I came across this beautiful tree: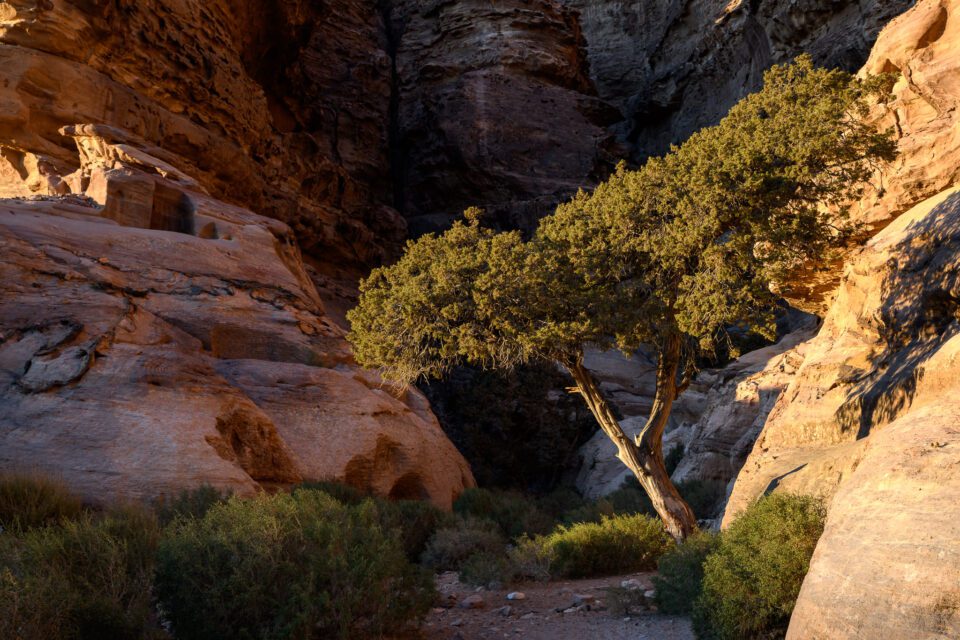 The last rays of light were particularly beautiful, as they were filtered by many layers of haze in the horizon, allowing us to photograph some rock details: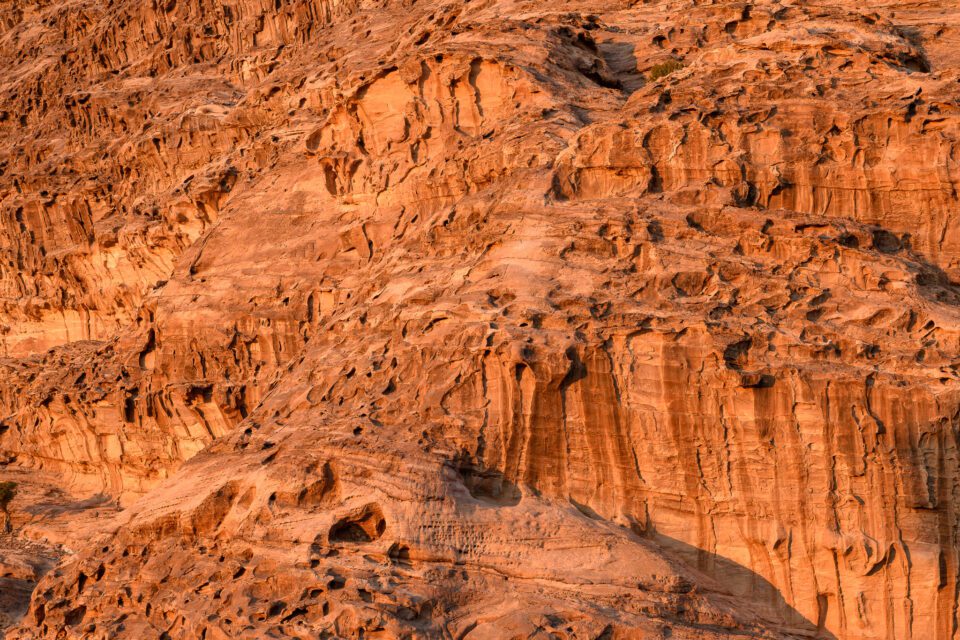 But the most spectacular scene for me developed after sunset. I set up my tripod in one spot and photographed the Monastery at dusk, then waited a bit more until the stars appeared in the sky. It was a tough place to shoot at night for two reasons – there was a shop behind us that had some bright lights on, and the right part of the sky was getting some nasty glow from light pollution coming from the nearby town. It took me some time to edit this image in order to reduce the glow in the sky, but I think it worked out pretty well in the end: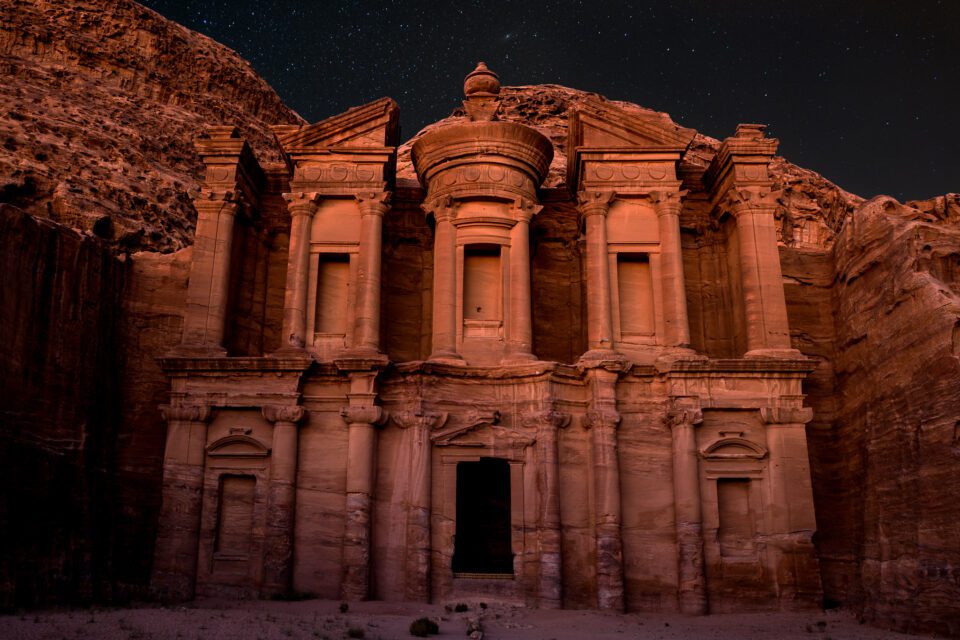 We then headed back to the Treasury, since it was the day when we would experience Petra by Night. We arrived right at the time the workers were arranging lights on the ground. We had very little time before the crowds rolled in, so I set up my tripod with the Nikon D850 and Sigma 14mm f/1.8 Art to photograph the Treasury that was getting lit by candlelight:
Again, the glow in the sky due to light pollution was quite nasty to deal with. As soon as I took a few shots, the first group arrived with at least 100 people. Before I was able to put my gear into my camera bag, the place filled up all the way to the front of the treasury! If you want to photograph Petra at Night, you'd better be among the first to arrive, or you won't be able to take a picture without people in it. The worst thing is not the crowd, but their phones, flashlights and cameras shooting flash. We were quick to get out from there…
Wadi Rum
If I were to pick only one place to photograph in Jordan, it would without a doubt be Wadi Rum – that's how much I love this place! Wadi Rum is rich of photographic opportunities and if you are willing to explore, you can find many treasures. Wadi Rum is a vast place, so make sure to dedicate enough time to do some hiking, camel riding and driving to remote areas. Local Bedouin drivers are a must to get anywhere and you certainly do not want to drive yourself anywhere in Wadi Rum! You will quickly get lost or stuck, so it is best that you have someone knowledgeable tour you around.
There are many Bedouin-run camps in Wadi Rum where you can spend the night. While most people prefer to go with simple accommodations comprised of bare tents, we were fortunate to be able to book the best camp in Wadi Rum: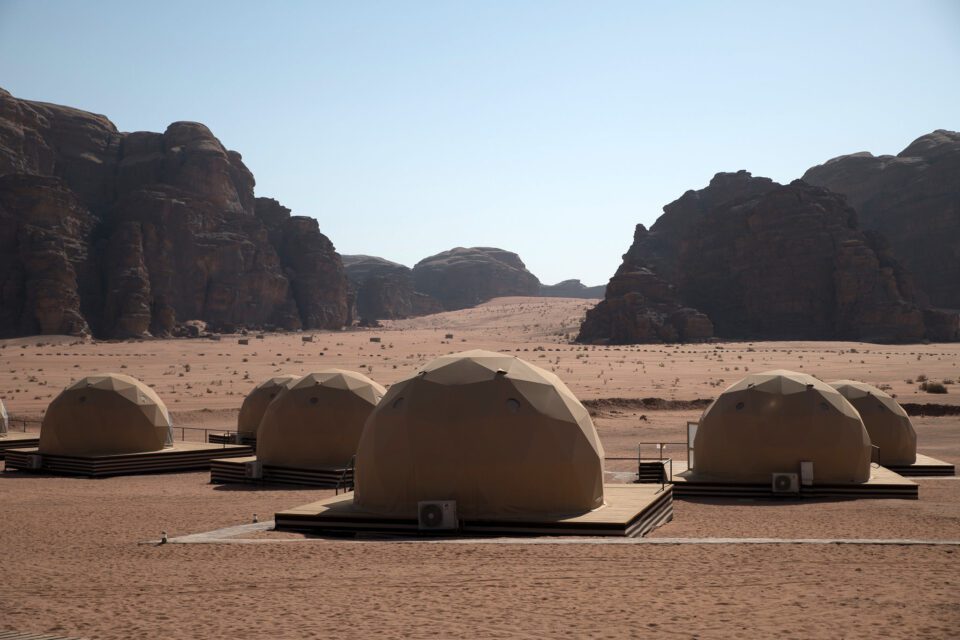 These building structures called "The Martians" (yes, named after the movie, since it was filmed nearby) are pure luxury to be in. Just take a look at how nice they are from the inside: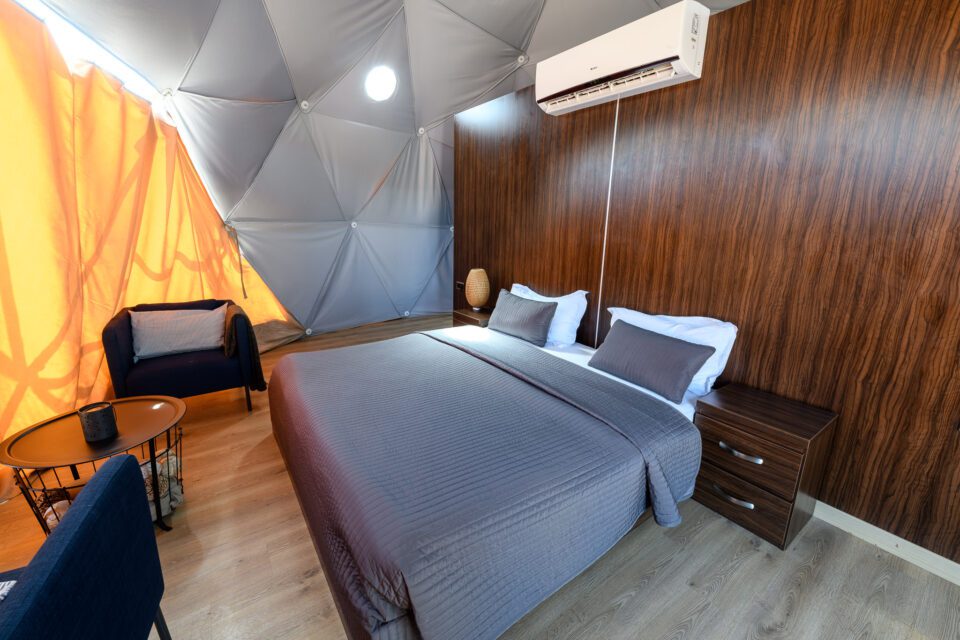 And the bathrooms are even nicer, decorated with modern tiles and furniture.
But the most exciting part was obviously photography. We had a chance to shoot one sunset, where I climbed up one of the surrounding structures to capture the below shot: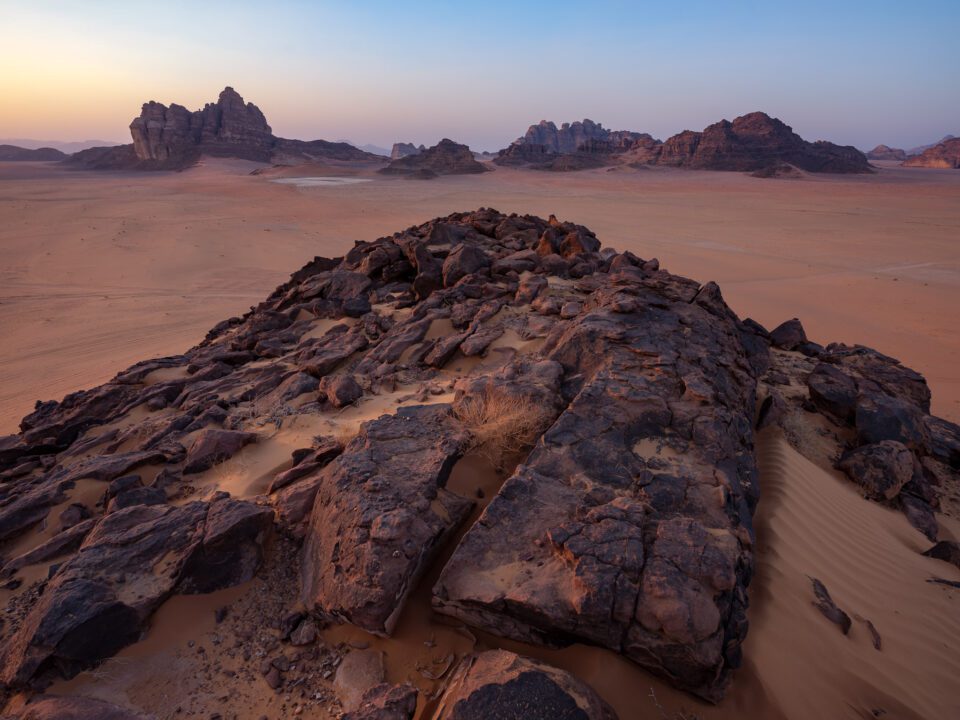 As well as a sunrise from a hot air balloon. Although it was a hazy, sunny morning, the first light in the horizon was able to paint the Wadi Rum valley with some beautiful colors.
The balloon ride was rather short, because the winds drifted the balloon towards Israel, so we had to move at very low altitudes. Still, I was able to capture quite a few images with the Nikon D850 + Tamron 24-70mm and the GFX 50S + 23mm f/4. Having both wide angle and standard zoom allowed me to capture different angles and I am happy that I had both, although there wasn't much room in the balloon to maneuver around with. Forget about taking a camera bag with you – unless it is tiny, there is simply no space for it! I had to leave mine in a transportation vehicle.
When shooting from a balloon, finding a good composition that works can be rather tricky. One is often tempted to shoot everything, but it is important to relax, slow down and look for good angles and framing that work. In the very short period of time of ascending over Wadi Rum (no more than 10 minutes), there wasn't much to shoot, so I had to concentrate on what was available. I found a few interesting angles that worked out, but I kept wishing to see more of the landscape: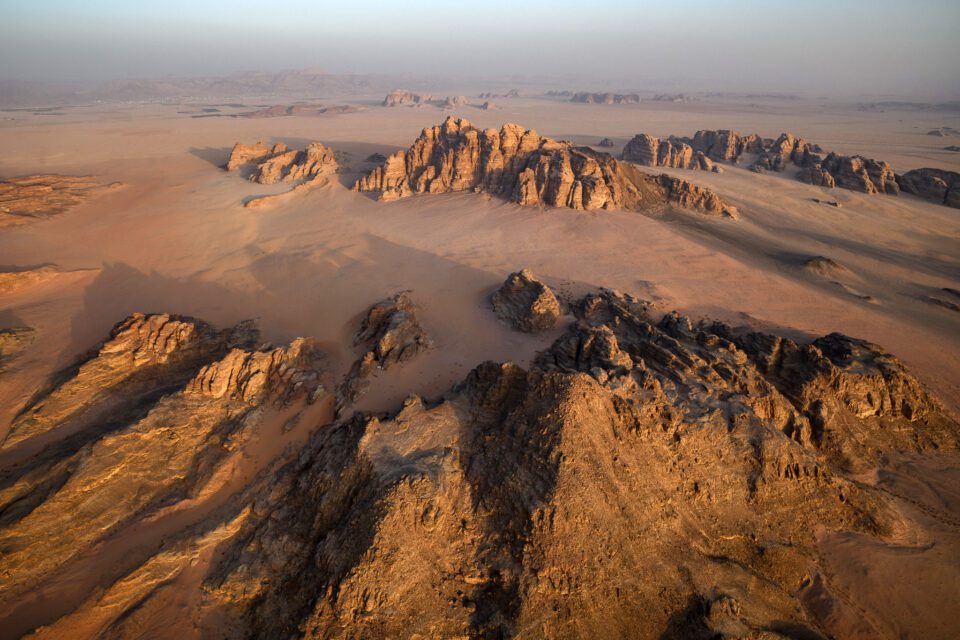 Because of this, I ended up using the Fuji 23mm f/4 lens more than I anticipated: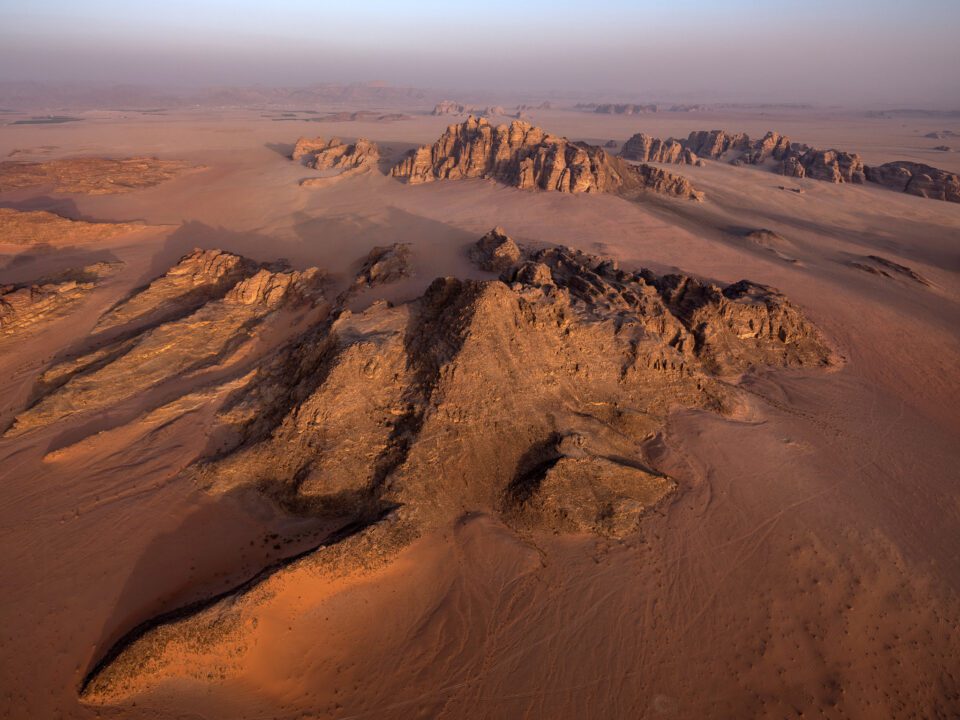 It worked out great in fitting more of the dramatic landscape into the scene. One of my last shots before we rapidly descended was a triangular composition with the same lens: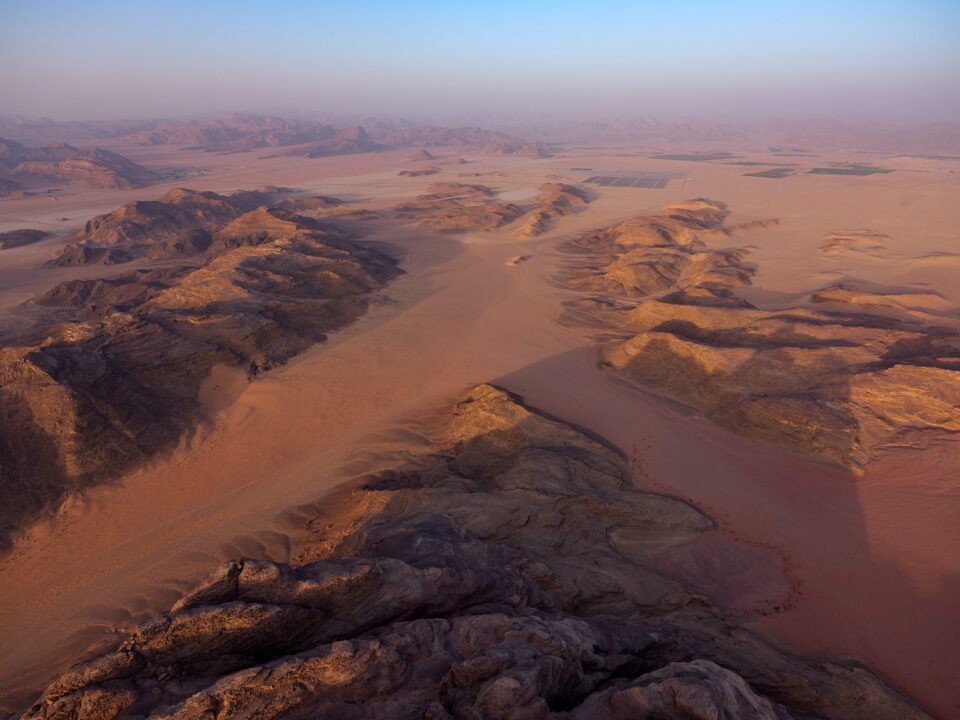 I also looked for other angles to show the many layers of the vast Wadi Rum landscape: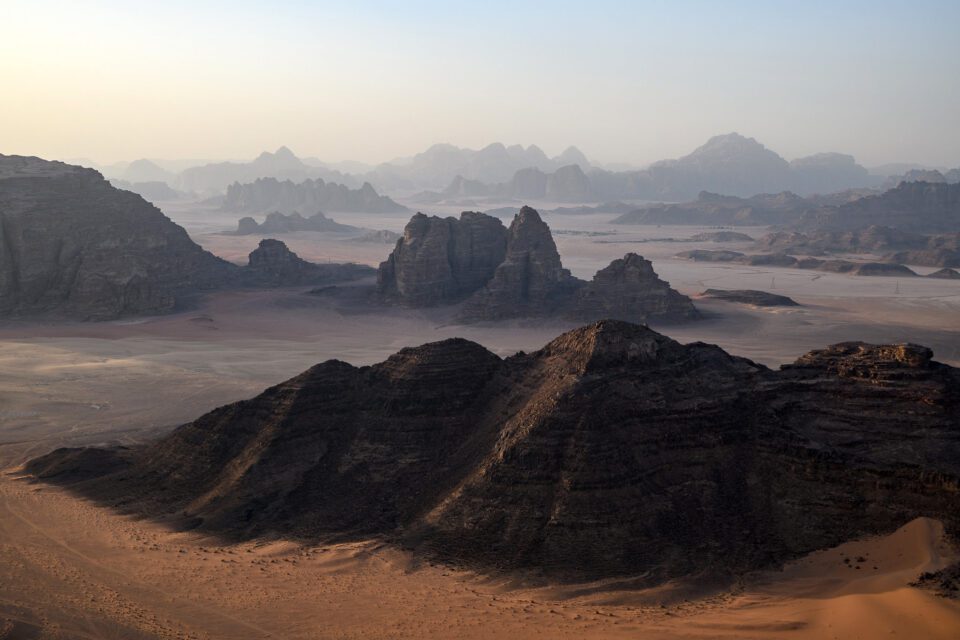 From there, it was mostly cruising at lower altitudes to find a spot to land in. I looked down and found more interesting compositions of dunes and textures. In the below image, I used diagonal composition to show off the desert dune: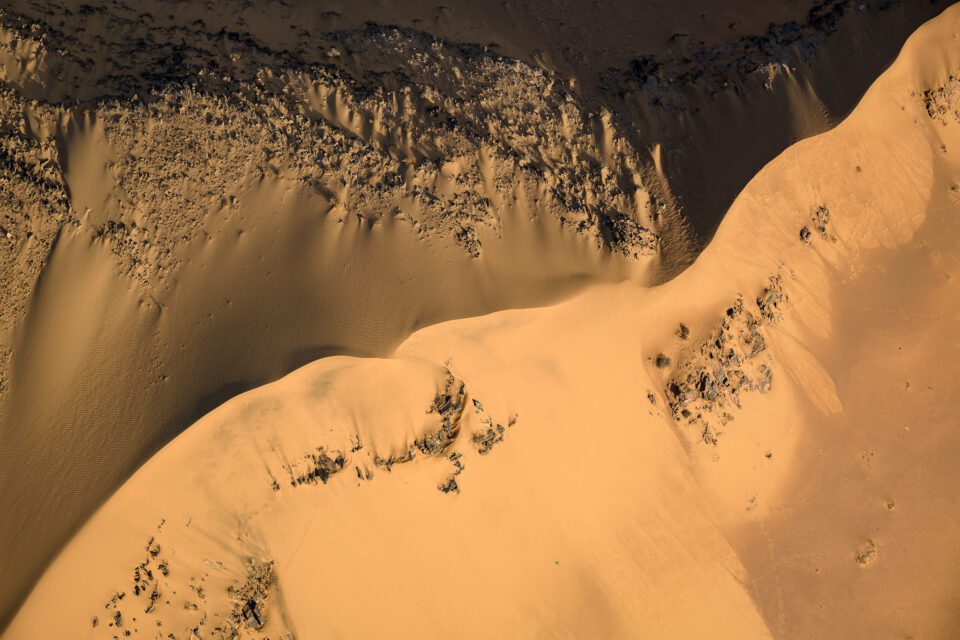 The last part of the journey was to relax and swim in the beautiful Red Sea, in the shore city of Aqaba. The following day we headed back to Amman to wrap up the workshop.
Hope you've enjoyed this photo essay. If you have any questions or comments, please let me know in the comments section below!