Most people who enjoy taking images of birds will attest to the fact that it can be especially challenging to photograph hummingbirds. These little 'pocket rockets' dart around constantly and very seldom stay in one place long enough for us to find them in our viewfinders, let alone actually get an image. If you're like me even being able to capture a decent image of a hummingbird on a feeder with its wings spread is an uncommon feat.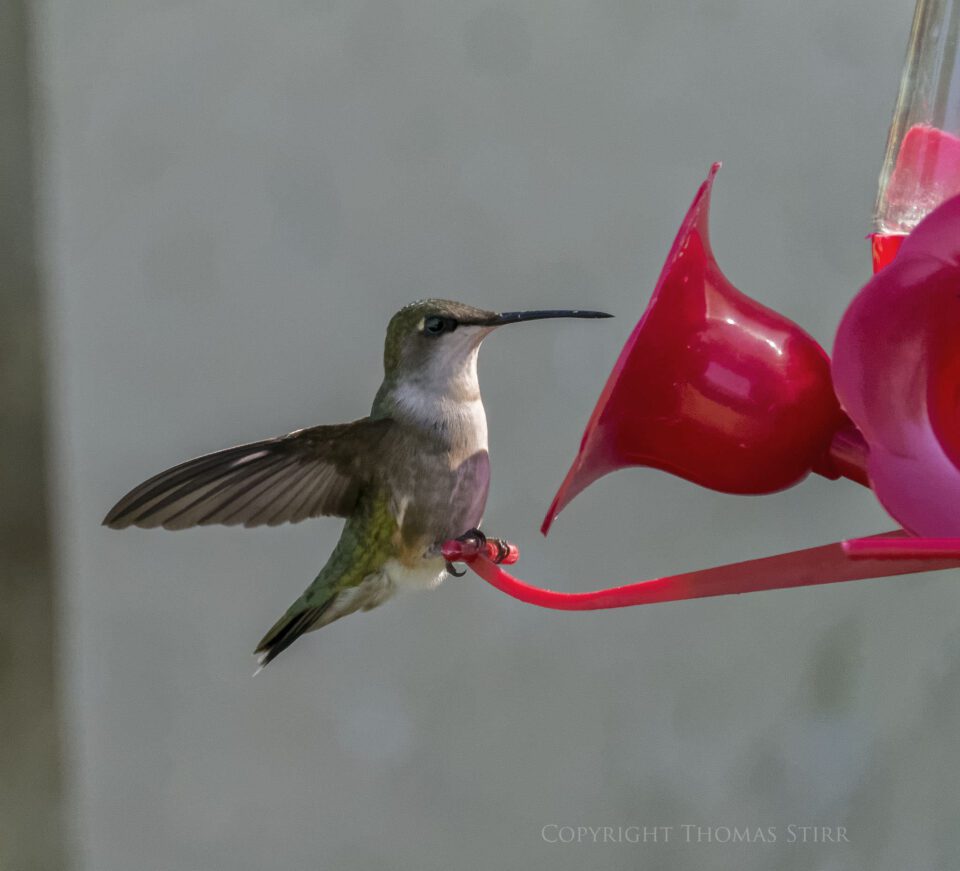 I have always been intrigued with hummingbirds and really wanted to be able to capture images of these unique birds in flight – but without the hassle of using complicated flash set-ups, or the use of a tripod. This article shares some simple techniques I used to capture a number of images of hummingbirds in flight shooting hand-held.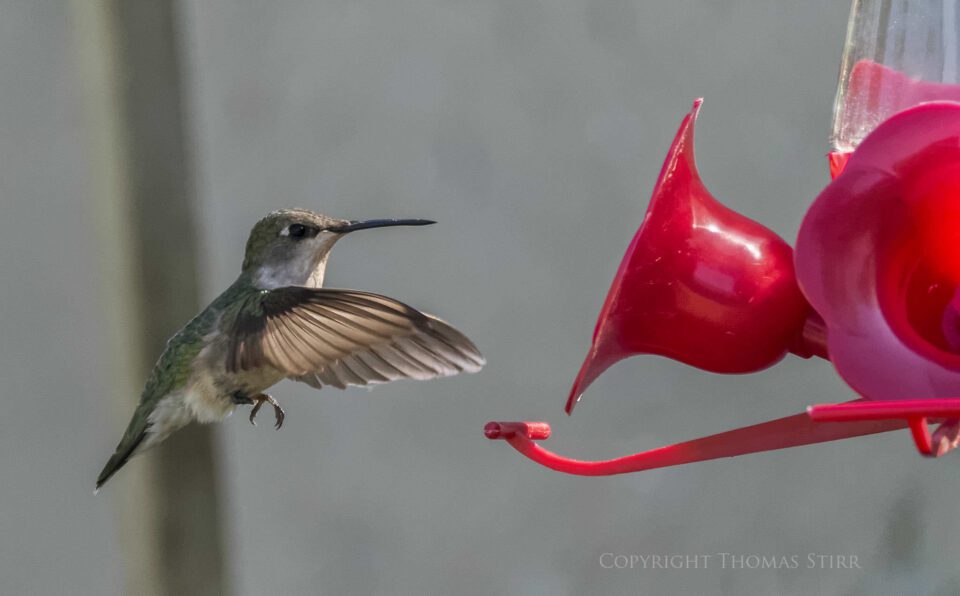 None of the images in this article would be considered 'award winners' by any stretch of the imagination, but they do represent results that I believe a lot of folks can achieve using very simple gear and technique.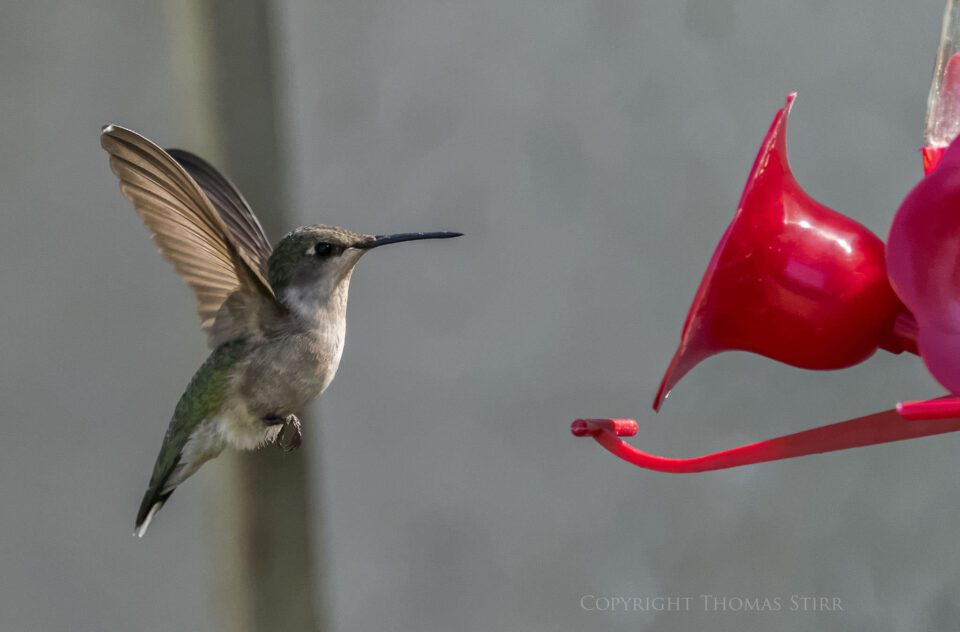 The first challenge of course is to find a location that has a good population of hummingbirds. To get the images for this article I went to Ruthven Park in Cayuga Ontario. There is a bird-banding cabin on site that has a few hummingbird feeders and appropriate plants to attract hummingbirds.
Regardless of where you live patience is required to photograph these little critters so bring a lawn chair or find a comfortable place to sit close to a busy hummingbird feeder.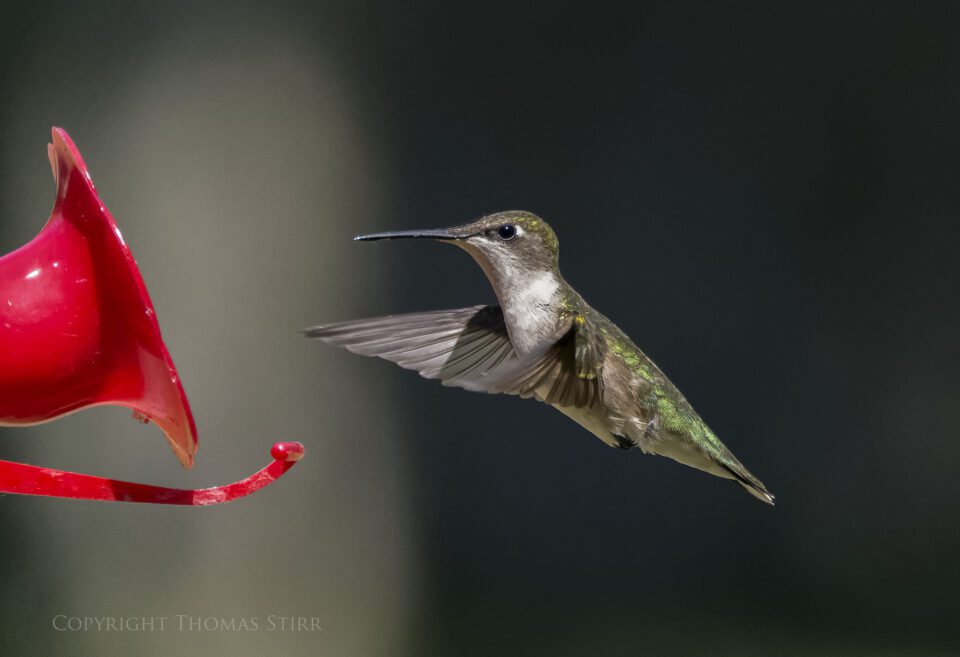 Shutter Speed
To have any chance to even partially freeze the wing movement on a hummingbird you'll need to use a fast shutter speed. The slowest shutter speed I used was 1/2500 and many of the images in this article were shot at 1/4000. I'd suggest using manual settings on your camera so you can control both shutter speed and aperture. To get the proper exposure use auto-ISO.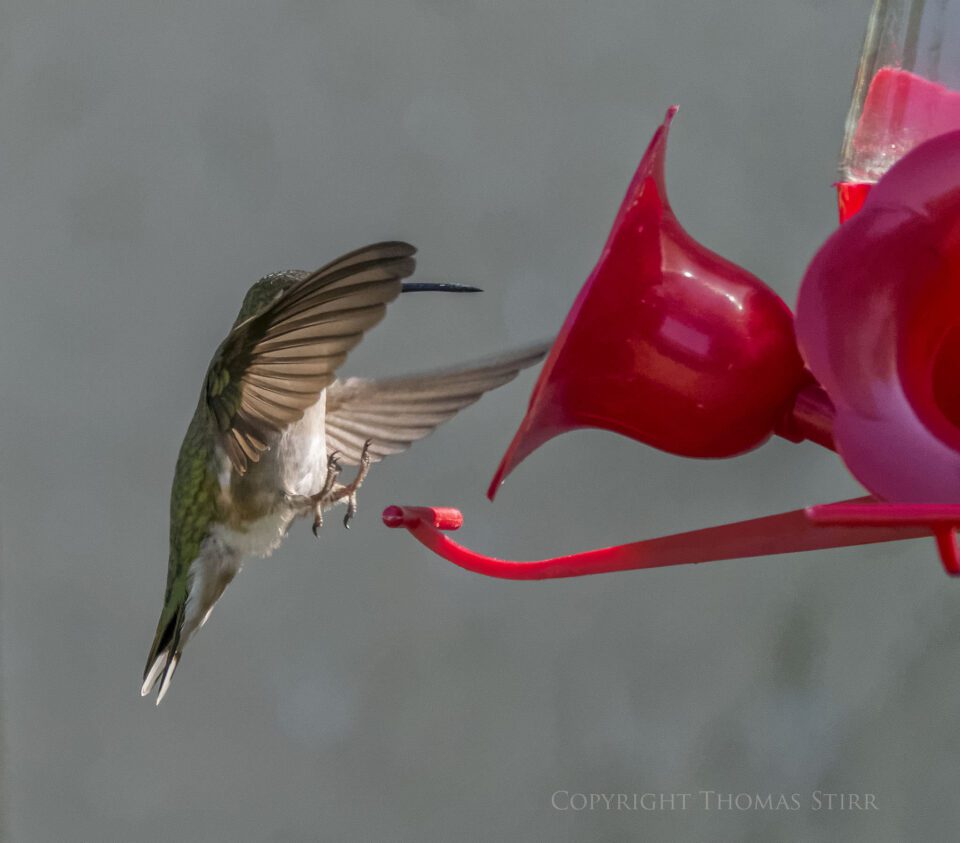 Lens and distance from subject
I used my Nikon 1 CX 70-300 f/4.5-5.6 lens mounted on one of my Nikon 1 V2's to take all of the images in this article. That set-up gave me an equivalent field-of-view of 810mm and allowed me to photograph the hummingbirds from a distance of about 3.5 metres (11.5 feet). This allowed me to capture them at a reasonable size to help avoid really aggressive cropping in post. I found that if I got any closer the hummingbirds would either stop coming to the feeder, or they would choose to sip nectar from the opposite side and thus block my view. I'd suggest using the longest focal length lens you have and get in as close as the birds will allow.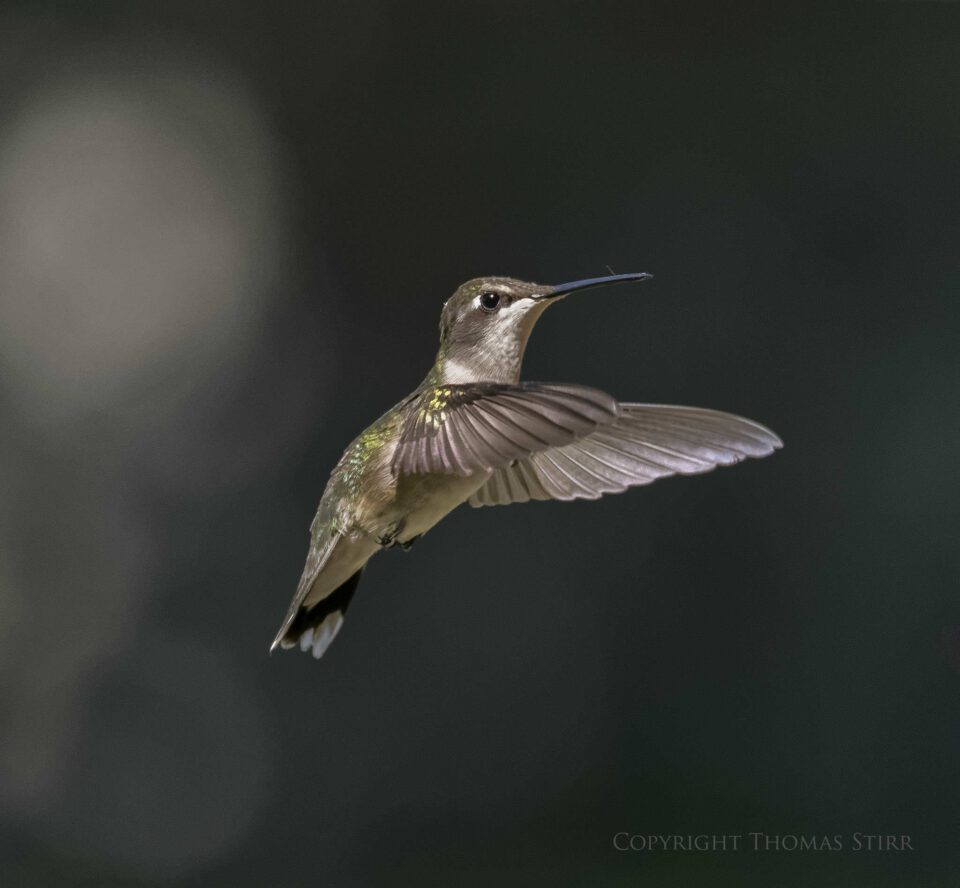 Auto-focus setting
You will only have a split second to capture your images so its important to use AF-C with subject tracking on your camera, and shoot at a fast frame rate. I used 15 fps in AF-C with my Nikon 1 V2.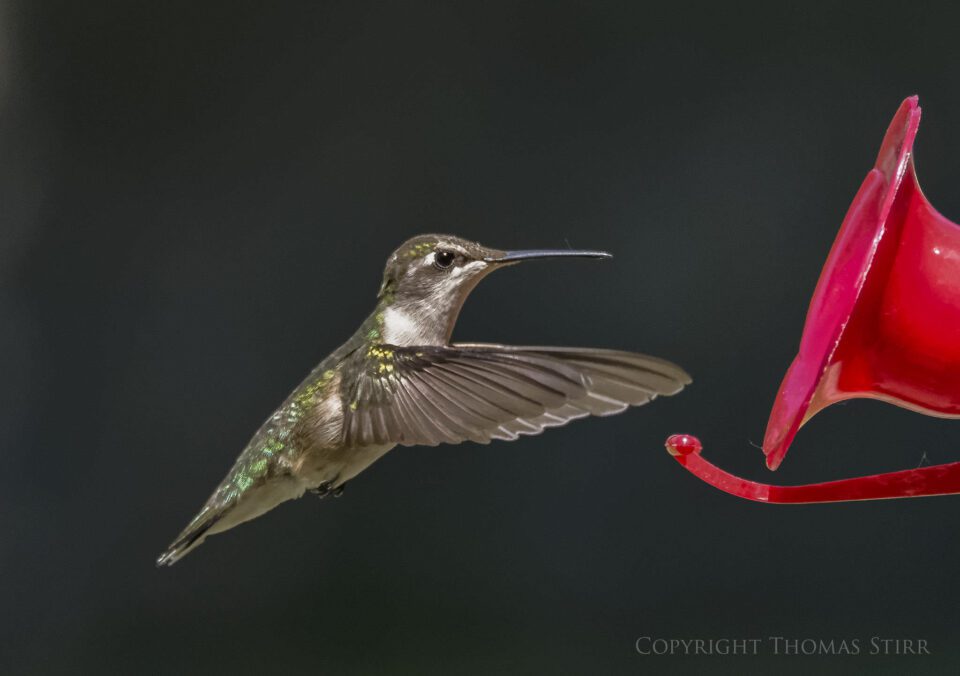 Shoot hand-held
Capturing a hummingbird in flight requires split second timing and its my view that using a tripod will slow you down and result in missed shots. (Note: while a tripod may be restrictive many people may find using a monopod helpful especially when shooting with larger, heavier gear)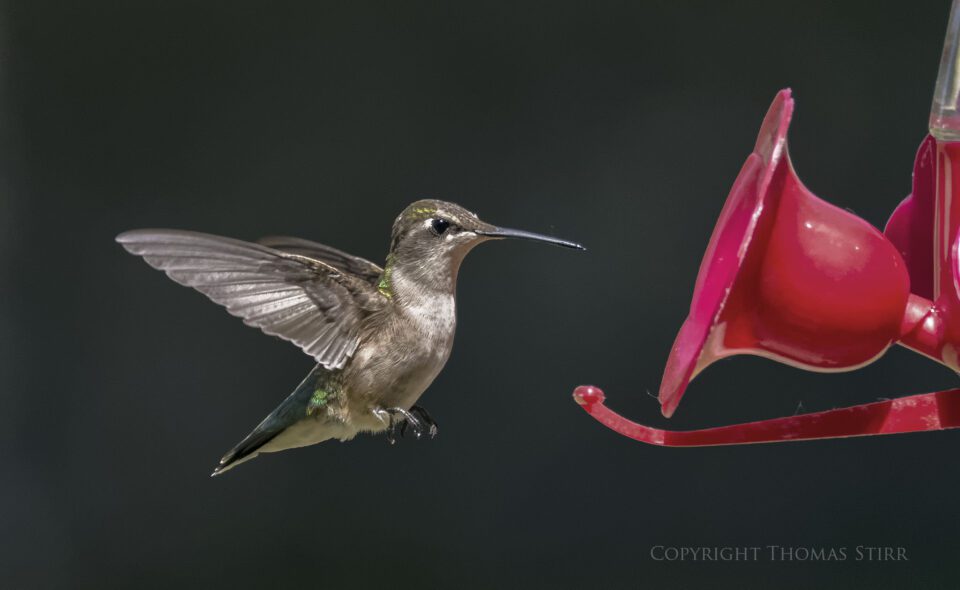 Anticipate where the hummingbird will hover before landing
Hummingbirds tend to hover for a split second before they land on a feeder. This varies by individual bird but I found that this hovering distance was about 6 to 12 inches (15 to 30 cm) away from the perch on the feeder. To have the best chance to capture a hummingbird in flight I found that pre-focusing my lens on the perch of the feeder, then aiming it at the 'dead spot' where I thought the hummingbird would hover, allowed me to capture the most number of decent images.
Use 'both eyes open' shooting technique
This is the tricky part for most people. While looking through the viewfinder of your camera (which is aimed at the 'dead spot' where you anticipate the hummingbird hovering), keep your left eye open and look at the entire hummingbird feeder scene simultaneously. This will allow you to notice a hummingbird entering the scene and alert you to a potential AF-C run opportunity. If you keep your left eye closed the action is likely to happen so quickly that you will not be able to depress your shutter in time to capture the hovering hummingbird.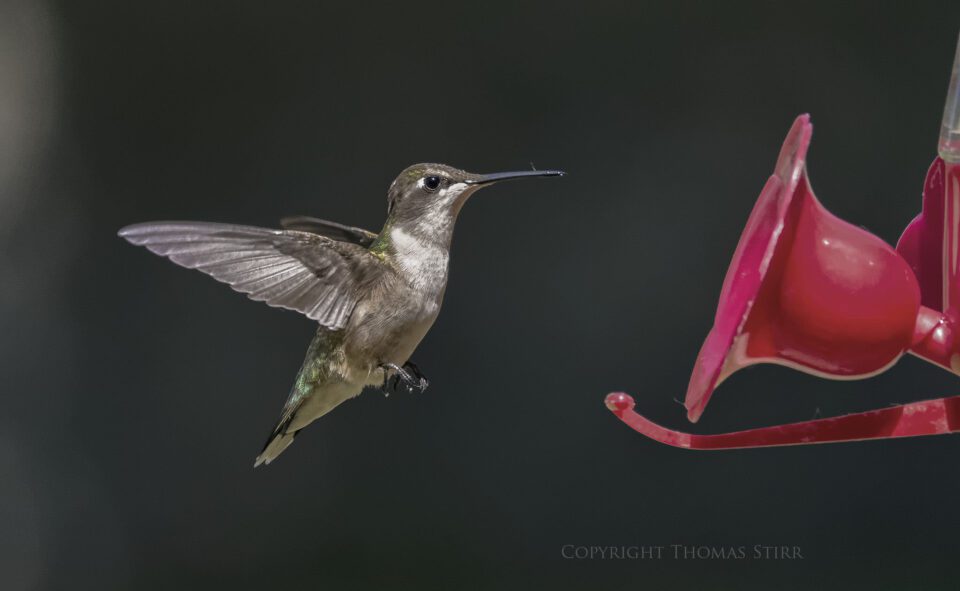 Technical Note: All images were taken hand-held using a Nikon 1 V2 with Nikon 1 CX 70-300 f/4.5-5.6 VR lens in available light. Images were produced from RAW files that were processed through DxO OpticsPro 10 including PRIME noise reduction. A DNG file was then exported into CS6 and Nik Suite for additional adjustments as required.
Article and images Copyright Thomas Stirr. All rights reserved. No use, duplication of any kind, or adaptation is allowed without written consent.