Once the good weather breaks, from the late spring through to the fall, many small towns in Ontario hold festivals. Quite often displays of antique and custom cars are featured at these types of events and represent great opportunities for photographing automotive details. This past weekend the town of Smithville held its annual PoultryFest, which I had the opportunity to attend. The day started out with bright, sun-filled skies…a significant change from the torrential rains that had hit much of Southern Ontario on Friday. The heavy rains caused quite a bit of flooding in the areas north of Toronto and resulted in many owners of custom cars changing their display plans and bringing their vehicles to Smithville instead.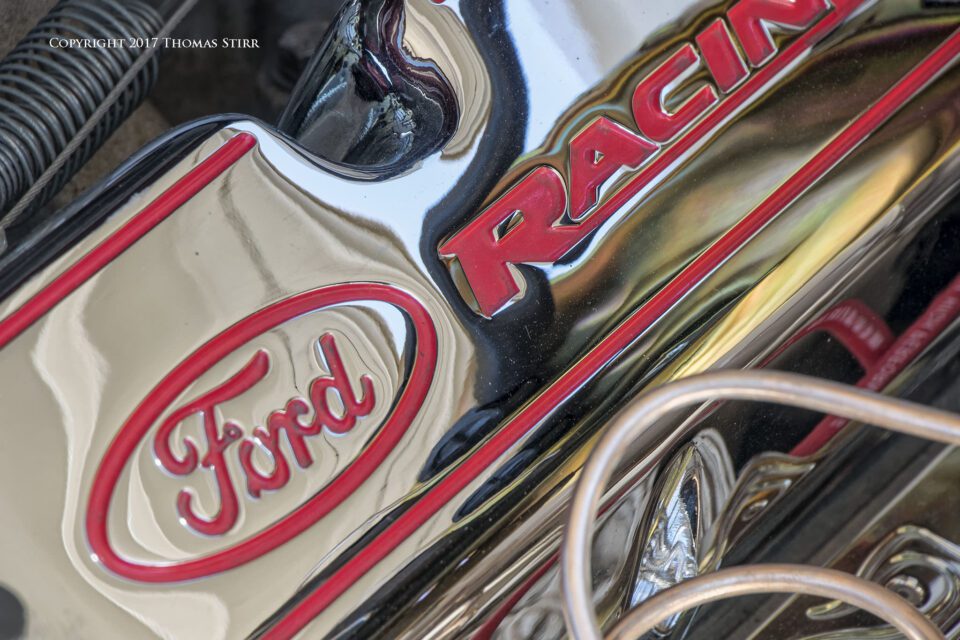 The abundance of vehicles meant that the automobiles were parked in close proximity to each other. This made photographing them more challenging as it was very difficult to get decently framed images of whole cars, or even partial external views, as unwanted reflections were commonplace. Photographing outside under bright sunlight also presented its own challenges.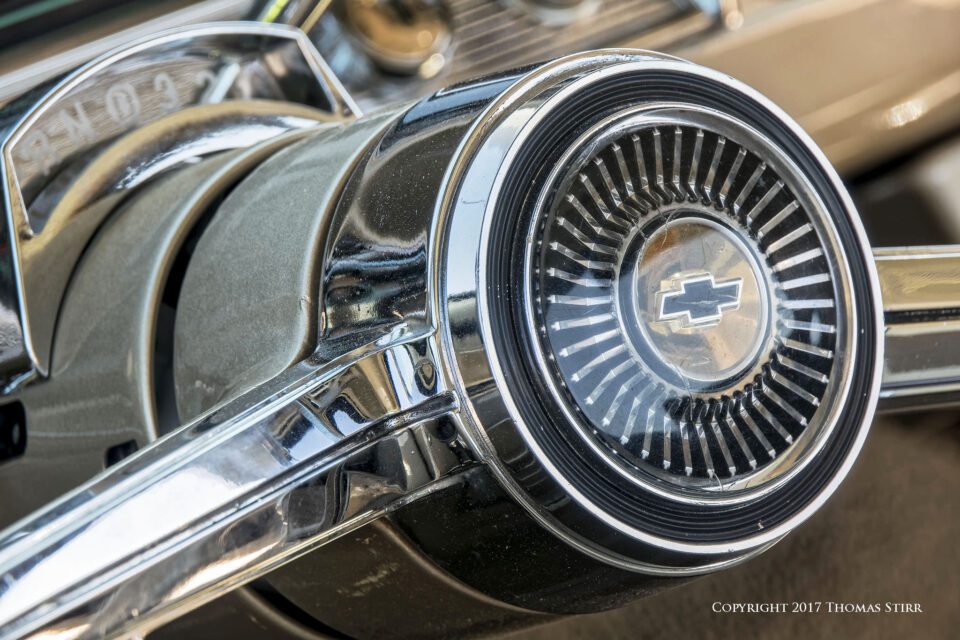 While the situation was frustrating for a good number of photographers who were at the event, it didn't really bother me at all. I much prefer photographing automotive details, rather than entire vehicles.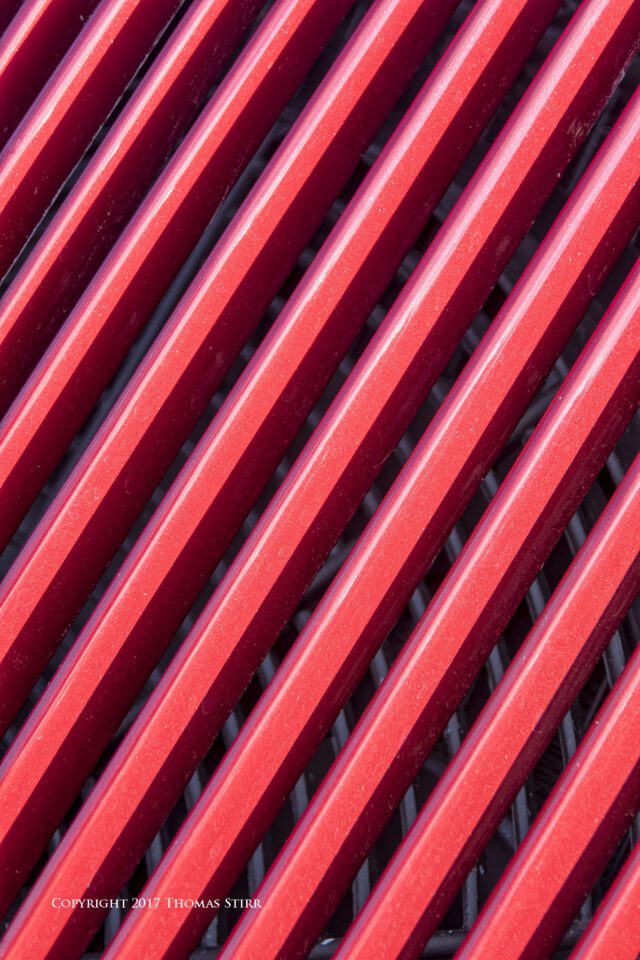 When working in bright sunshine the lighting can be quite harsh causing high contrast and numerous 'hot spots' with the sun's rays bouncing off hoods, windows and other parts of the vehicles. I specifically looked for situations where I could shoot on the shaded side of a subject automobile. The image above of a red front grill, is one example of purposely avoiding strong, direct sunlight. Rather than compose the image with a traditional vertical orientation, I angled my camera to create a 'corner to corner' flow and add a bit more drama.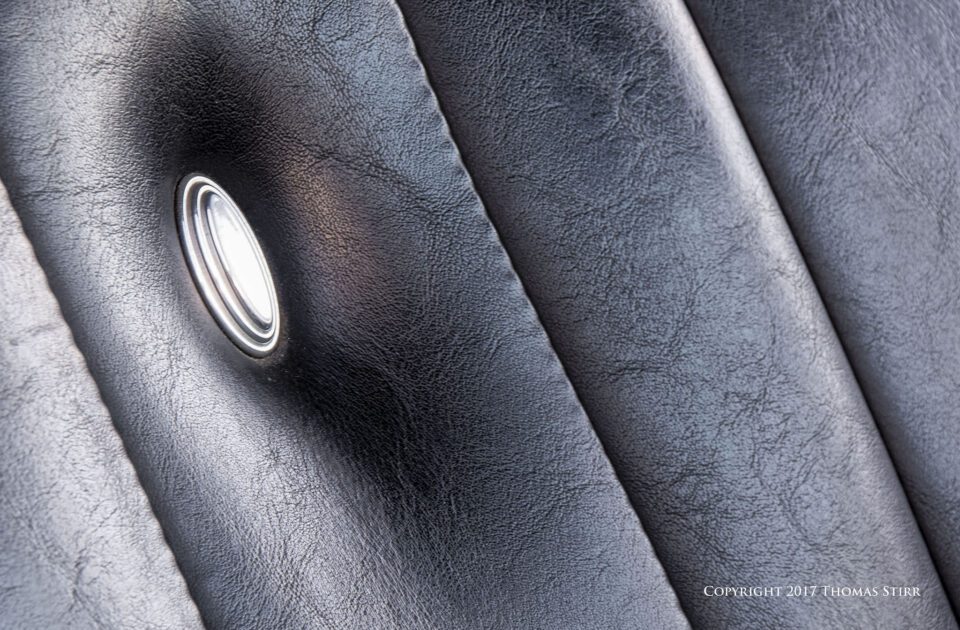 I spent some of my time photographing a few of the interiors of the cars on display, like the upholstery image above. I looked for some interesting lighting on the seat and framed my image so one of the pleats in the upholstery would form a corner exit.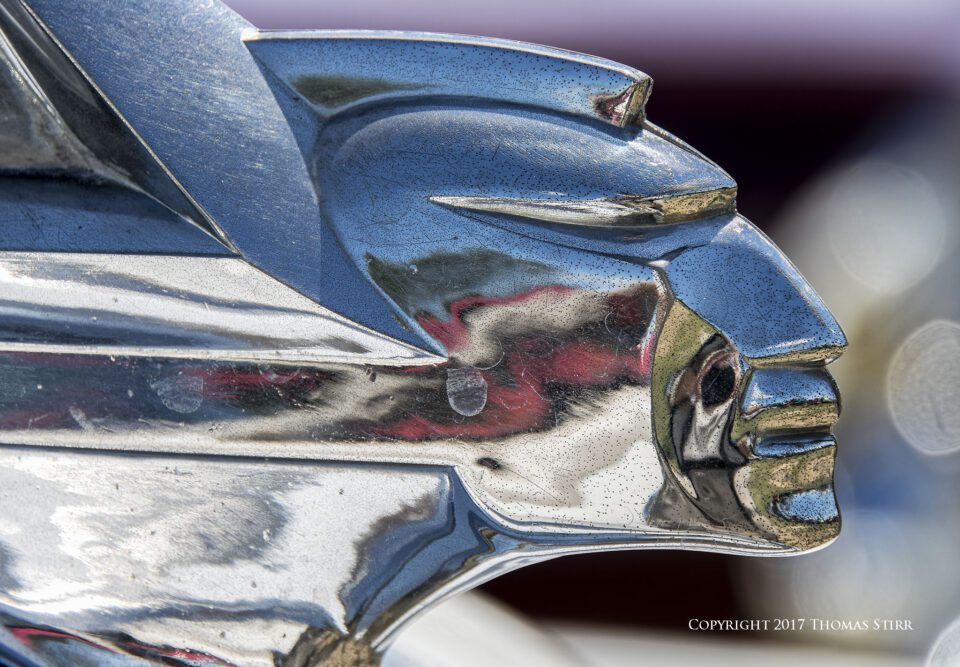 Many of the older cars had very interesting hood ornaments. In these situations I shot with the sun at my back and used a long focal length to try to limit my depth-of-field. This helped to soften the background in the images.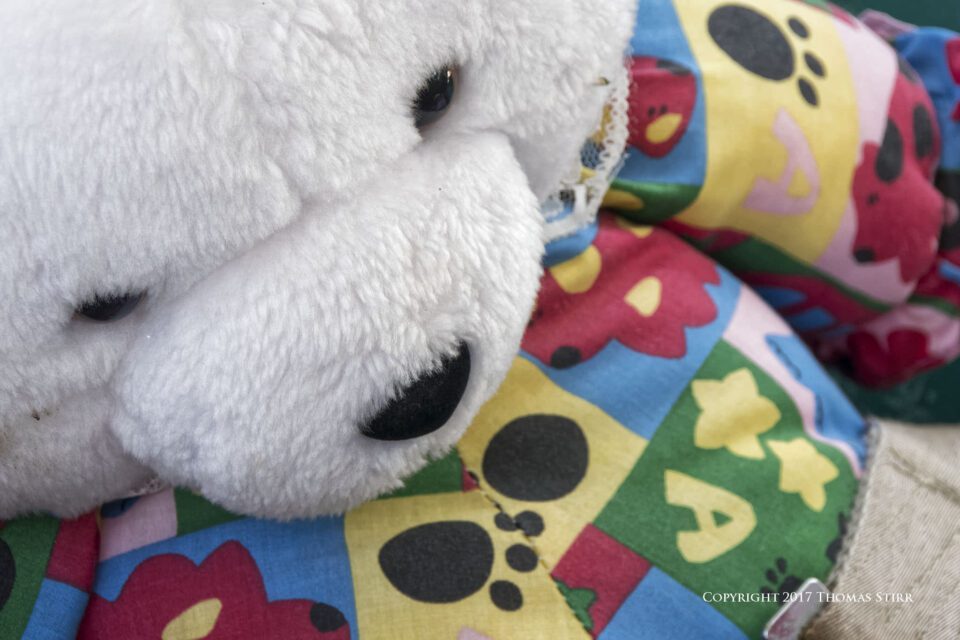 A few of the cars had mascots in them, like the white, plush bear in the photograph above. I used a subject bleed on the top and left hand side of the photograph to create a feeling of intimacy. This also helps to direct a viewer's eye to the face of the bear and the triangle formed by its nose and two eyes. I framed the image to keep the two eyes of the bear equidistant from the top and left-hand edges of the photograph.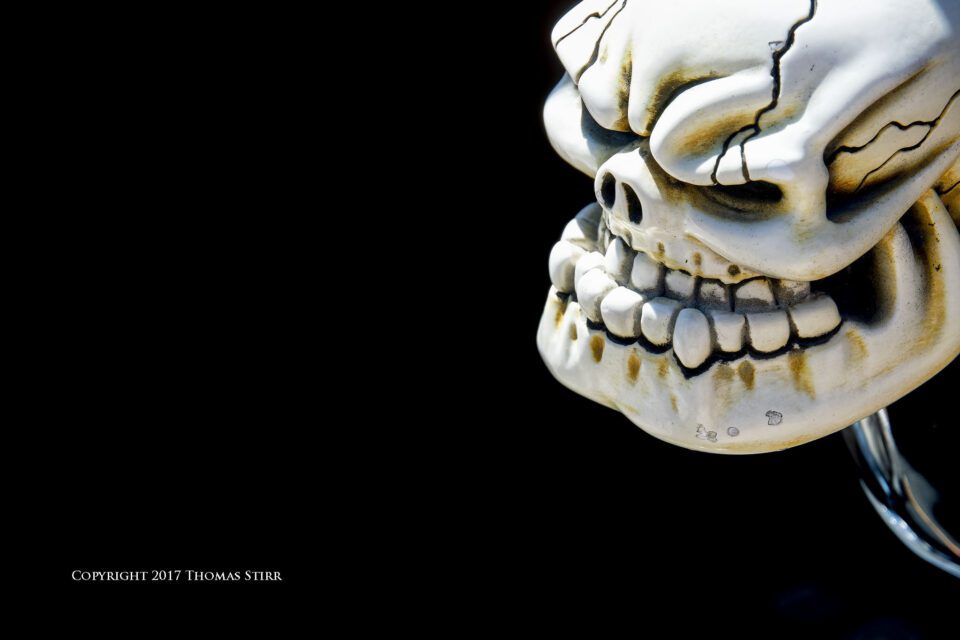 Whenever I found an interesting detail I would also look for the best shooting angle to capitalize on the available lighting. The 'skull gear shifter' subject in the photograph above was in bright sunshine, but I was able to position myself so that my shooting angle put it against the dark shadows of the floor and door of the vehicle. I increased the shadows and black in post to try to create a very dark background for the image.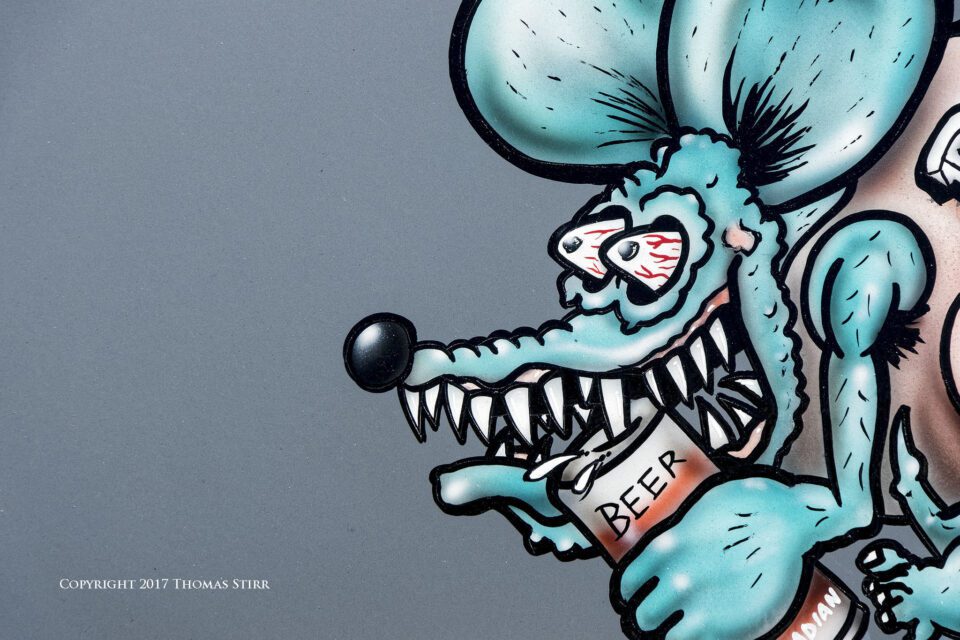 Many of the vehicles on display had wonderful examples of artwork. Some were original airbrushed pieces, others seemed to be decal kits. Unfortunately most of these pieces of artwork were on the hoods and trunks of cars, and thus in very strong sunlight. Photographing them was pretty much pointless as it was almost impossible to eliminate 'hot spots' blasting out part of the artwork. I did find a few nice samples that were on the shaded sides of vehicles. I used a three sided image bleed with the photograph above to help accentuate the face of the character.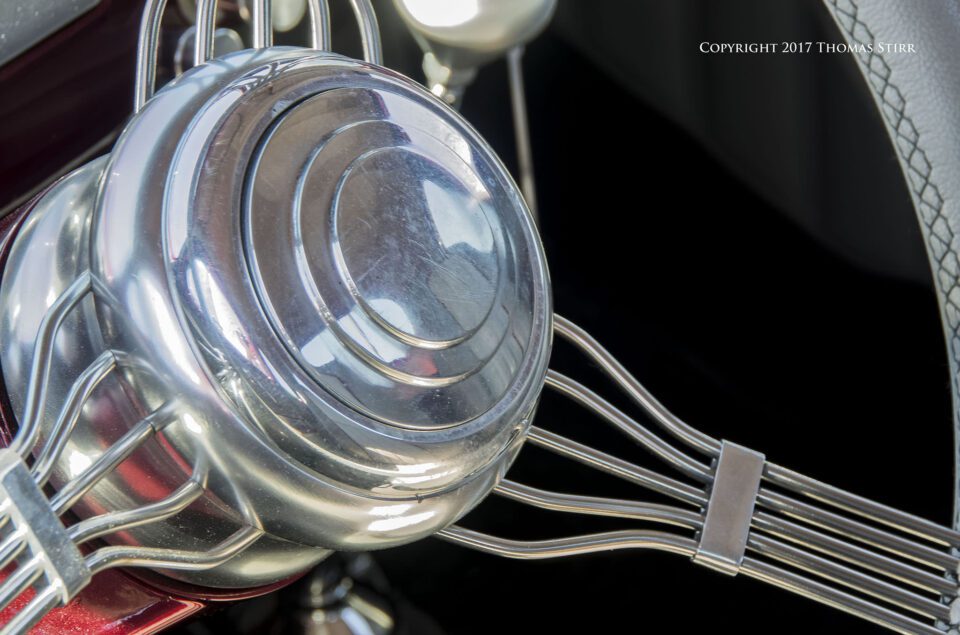 I captured a number of images of antique and custom steering wheels, usually shooting with the sun at my back, or to the side. In order to get some dramatic lighting I often would shoot towards the floor of the vehicle if it was in dark shade.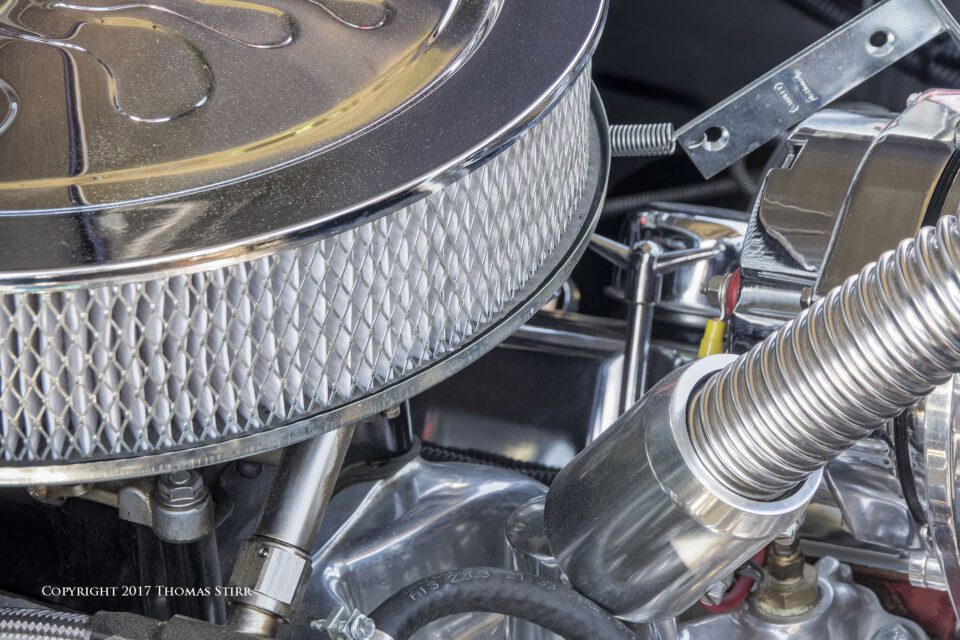 When photographing engine components I would look for opportunities where some side lighting would provide some good definition of the subject. Then I would attempt to compose my images from shooting angles that would give me some nice lighting and create a feeling of balance in the frame. As with other photographic subjects, composition and light are the two most important considerations when photographing automotive details.
I used a Nikon 1 J5 along with a 1 Nikon 10-100mm f/4-5.6 zoom lens for all of the images (except the last one) in this article. I find that the equivalent field of view of 27mm to 270mm provided by the 1 Nikon 10-100mm f/4-5.6 zoom, along with its comparatively short minimum focusing distance are ideal for this type of subject matter.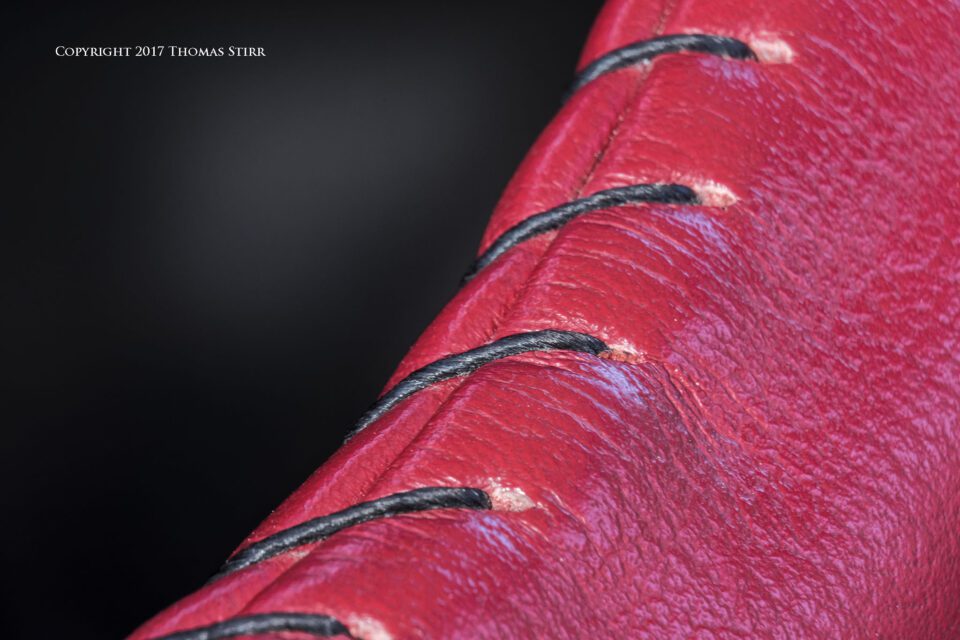 I also used a 1 Nikon 30-110mm f/3.8-5.6 zoom with a 21mm MOVO extension tube for a number of other automotive detail photographs featured on my photography blog. In all cases, I shot my Nikon 1 J5 in Aperture priority, using single point auto-focus and a dedicated ISO setting.
Technical Note:
All images were captured hand-held in available light using Nikon 1 gear as noted in the EXIF data. All photographs in this article were produced from RAW files using my standard process of DxO OpticsPro 11, CS6 and the Nik Collection.
Article and all images are Copyright 2017 Thomas Stirr. All rights reserved. No use, duplication or reproduction of any kind including electronic or digital is allowed without written permission. Photography Life is the only approved user of this article and if you see it reproduced anywhere else it is an unauthorized and illegal use. Readers who call out offending websites that steal intellectual property by posting comments on those offending websites are always appreciated!