Almost every American High School has a football team, and it is perhaps the major sport for all such schools. Homecoming is almost invariably scheduled for a week when the team has a home game. As such, this sport, perhaps more than any other, serves as a great opportunity for taking pictures. I normally shoot Football with two cameras: one with a zoom lens for the action shots, and one with a shorter fixed lens for the sideline shots. For cameras I used to use a D3S (action shots) and a D800E (candid shots), however I have replaced the D3S with a D810.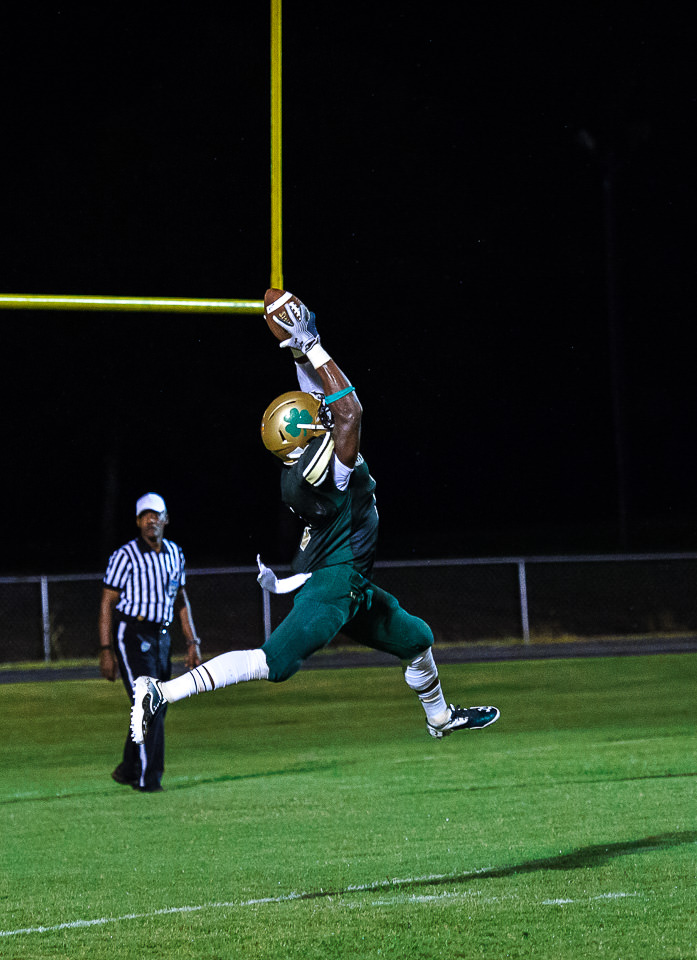 Since most High School stadiums are poorly lit, using cameras with a high ISO capability is almost always necessary. Some places will allow you to shoot the action with a flash, however the distances involved are long, and unless you have a large and planned flash setup, this will only work for plays that are near where you are standing.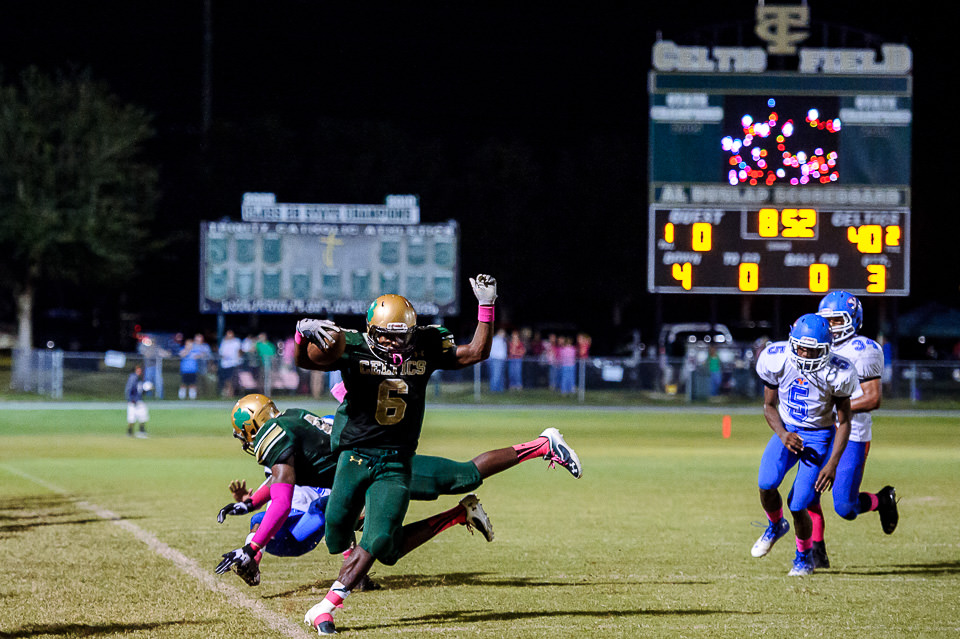 For your major action camera, a 70-200mm f/2.8 lens is perhaps the best you can use. If you have the money for a D4S, you might get away with a 70-200mm f/4, or even an 80-400mm lens, however in such cases you typically are pushing the ISO limits. Football should be shot with a reasonably fast shutter speed of at least 1/500th of a second, however 1/800th is better. Remember, the longer the lens, the faster your shutter speed should be to help eliminate lens shake. Some people shoot from monopods, however I prefer the mobility of shooting handheld (especially when the players spill off the field onto where I am standing). For other camera settings, please see my "High School Sports Photography Tips" article.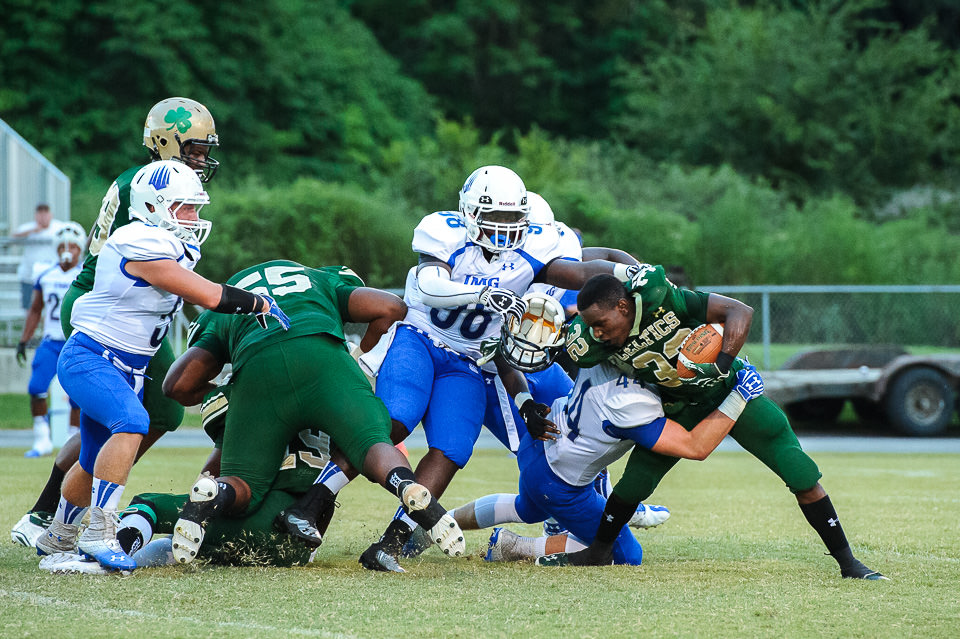 The large sidelines of Football are an advantage, allowing you great mobility. Move up and down the field, with the action, as much as you can. Pictures can even be taken from behind the end-zones, featuring runners coming toward you.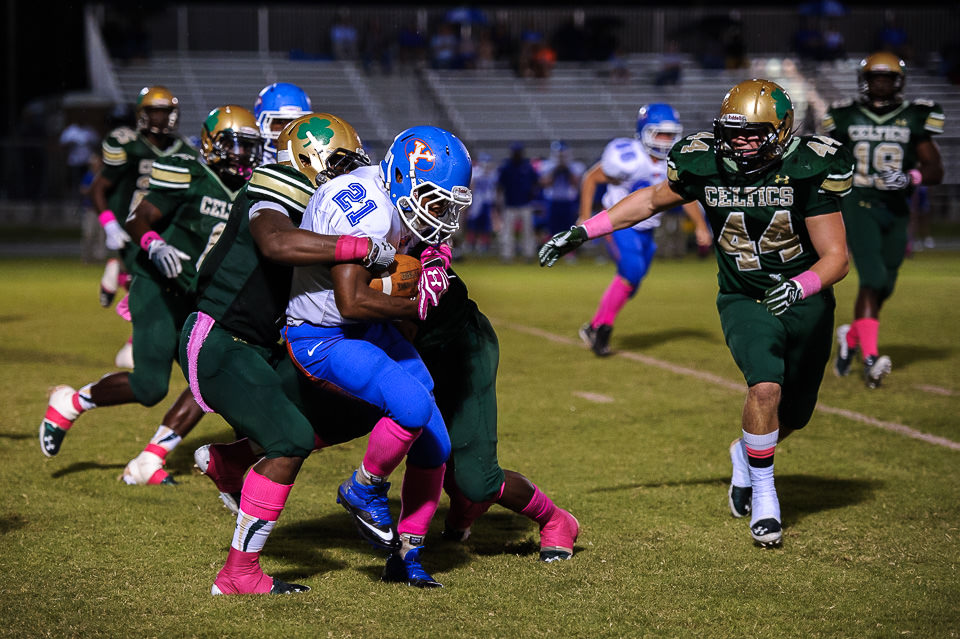 Football is a sport best shot with both eyes open. If the action is moving right to left, your right eye should be to the viewfinder, and your left (or "open") eye should be watching downfield. When the action is moving in the other direction, you can either switch eyes, or move to the other side of the field. This takes practice, but it helps you to anticipate the action.
Don't forget to take pictures of the defense in action, such as a nice tackle.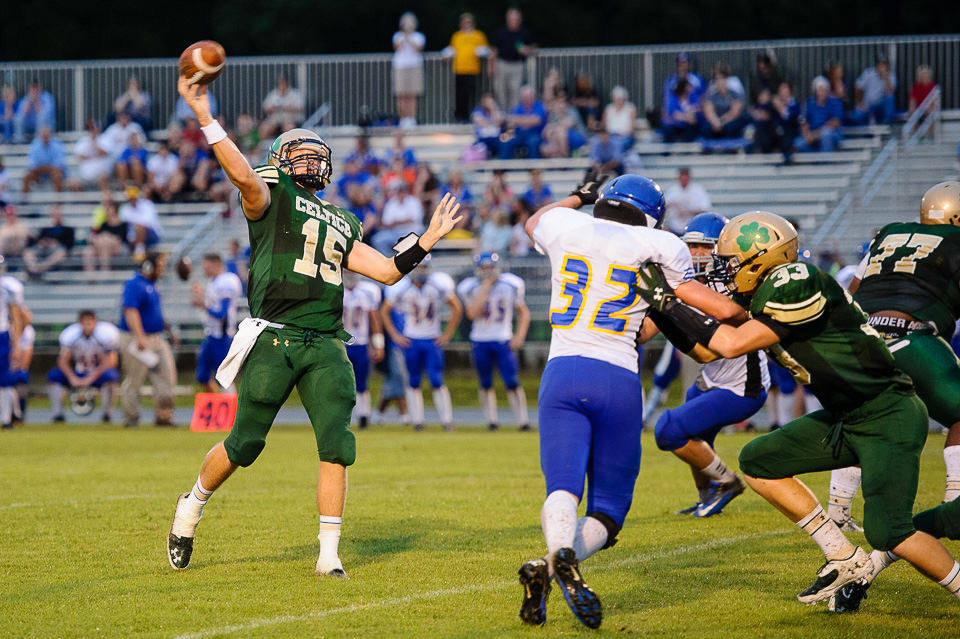 If a quarterback is fading back to pass, try to see with your open eye who he may be planning to pass to. Once the ball is in the air, quickly pan to the anticipated receiver, and get ready to shoot the catch (or perhaps interception).
Also, try to get photo sequences. You can easily get five or more shots in a row of a runner who breaks free. You can also get several shots in a row with some receivers.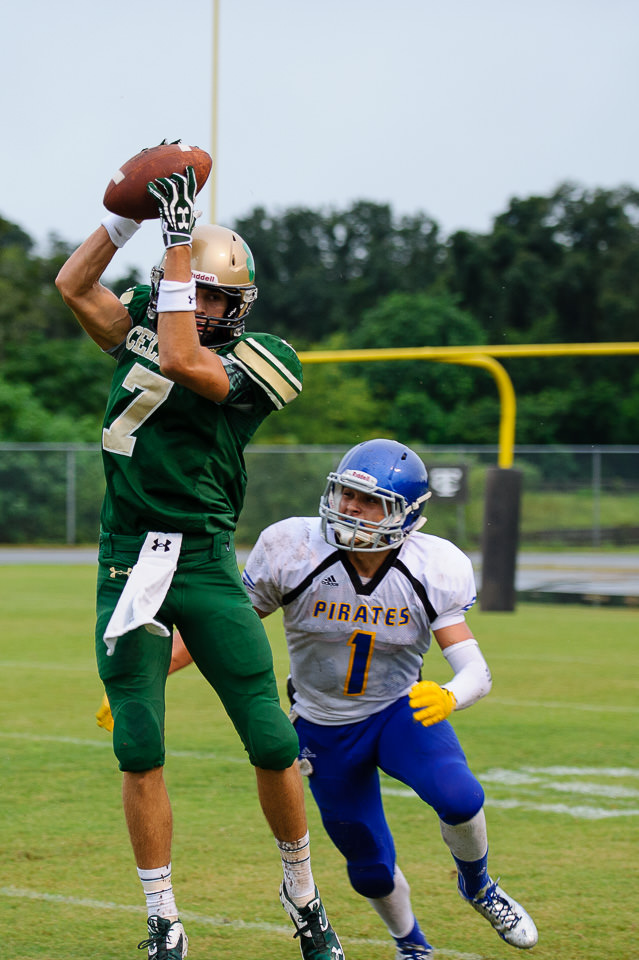 A nice catch, and then,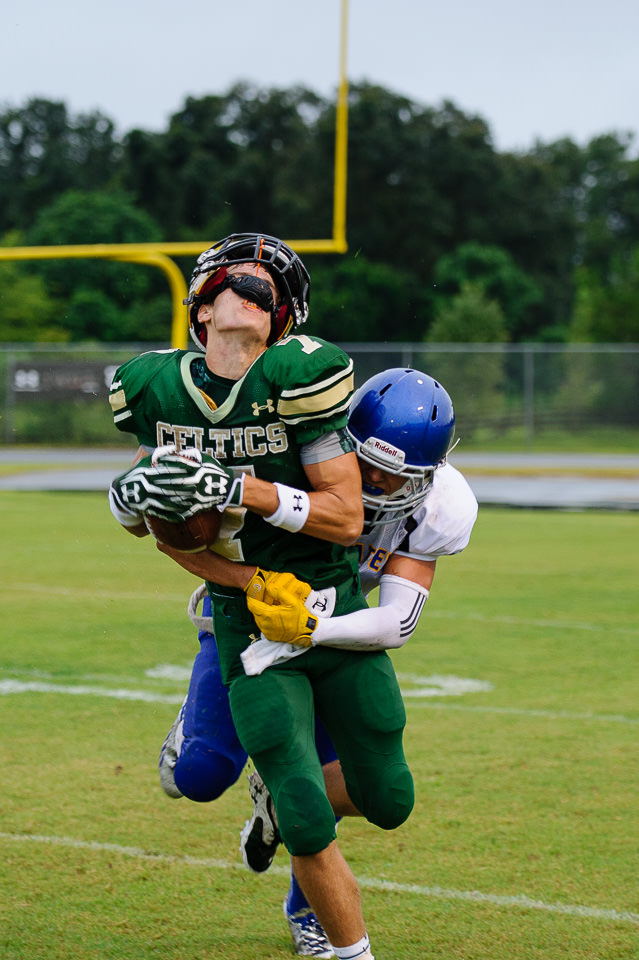 A vicious hit!
The sidelines are a great source of people photos. I typically use my second camera for these, catching candid shots of the players. Most of my candid shots are done without a flash, but there are exceptions. However, I would advise to never shoot candids of the players and coaches with a flash (at least not during the game).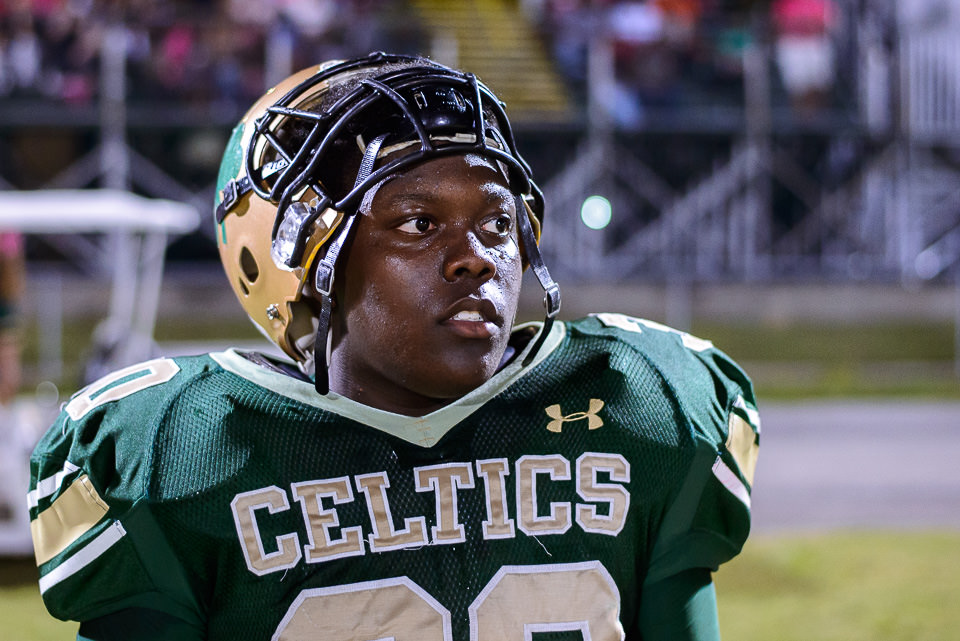 Besides the players and coaches, there are the fans, the band(s), and the cheerleaders. Arrive early to get pictures of the cheerleaders warming up (typically the light is better). For Homecoming plan on using a flash for pictures of the King and Queen, plus the members of their court.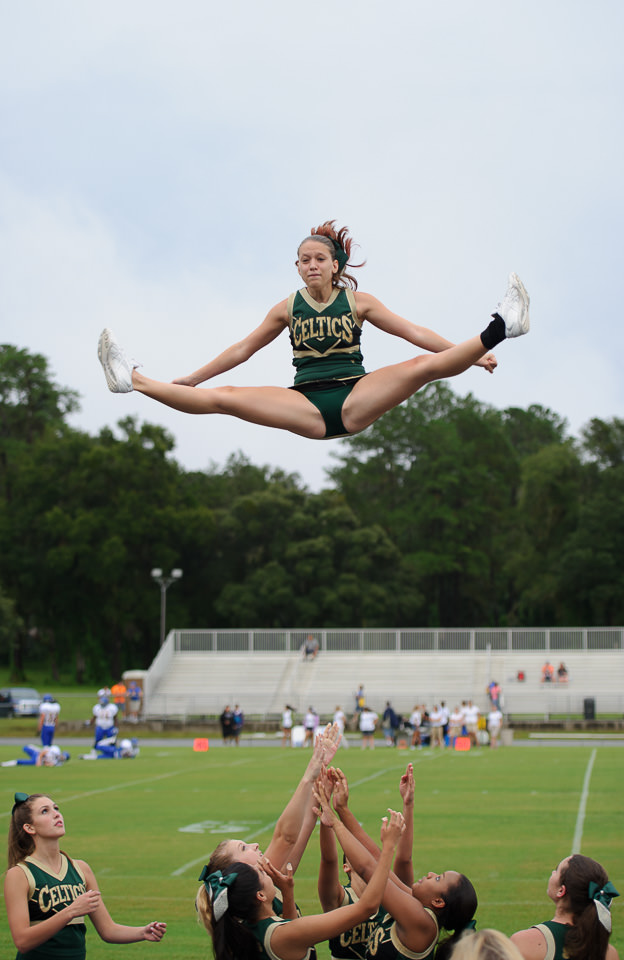 The last time I was that high off the ground, I was skydiving. The better before game light made taking this shot quite easy. I actually shot the entire sequence, from launch to landing.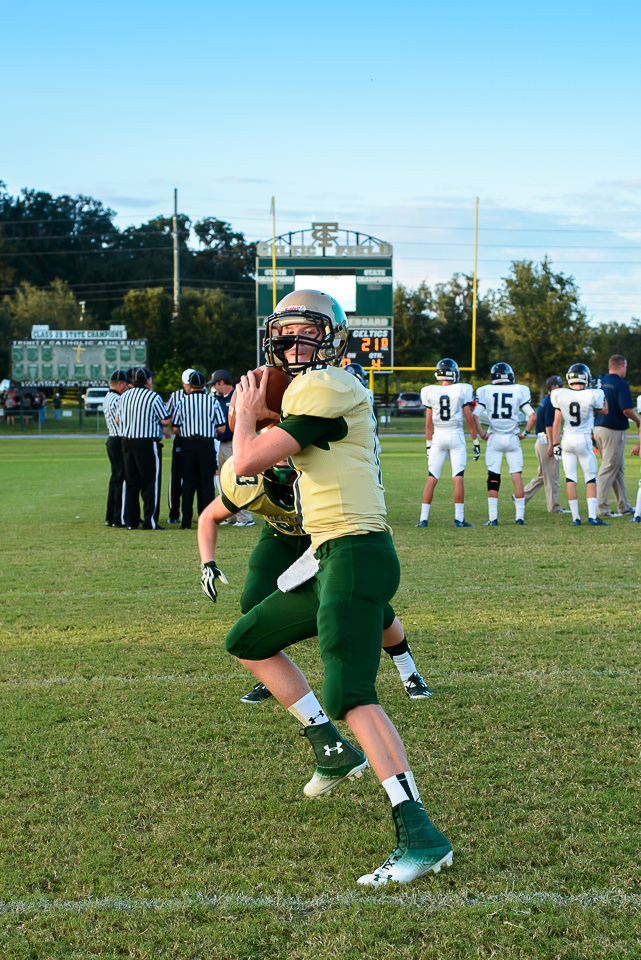 Arriving early gave me the opportunity to get on the field during warm-up for the above shot.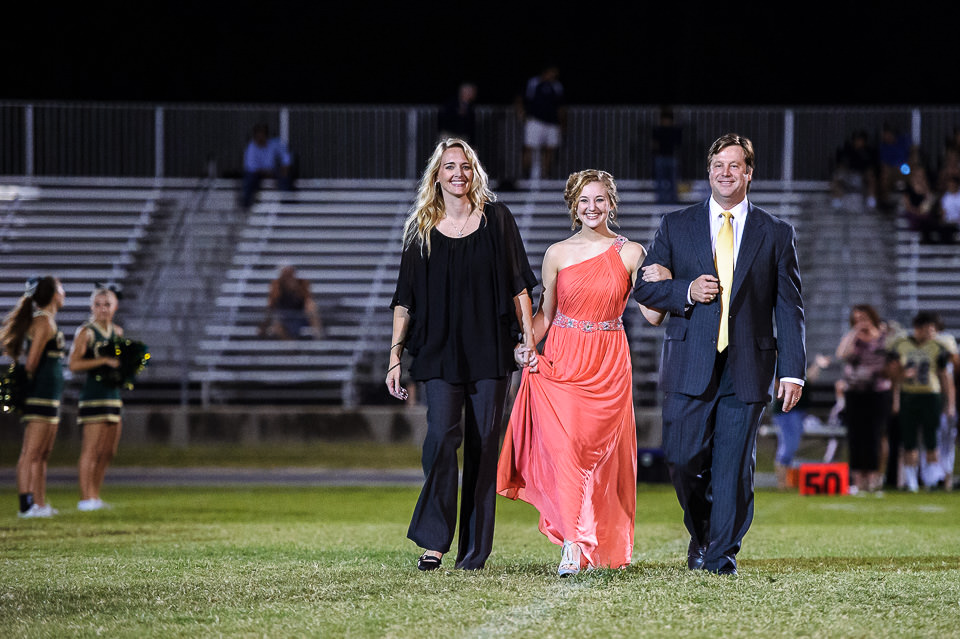 The school I shoot at also has Senior Night, when the Seniors are introduced along with the parents. The pictures from these (also usually shot with a flash), are typically big sellers.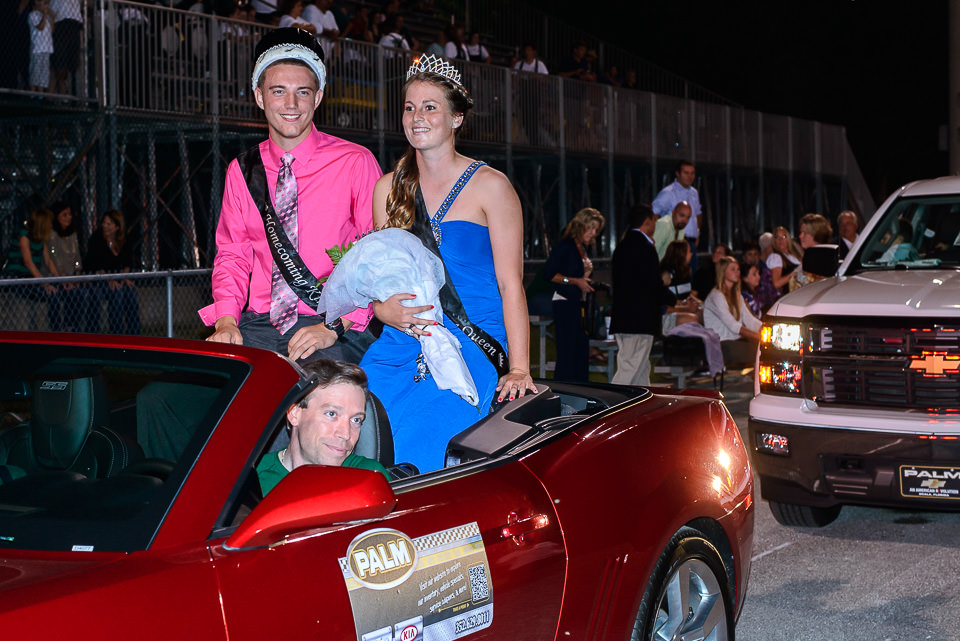 Some caveats for this sport
It is shot outside, and the weather can turn foul. Be prepared for rain (or snow, if you live far enough North).
Always introduce yourself and talk to the officials before the game, to make sure of any restrictions. Some officials are more forgiving than others. Also, playoff games have restrictions that regular season games don't. If you get tossed, you don't get pictures.
Take one or two water bottles with you. You may not get a break until halftime, or even until the game ends. I sometimes wear my Camelback, but that does increase my load.
Once you know what you're doing, and have a little practice, American football is perhaps one of the easiest sports to photograph.