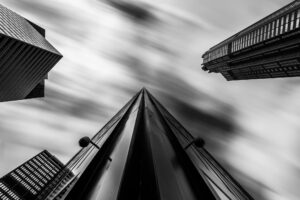 Photo Spot Summary
Country: United States
Category: Architecture
State: Illinois
City: Chicago
GPS Latitude: 41.878807
GPS Longitude: -87.636002
Directions
The Tower is located at 41.8789° N, 87.6358° W. It's only a few block from the Metra/Amtrak train station, Union Station, and there is plenty of parking if you are willing to pay for it. It's located at the southwest side of the famous Chicago financial district, and is just southwest of the 'Loop'. (The Loop is an area of Chicago where all of the elevated electric train tracks make a physical loop.) Being the tallest building in Chicago, it is easily located from any part of the city and is a dominant figure in the city skyline.
Photo Spot Details
The Sears Tower, or the Willis Tower as it is called these days, is the tallest building in Chicago. It is a very common location for photographers to visit in Chicago. Photos are allowed, as far as I know, as is tripod use. The building is so often photographed that it is not easy to get a totally original shot. It is also so tall that is it difficult to photograph close-up – usually pictures are taken from blocks away in order to get the whole building in-frame.
If anyone is visiting Chicago and finds themselves here, even if you don't want to take a photograph you owe it to yourself to go up to the top of the building, where there is a glass observation deck that actually sticks out from the building, so you can look straight down!
I'm a big fan of looking up at things, and when there are a lot of clouds and some good wind, I immediately try to find a way to get an interesting long-exposure shot.
I took this using a tripod, and with a 16mm lens pointed straight up. I also used a 10-stop ND filter in order to get a 70 second exposure. I was at f/20 for the depth of field that it provided me.