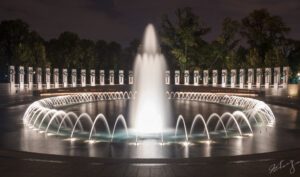 Photo Spot Summary
Country: United States
Category: Travel
State: Washington DC
City: Washington
GPS Latitude: 38.889393
GPS Longitude: -77.040359
Directions
From Foggy Bottom Metro, walk down 19th street towards the Lincoln Memorial. The first memorial you hit should be the Vietnam War Memorial and everything else is within walking distance.
Photo Spot Details
I love coming down to the war memorials late at night because you can really feel the gravitas. Tripod is a must, especially if you're doing any sort of night photography. Please be respectful when setting up to take a shot. I've seen too many photographers exhibit an unbelievable level of rudeness (e.g. stepping on the flowers laid in front of the monuments just to get better composition).
Foot traffic tends to be light around 10 PM. And it is relatively safe to be out around this part of town at that time.