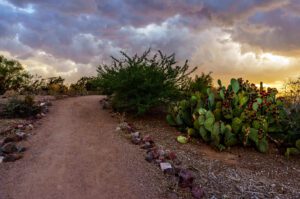 Photo Spot Summary
Country: United States
Category: Landscape
State: Arizona
City: Chandler
GPS Latitude: 33.234982
GPS Longitude: -111.768379
Directions
4050 E Chandler Heights Rd, Chandler, AZ 85249 (Environmental Education Center at Veterans Oasis Park) Note: Once you get there, climb up the small hill by the lake.
Photo Spot Details
As a Phoenician, we get to see many dust storm photos every year but they are all the same – a dust of cloud approaching the valley. As I found them boring, I decided to take some photo of the storm myself. My thoughts were to capture some photos on one of the evenings. Those who live in Phoenix, AZ know that these dust storms usually come from the south-east side of the city and travel towards the north-east. I was looking forward to the day when the storm would arrive in the evening so I could capture the colors of the storm with a sunset. With a couple of dozen storms that we get every summer, I didn't have to wait too long.
As soon as I got the dust storm warning on my iPhone, I set sail! I headed to this park which was ~8 miles away from my home. I was driving against the storm and eventually passed through it to get there. This was predetermined…not a smart thing to do but photographers need to have some craziness (passion) for their work, don't they? I climbed up the hill and waited for about 20 minutes until the storm passed. Standing in the storm with dusts blowing at 100 kmph was quite an experience. We often drive through dust storms like these but standing in one is usually to advisable as these storms often bring spectacular lightening display in the sky. Sometimes, there are about 1000 lightening strikes per hour.
Finally the moment that I was waiting for such a long time arrived! The storm traveled towards the north-west and the Sun was about to set. I was ready for it…I pulled the camera out and started shooting. The sky was nothing short of mesmerizing and mother nature was at her best.
Location
I used this location to show the real character of our desert – the dust storm, dry trails, desert plants and of course sunset full of colors.
People go here to walk on the trails (dogs allowed). There's a lake and fishing is allowed. There are ramadas for picnic.
Camera Details
Sony NEX-3N with 16-50mm kit lens, all photos shot hand held at ISO 200.
Enjoy additional photos from this place :-)