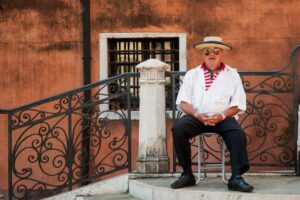 Photo Spot Summary
Country: Italy
Category: Travel
City: Venice
GPS Latitude: 45.440845
GPS Longitude: 12.315515
Directions
Closest airport to Venice is Marco Polo Airport. By train you need to get to Venezia Santa Lucia train station. By car you will need to come to the largerst car park in Europe Piazzale Roma or Tronchetto which is found on the entrance of Venice. From there you will go on little cruise ships, boats, water taxis directly to Venezia.
Photo Spot Details
This photo spot is a bit of a cliché for photographers, for everyone actually. As you are probably aware Venezia is one of the most visited tourist attraction's in the world. And on top of that it is a pedestrian only city. With it's tight streets and corners it makes a pretty difficult place to take photos in. Be sure to look at some travel guides and prepare yourself before you get to Venezia because it can be quite overwhelming by the amount of places and activities you can do.
Tips:
1. If time allows you stay there couple of days. Some of the best photographs of Venezia that i have seen are at night when the streets are empty.
2. Check the weather. If it rains you might want to consider bringing boots because it gets quite floody over there.
3. Try to isolate subjects that you are photographing.