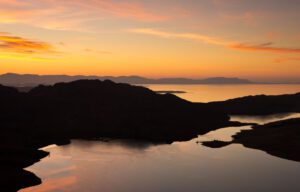 Photo Spot Summary
Country: United Kingdom
Category: Landscape
City: Upper Diabaig
GPS Latitude: 57.577465
GPS Longitude: -5.662670
Directions
The photograph was taken from a hill above the single track road between the villages of Torridon and Diabaig. There are no other roads around to cause confusion!
Photo Spot Details
The sun is setting behind the Isle of Skye (the hills in the distance). The loch in the foreground (Diabaigas Airde), was partly covered in ice, muting the reflected colours a little.
This shot was one of those lessons in not simply assuming that the view in the viewfinder is the only one worthy of record. Turning round 180 degrees showed (second photo) how the sun was illuminating the Ben-Damph Forest.