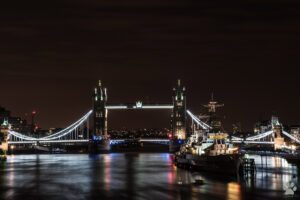 Photo Spot Summary
Country: United Kingdom
Category: Cityscape
City: London
GPS Latitude: 51.507877
GPS Longitude: -0.087732
Directions
I took this shot from London bridge which lies in parallel to the Tower bridge (in the picture), the viewing angle is very good without any obstacles. For getting to the London bridge at night, we used the tube from Collierswood (where we stayed) to London bridge station ( Northern Line to High Barnet via Elephant & Castle ). From the station we had a 10-15 minute walk to reach the London bridge. It was from here I took this picture.
Photo Spot Details
The idea of this shot came to me while we were in one of the boat cruises that operates from Embankment to Northern Greenwich over the river Thames. The river cruises were also one of the biggest attractions in the area and you need to make a note of their timings since we almost missed the last one. While cruising the guide took us to a location which i thought would make a great shot if taken at night. And while scouting for locations other than this shaky boat which would give me the same angle, I found this spot at the London bridge lying in parallel to the Tower Bridge.
That was a late Summer eve and the place was swarming with tourists all around the world. The weather was chilly but friendly and so no gloves were required. We had to wait until 9 pm for the sun to set and for all the nightly activities to kick in. Once we reached the place, after the walk, I found myself a spot somewhere in the middle of the bridge with very few people around. I did not use my tripod since the bridge railing offered a steady base. I mounted my 24-120mm f/4 lens on my Nikon D750, dialed it to manual mode, focal length 70mm, aperture f/16, ISO 100 (base) and shutter speed 30s. There were a couple of attempts made with various focal lengths, 24mm was too wide and it had so many unnecessary details and so I decided to go with 70mm which gave me the same view as in that river cruise.