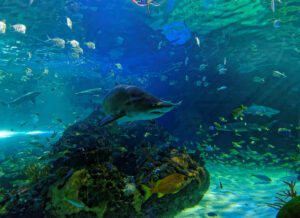 Directions
Union Station (and the Union Station subway stop) in the downtown now connects directly with Toronto's International Airport. Walk out of Union Station onto Front Street; walk west to John Street and then south up the stairs and over the railroad tracks, past the Rogers Centre to the base of the CN Tower, and the Aquarium is just to the east.
Photo Spot Details
An amazing photo spot that is full of opportunities to show your stuff! Brilliantly arranged so you are literally "walking with the fishes", you are surrounded by their environment – a visitor to their world, as captured in the featured image.
The scale of the tanks and the settings representing water worlds from across the globe is breathtaking as seen in the next photo. The overall light level can challenge proper exposure and push ISO's to their limit with slower kit zooms, but clean-up and de-noising in a RAW processor helps.
The arrangement of tunnels through the main tanks gives many opportunities for view from below not possible from any other "dry" location, as demonstrated in the next shot.
For detail and cleaner images, a fast prime is recommended. Based on the keepers from our visit, something in the equivalent full-frame field of view of 50mm seems ideal, as was the case in the next image – a portrait of a rather humorous looking fellow.
The last photo in this group is of a ray gliding gracefully overhead, patches of "clouds and blue sky" framing its image capture!