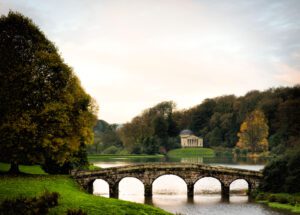 Photo Spot Summary
Country: United Kingdom
Category: Landscape
City: Stourton
GPS Latitude: 51.105110
GPS Longitude: -2.317914
Directions
Stourhead is just off the A303, just before or after the village of Mere (depending on your direction of travel). It is owned by the National Trust so is well signposted.
Photo Spot Details
There is a fine eighteenth-century house here, but the fame of Stourhead does not rest on it at all but on the landscape made by succeeding generations of the house's owners. No man-made landscape in England is more beautiful; indeed, it is a place of European not solely English importance.
It is a place for all seasons. A leisurely walk round the lake will take about an hour. The high points are perhaps in June, when the rhododendrons flower and in October/early November when autumn is providing its own colours. The grounds are not officially open until 10:00 a.m., though if you stay at the Spread Eagle inn just beyond the grounds you can wander at will before the public are admitted.
There is plenty to see in the wider area, including Wells Cathedral, with its unusual 'strainer' arches (see pictures 2 and 3)