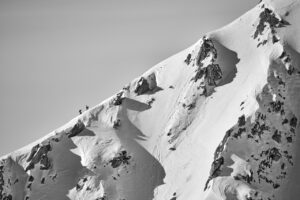 Photo Spot Summary
Country: Switzerland
Category: Travel
City: Disentis/Mustér
GPS Latitude: 46.721985
GPS Longitude: 8.784836
Directions
Take the cablecar to the top and once you are there you have 3 big valleys to choose from. You can reach them without hiking. The rest you will need hiking gear to get to. The mountain isn't too extreme so you will be able to access most of it. There are hikes from half an hour to four hours. What ever fits your likings. Make sure to bring the appropriate equipment though, you want to stay safe. Backpack, probe, shovel and transceiver is a minimum.
Photo Spot Details
The ski area in Disentis is perfect for finding those good powder spots. There isn't that many skiers around so you don't have the usual stress trying to get there first. This is also very nice because it is safe, no stress means a lot of time to think about the avalanche situation. There are valleys, creeks and faces so you have a lot of different spots. Just get out there and have some fun. Don't forget to bring your best friends too, that will really help with the shots!
Recommended Gear:
Camera that shoots at least 5 frames per second
Wide angle lens, 20mm to 35mm
Tele lens, 80-200mm or a 300mm as I used i many cases
Weather sealed camera body and lens
I wouldn't worry too much about fast lenses, since you are likely to stop down anyway. And there is enough light with all the snow surrounding you.
Recommended Gear for hiking:
24-120mm f4 is perfect, that is mostly the only one I bring for long hikes. Light and good versatility
Splitboard with skins or skis with skins, forget snowshoes that is too bulky with camera gear
Probe
First aid kit
Shovel
Transceiver
Map
Maglite
Phone
Food
Backpack with ABS system is recommended
Also check weather forecast and snow conditions, make sure to ask locals or even better local guides. They are always helpful.
Best time of year is February. But December to April is also very good.