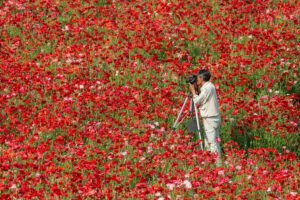 Photo Spot Summary
Country: Japan
Category: Travel
City: Tachikawa-shi
GPS Latitude: 35.704117
GPS Longitude: 139.394302
Directions
The park is readily accessible from Tokyo by train, or there are several large parking lots if you choose to drive. The train is probably best, as Nishi-Tachikawa station (Jr East Ome line) is literally right at the south gate to the park. The park itself is rather large, and you can easily spend a day wandering around all the little paths. There will be a number of very well marked signs/maps to guide you to the main seasonal attractions. It's about $5 to get in, and be sure to bring lots of yen cash as cards are generally not accepted.
Photo Spot Details
This park used to be an Air Base, but now is one of the largest areas of open space in the Tokyo metro area. It features seasonal flowers and displays year round, as well as a small lake with paddle boats and a water park. The main photographic subjects are the flowers and the crowds of people enjoying them.
In the spring, your three main targets will be the cherry blossoms (sakura), then the tulips, then the poppies. All three are truly world class and put the gardens of Europe to shame. Summer brings a number of flowers but is also hot and sticky, so not as great. The fall colors are really great though, and in the winter there is a rather fabulous christmas light display. The bonsai collection is truly one of the best in the world. In fall and spring you will find some pretty nice migrating birds too if you are in to that.
You should bring most of your lenses, but especially a macro lens for detail shots, and an ultra wide and normal zooms to take in the scenes. Tripod use is fine, but not usually required. You'll see a number of very serious photographers with quite the gear collection on display, and in general at least one person will have nicer gear than you, no matter how nice your setup is.
There are a number of food vendors throughout the park as well as a few casual restaurants if you need a break. And by all means, bring your kids, there's tons of amazing playgrounds!