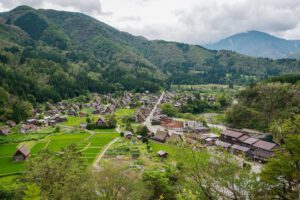 Photo Spot Summary
Country: Japan
Category: Travel
City: Shirakawa-mura
GPS Latitude: 36.263126
GPS Longitude: 136.907227
Directions
This is a group of three remote villages northwest of Tokyo. While there are many tour buses that will go to the area, the best way is probably to drive, but this is not for the faint of heart. Most of the journey will be through steep mountain roads with poor signage, and a GPS is a must. The coordinates listed are for the overlook in the featured image. Be sure to bring at least 30,000 yen in cash, as most ATMs only take Japanese cards and very few locations take credit cards. The road tolls are expensive too!
Photo Spot Details
The main reason to visit this area is to see traditional Japanese agriculture, and the villagers are actually still farming using largely traditional methods. The huts in the villages are referred to as "gass-ho" and feature distinctive thatched roofs. The valley was almost completely cut off from the rest of Japan until relatively recently and so has resisted the forces of modernization that have transformed the rest of the country.
As with most outdoor photography, sunrise and sunset offer the best light, but the valley is very narrow so the days are very short, even in summer. While I hear it is beautiful in winter, the mountain roads are probably too treacherous for all but the strongest 4wd vehicles with chains, and many of the roads close down in bad weather. Spring and fall are probably the best time to visit, since the summer is very hot and humid. There will be scores of tourists so getting a clear shot can be a challenge, but with a little patience you will get some great architectural and landscape shots. You can also get some good street/documentary photos if you want.
Bring an ultra wide and a normal zoom, as well as your tripod. I'd also recommend a fast prime so you can take some indoor shots. There's not much need for long lenses here.
There are ample places to buy souvenirs or food if you are so inclined. While most of Japan is very English-friendly, there is much less of that here given the remote location.
This can be done as a day trip (like I did), but it is probably better to stay the night in the area. There's plenty of hotels. Most are Japanese style and relatively pricey for what you get. But the experience of staying in a traditional ryokan is worth it at least once in your lifetime.
If you are especially brave, you can take the old mountain roads and avoid the toll roads. I do not suggest this for the casual adventurer–it will more than double your transit time and will almost certainly make you fear for your life. These roads are almost impassible even in the best of conditions. I took the toll roads to Shirakawa, and the mountain road home because I ran out of yen for tolls. I lived…but I was definitely scared. Consider yourself warned.