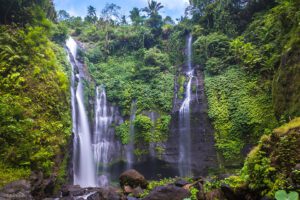 Photo Spot Summary
Country: Indonesia
Category: Landscape
City: Denpasar
GPS Latitude: -8.177746
GPS Longitude: 115.181885
Directions
This place is quite far from Denpasar (Bali provincial capital city). It will take around two and a half hours from Denpasar. If you want, you can stay in Singaraja for closer access. There is lack of public transportation in Bali, but we can rent car or motorcycle from central city (with the driver - if needed).
Photo Spot Details
There are some waterfalls in this area so many spots to be explored. Beware of the flash flood in rainy season. Have yourself a local guide to assist you whether it is safe to reach this place or not.
Photo Tips
1. Use wide lens.
2. Bring sturdy tripod.
3. Bring ND filter.
4. Dry wipe to clean the water vapor on your lens.