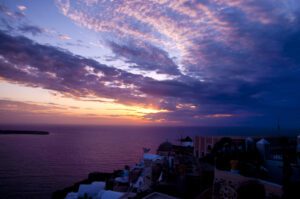 Photo Spot Summary
Country: Greece
Category: Travel
City: Ia
GPS Latitude: 36.462494
GPS Longitude: 25.375679
Directions
Santorini is a Greek island best reached from the Crete or Pireus by ferry. If you go there from Crete be sure to book your ferry well in advance due to a big traffic. You can also take a speedboat but then take it without eating anything that day :). Ferry's from Crete to Santorini go twice a week and are frequently cancelled due to storms.
Photo Spot Details
Santorini is a beautifull island with beaches of different sand colors (yellow, black, red and white). The most beatiful place to visit there is Oia (also called Ia) where people traditionally go for famous sunset.
Santorini and Oia are very busy places so it's rather better to take a monopod or small tripod. Also UWA and CPL filters are must-have gear there.