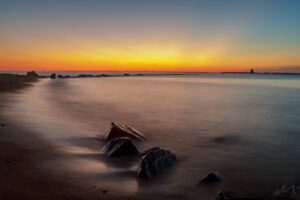 Photo Spot Summary
Country: United States
Category: Landscape
State: Maryland
City: Annapolis
GPS Latitude: 39.014214
GPS Longitude: -76.395569
Directions
Assuming you're living in the DC, Maryland, Virginia Area: Take the I-495 Beltway towards Baltimore and take the exit that heads to Annapolis. It should be the John Hanson Highway Route 50 East. 50 East will merge with Route 301 East so keep going. Cross the Severn River and proceed towards the Bay Bridge, and you will be able to see signs leading towards the state park.
Photo Spot Details
The DMV area is not exactly known for being a very photogenic region in general but this place is great for viewing sunrise. You can also see the golden sunlight hit the Bay Bridge, making it almost look attractive. For sunrise photos, I would get here at around 5 A.M. and set up. Once the sun comes up you can see anglers coming out for some morning fishing. Plenty of wildlife in the area as well.
When done, grab some breakfast at Miss Shirley's Cafe in Annapolis. Eating good breakfast food is definitely one of the main reasons why I like photographing the sunrise.