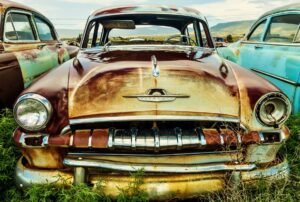 Photo Spot Summary
Country: United States
Category: Automotive
State: New Mexico
City: Grants
GPS Latitude: 35.137398
GPS Longitude: -107.823463
Directions
This location is in Grants, New Mexico, 90 miles or so due west of Albuquerque on I-40. Once you get to Grants from either direction on I-40, a short drive north will take you to old Route 66. These old cars are right on Route 66 on the north side of the road, on the east side of town.
Photo Spot Details
Rather than go to a specific location for a typical landscape shoot, I set out to find photo opportunities with no set agenda. My thought was to travel west on I-40 and explore as much of Route 66 (which parallels it mostly) with my cameras as I could. One of the best photo journeys in a long time. I was traveling late morning through early evening – generally considered the worst time of day to take pics. I was taking a number of pictures along the way, Route 66 has such a storied history, that it is full of opportunity with old buildings, tourist traps, picturesque landscapes, and everything in between. I came into Grants, NM from the east on old Route 66 and saw this old automobile graveyard. It was around 2:30 in the afternoon, with substantial cloud cover which helped minimize the harsh sun.
The pictures were embarrassingly easy… The cars were lined up behind a chain link fence about 15 feet off the road. I couldn't use my Nikon with the lens I had on it because of the chain links, so I used my Sony RX-100… My only difficulty was that New Mexico has had a lot of rain this year and I ruined a pair of shoes because I had to stand in 5″ of water that was in a ditch right up against the fence line to take the shots.
I highly recommend traveling Route 66 in New Mexico with an open mind and no hard time frames. The mesas and vistas of the countryside are amazing and the chance to get some great candid shots on a classic historical highway are excellent.