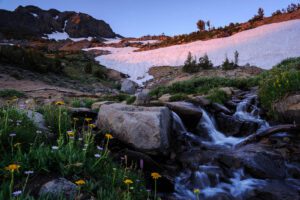 Photo Spot Summary
Country: United States
Category: Landscape
State: California
GPS Latitude: 38.667999
GPS Longitude: -120.013367
Directions
From the Carson Pass trailhead on CA-88 take the Pacific Crest Trail to Frog Lake. About 1.3 miles from the trailhead leave the PCT and take the trail to the right towards Lake Winnemucca, which is 1 mile from the fork or 2.5 miles from the trailhead. From Lake Winnemucca, hike 1 mile to Round Top Lake. This last 1 mile is fairly steep and relatively strenuous. At Round Top Lake, there are dedicated backcountry camping sites, which should be reserved at the Ranger Station at Carson Pass. Bear Canisters are compulsory and available for loan at the Ranger Station. Though backcountry camping is not necessary, I would highly recommend it, especially if one wants to take advantage of the ever-changing light and conditions of the Sierra Nevada high country. Carson Pass is easily reached via CA-88 from San Francisco or San Jose in just under 4 hours.
Photo Spot Details
2011 was a record snow year in California with a 200% Sierra Snow Pack compared to the average. This meant that when I backpacked to Round Top Lake in September 2011, it was still mid-summer in the high country. Snow was easily found on the northern slopes, creeks were flowing well and wildflowers dotted the beautiful meadows. We camped for 2 nights at Round Top Lake and experienced a thunderstorm pass by, light overnight rain, crazy sunsets and otherworldly sunrises. I made some of my better photos here and came back home satisfied and rejuvenated. It was a really memorable 3 days in the high country of Mokelumne Wilderness in the Sierra Nevada Mountain Range.
Travel, Gear and Photography Tips:
1. Carry a rain jacket as thunderstorms often roll in during summer months.
2. Nights can be cool and crisp so a warm layer is highly recommended.
3. Round Top Peak catches the last light of the day and is reflected in Round Top Lake (provided no wind and calm water). Overall, there are ample photo opportunities here so a photographer will benefit from scouting the location during midday and return when the light is best.
4. There is a nice viewpoint of Lake Winnemucca from the ridge besides Round Top Lake.
5. Milky Way aligns with Round Top Peak during September and is best photographed after 10 pm from south west shores of Round Top Lake.
6. To keep the backpack light, I recommend following lenses (all 35mm FX focal lengths): 20 mm f/4 ai, 24 mmf/2.8 ai, 50 mm f/1.8, 75-150mm f/3.5 E. All these are very sharp at f/8 and f/11 (f/16); apertures which will be usually used to photograph the landscapes here. Alternatively, once can also use an 18-35mm, 50mm, and 70-200mm zoom lenses along with a fast wide angle prime (24mm or 28mm). The latter is useful for photographing the night sky.
7. A polarizer is must to manage reflections or glare and to cut haze as well. Graduated ND filters are also useful to manage the extreme dynamic range, especially when photographing meadows in shade against clouds lit by alpenglow.
8. A tripod is as always an important accessory, especially if you want to attempt night sky or moon light photography.