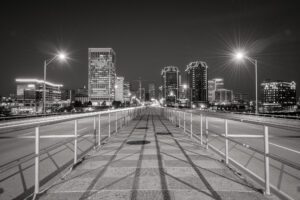 Photo Spot Summary
Country: United States
Category: Cityscape
State: Virginia
City: Richmond
GPS Latitude: 37.527668
GPS Longitude: -77.444839
Directions
The map directions will lead you to a small parking lot next to an overpass for the 9th Street Bridge. If you walk under the overpass, there is a set of stairs that lead you up to the center of 9th street. You will be on a walkway that can take you clear across the bridge. I took this photo from the mid-point of the bridge, looking towards the city.
Photo Spot Details
There are a number of vantage points for the city skyline all along the southern shore of the James River, but the 9th street bridge is the only dead-on location for a city shot. I have to be honest, I'm a Richmond native and I don't find the skyline to be very photogenic, but this shot is worth taking if only for the fun experience of being in the middle of a highway over the James River.
Best Times & Gear
The sun rises behind the city so I'd recommend a sunset shot so you can get some good light on the buildings. You could also go for a night shoot, like the one in this post, which will give you more time to work. I can't say how long the lights on the buildings stay lit so plan on visiting shortly after sunset.