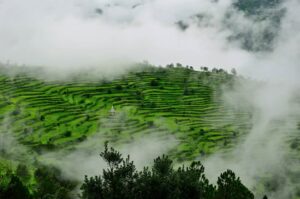 Photo Spot Summary
Country: India
Category: Landscape
City: Ranikhet
GPS Latitude: 29.643362
GPS Longitude: 79.432182
Directions
Take a flight to New Delhi, the capital of India. From there take a train for Kathgodam, Uttarakhand. You can make a reservation using the Indian Railways website www.irctc.co.in. From Kathgodam take a cab to the town of Ranikhet. The distance is around 85 km along very picturesque mountain terrain and the ride takes around 3-4 hours depending on the condition of the road. There are also buses available , run by the state Transport Corporation, The bus ride is much less costly but is not conducive to photography at all.
Photo Spot Details
Ranikhet is a hill station and cantonment town in Almora district in the Indian state of Uttarakhand. Ranikhet, which means Queen's meadow in Hindi, gets its name from a local legend, which states that it was here, that Raja Sudhardev won the heart of his queen, Rani Padmini, who subsequently chose the area for her residence, giving it the name, Ranikhet. The town is located in the Kumaon Hills of the Himalayan Mountain range. The best time to visit is just after the rainy season, around September to November, or else during February to April. Ranikhet becomes very cold in winter and has snowfall and is not a very comfortable time to visit unless someone ones to photograph the snow-covered town.
Ranikhet has bright sunshine and early mornings, till around 11, or around twilight are the best times for photography. There are picturesque expansive vistas of the HImalayan ranges available from across several spots around the town.