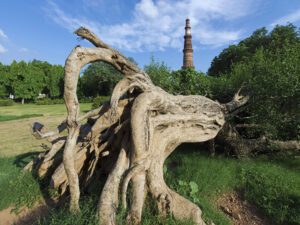 Photo Spot Summary
Country: India
Category: Travel
City: New Delhi
GPS Latitude: 28.524427
GPS Longitude: 77.185455
Directions
Address : Aurobindo Marg, Mehrauli, New Delhi - 110030 Phone no: 011 2464 7005 Opening time: 10 AM, Closing time : 5 PM Open : Mon - Sat & Closed : Sunday Qutub Minar is located about 15km away from Indira Gandhi International Airport. There is Metro station at this spot also. Very easily found.
Photo Spot Details
Qutub Minar in Delhi is world heritage site. The tall minaret was constructed in 1192 by Qutab-ud-din Aibak, and later completed by his successor Iltutmish. The soaring conical tower is an exquisite example of Indo-Islamic Afghan architecture. the Minar itself is nowadays closed for visitors so you can not enter and go up to the top.
You can get more details about the various structures of the Qutub Minar complex here… There are so many photographic situation here. Any photographer will have a satisfying experience over here. Summer months ( May to August) are avoidable due to intense heat.