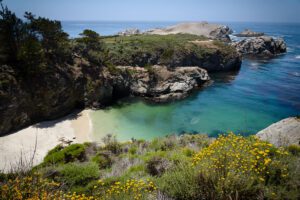 Photo Spot Summary
Country: United States
Category: Landscape
State: California
City: Carmel-by-the-Sea
GPS Latitude: 36.515911
GPS Longitude: -121.942284
Directions
This is the location which inspired Edward Weston and is also an amazing eco system for variety of flora and fauna including the famous Monterrey cypress trees. Heading south toward Big Sur from Monterrey you will see a small beach on the right after you cross Carmel. The state reserve is located few feet ahead. If you see lot o cars on Hwy 1 here, that means parking lot inside the reserve are full and there is a queue to get a spot. You may park on Hwy 1 and walk inside if you do not mind short hike. Alternative is to get here early or wait in line at one of the less popular parking areas inside the park. There is an entry fee per car. Once you park the par you may use the trail system that goes along the ocean to visit a variety of view points.
Photo Spot Details
Cypress tree trail is the most popular. Free tours with volunteers are available during the day. Also famous spot especially for photographers is China cove where wild life rests. Zoom lens will be useful to spot whales and wild life. There are some volunteers with large scopes that will spot wild life and let you even see through their scope.
Polarizer filter can bring out the the green and blue colors of water.