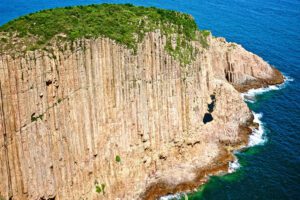 Photo Spot Summary
Country: Hong Kong
Category: Landscape
City: Hong Kong
GPS Latitude: 22.358479
GPS Longitude: 114.377365
Directions
1) Take the MTR (subway) to the Hang Hau station on the Tseung Kwan O line. The price should be less than $20 HKD wherever you are coming from. 2) Take the 101M minibus to Sai Kung which will cost approximately $10 HKD and take 30-45 minutes depending on traffic. Sai Kung is a popular weekend spot for locals and tourists alike and traffic can be stop and go to get there. Also, at times there may be 30 people or more waiting in line for the bus. A taxi would be a more expensive option but a quicker one and can be found next to the minibus stop. Maybe around $125 HKD. 3) Take a taxi to High Island Reservoir East Dam. This will take approximately 35 minutes and may cost around $130-$150 HKD. 4) Once at the East Dam there are two ways you can hike to get to a point to photograph the island. a) One is a little more dangerous but a bit of a shortcut. From the taxi stop walk down the hill/road to the lower section of the dam. From there, walk to the end then with a little creativity you will need to make your way onto the side of the mountain. From there it is a little dangerous until you get onto the main path. This path is not as easy but allows for some decent coastline shots. b) from the taxi stand walk back from where the taxi entered the area by walking on the road across the upper part of the dam. From there there is a hiking trail to take you across a peak and then down towards the spot to take photos of the island. There is more detailed info that can be found online to help with the hike - including photos to help with direction.
Photo Spot Details
This area is a UNESCO Global Geopark and has much more hiking opportunities and potential photography opportunities than just Po Pin Chau (island). There are some interesting land formations as you will see in one of the photos of the island that can also be found near the taxi stop. Before heading to the Island you could walk to the Sea Cave and take a couple photos. To get there you will need to walk down to and across the wooden boardwalk. Around the Reservoir is a series of hiking trails that one could potentially get some good photos.
It may be possible to charter a boat in Sai Kung to take you there for a different angle on the water. If it is raining you will NOT want to take the shortcut hike mentioned in the directions.