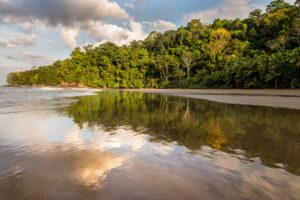 Photo Spot Summary
Country: Costa Rica
Category: Landscape
City: Uvita
GPS Latitude: 9.130273
GPS Longitude: -83.715096
Directions
From the town of Uvita head south on the Southern Coastal Highway (Route 34). The lodge is 5 km south of the Uvita bridge, between the kilometers 166 and 167. Take the exit on the right to La Cusinga Lodge. At the lodge there is a trail sign to the beach. It is a stiff 15 minute hike down to the beach and a bit more coming back up.
Photo Spot Details
Playa Arco (or Arco Beach) is a hidden beach that is an unspoiled gem on the south Pacific Coast of Costa Rica. We stayed at La Cusinga Lodge (which provides the easiest access to the beach) for 3 nights and visited the beach several times. In all the times we went to the beach, my family and I only ever saw 2 other people on the beach on one occasion.
WARNING: The beach completely disappears at high tide. Make sure you give yourself time to get back to the base of the trail before the tide cuts you off. Hiking through the forest except where there is a trail would not be fun.
Why come here?
First the beach. It is beautiful at sunrise and has spectacular sunsets. There are little islands off the coast, bits of driftwood and a cave (with bats in). There are many photographic opportunities. Especially when the sand is wet and reflecting the forest.
Second, the hike down the trail is a great place to see and try to photograph the giant Blue Morpho butterflies.
Third, the lodge has an abundance of Porter Weed that the hummingbirds love (see the additional pictures below). There is an abundance of other birdlife around too.
Photography tips
At the beach. It's a beach – so do the things that are common for beach photography. Use CP some of the time, a tripod for long-exposure moving water shots, golden hour and sunsets for beautiful colors.
On the trail. There is not a lot of light on the trail as you are in the forest. If you see a butterfly, you may want to have a flash handy.
Hummer photography. You need a moderate zoom or telephoto lens. I would recommend at least 300mm – I used my 50-500mm Sigma, paired with my Nikon D600. If you want to freeze wing movement, I recommend at least 1/1500 second shutter speed.
This is a magical place. I will try to return one day.