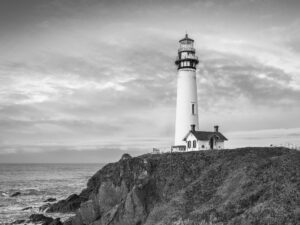 Photo Spot Summary
Country: United States
Category: Landscape
State: California
City: Pescadero
GPS Latitude: 37.181824
GPS Longitude: -122.393913
Directions
Pigeon Point Lighthouse is one of the few man-made landmarks on Highway 1 of the California coast. If you follow the Google maps directions you see the lighthouse well before you reach it. If you're in the San Francisco, or Cupertino area you're looking at about a 30-60 minute drive depending on traffic, but its a beautiful trip. Here is the Google Maps Link.
Photo Spot Details
The lighthouse grounds provide a number of vantage points, as well as a few beach access point nearby. If you do plan on venturing off the lighthouse grounds, I'd recommend a good pair of shoes and the buddy system; Most of the nearby coast requires a little rock climbing to get to the beach. Not the safest outing but the great photos aren't always easy to come by. The grounds themselves are well maintained so if you don't venture off the path you'd be fine on your own.
Best Times & Gear
While California is know for it's sunset, I would recommend a sunrise shoot for your first trip, as it lights up the lighthouse perfectly, where a sunset will silhouette the structure. Be sure to bring a tripod, the California coast is also know for its windy conditions. A wide angle lens is a must but the area is clear and level a good distance around, which could make for some nice compressed tele-photo shots.