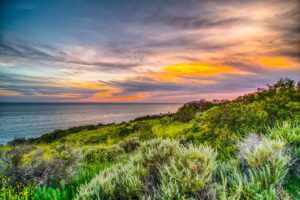 Photo Spot Summary
Country: United States
Category: Landscape
State: California
City: Malibu
GPS Latitude: 34.036324
GPS Longitude: -118.705482
Directions
This is an area across from Pepperdine University along the Pacific Coast Highway in Malibu. You can shoot images of the school and then park across the street in the parking lot for the baseball field that is along the highway.
Photo Spot Details
This is a cool spot behind the baseball field that overlooks the Pacific Ocean which is a great spot in its own right. I parked and walked, close to sundown, along a path that runs horizontal to the ocean front though you are way higher overlooking the ocean. It had been a long day but I grabbed the tripod and headed down to take some shots. Used a Nikon D800E along with a Tokina 11-16mm f/2.8 lens. Only for the night shots did I use a tripod…all others were handheld.
Bug spray would have been a good idea but it is mostly harmless bugs that float around your head sometimes here.