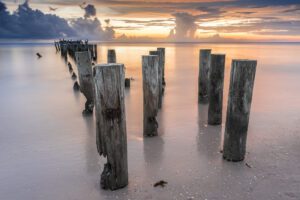 Photo Spot Summary
Country: United States
Category: Waterscape
State: Florida
City: Naples
GPS Latitude: 26.142641
GPS Longitude: -81.807785
Directions
Naples beach roads are all toll spots so bring plenty of quarters. There are a number of lots nearby, but the cost is the same, so if you want to get as close to the spot as possible, park on 3rd Ave South and feed the meter.
Photo Spot Details
There's not much left of the Old Naples Pier, just a few rows of pilings which serve as a place for the birds to rest while feeding. Still, they make for a great foreground element. Naples beaches are very popular, and the sunsets always bring out a crowd so take this into consideration. You might have to visit more than once but it's a great place to vacation so repeat visits shouldn't be an issue!
Best Times & Gear
The gulf coast has some spectacular sunsets, but sunrise might work as well. Just be sure you've got some clouds in the sky. Bring your tripod, as well as an assortment of filters. GND will definitely help here, as the pilings don't rise much above the horizon so you shouldn't have any weird blending issues with the GND.