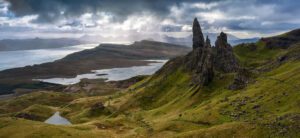 Photo Spot Summary
Country: United Kingdom
Category: Landscape
GPS Latitude: 57.507298
GPS Longitude: -6.174546
Directions
This location is found in Scotland on the Isle of Skye with Portree being the closest town. Take the A855 North from Portree and follow the road until you can see the Storr to the left of the road. I don't know the exact location of the car park though it is on the left side of the road and an opening in the fencing allows you to start the hike up.
Photo Spot Details
The Storr is a rocky hill on the Trotternish ridge characterized by the famous rock structures we see in the picture. The location was recently made famous in the opening scene of the movie Prometheus. You have to hike up from the roadside to get to it though and although it's a short hike of about 30-45 minutes, it is a rather steep hike. It can be a bit of a treacherous hike because the frequent rains can make the trails wet and slippery. The winds can be brutal too, especially the higher you go. It is quite spectacular and the scale is quite deceptive (see insert photo). You could spend quite a while here hiking and scouting the area though the main photo views are from the northern sides looking back on to the Old Man.
From a photography point of view, conditions can be treacherous. The wind rarely lets up over here so you would need a sturdy tripod (and preferably light one because of the hike). Even so, it is recommended to shoot quick exposures. I tried to shoot some long exposures and failed miserably because the wind was quite intense. It can be dangerous too, so stay away from any ledges. Rocks have been known to come loose and fall down from the rocky outcrop so always pay attention while out here.
It is a great morning spot if the weather holds up as you can get nice side lighting on the Old Man. The summers can bring ticks in the highlands so Fall can be a good time to photograph it. I have seen some spectacular winter shots here but have never managed to go there myself at that time.
Photography Tips
Pack light as the hike is steep. The surface is also irregular and rocky, and the muddy outcrops can get slippery after rains. The weather is quite temperamental here. It reminds me of the weather in Vik, Iceland. Heavy gusting winds and pounding rain is quite normal. And I kid you not, the winds could unsettle a light vehicle if it sits on loose ground. A wide lens is recommended and by wide, I mean something wider than a 24mm. As I mentioned, the structures are deceptively large and from a decent vantage point, I had to use a 16mm to capture it completely.
Carrying a rain jacket and water/ wind proof clothing is quite recommended since the weather can change any moment.