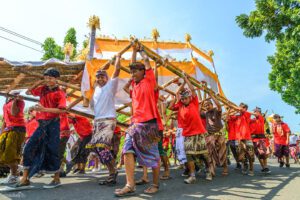 Photo Spot Summary
Country: Indonesia
Category: Other
GPS Latitude: -8.304483
GPS Longitude: 115.196045
Directions
Ngaben ceremony can be found in every place in Bali. There is lack of public transportation in Bali, but we can rent car or motorcycle from central city (with the driver - if needed).
Photo Spot Details
Ngaben is a Balinese funeral ceremony. For Hindunese people, there is caste system. Higher someone's caste means the Ngaben ceremony is more luxurious. But the luxurious Ngaben ceremony can not be found any time. The ceremony is not held right after someone passed away, because they have to set the best date based on their culture. Nowadays, Ngaben ceremony is held en masse to reduce cost.
Wide or tele lens can be used to captured good moments at Ngaben ceremony.
Travel Tips
This ceremony is spread all around Bali. Ask the local people if there is a Ngaben ceremony around. They are welcome for foreigners as long as you keep polite at the ceremony.