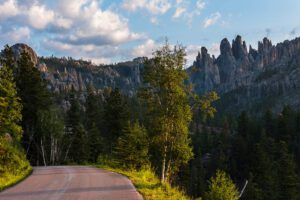 Photo Spot Summary
Country: United States
Category: Wildlife
State: South Dakota
City: Custer
GPS Latitude: 43.726604
GPS Longitude: -103.492699
Directions
From Custer, South Dakota, take US-16SA, 8 miles east to SD-87. Take SD-87 North along Needles Highway. Its about 14 miles scenic byway drive.
Photo Spot Details
If you happen to be in Black Hills or Mount Rushmore you cannot miss this scenic highway filled with wildlife and scenic mountains. Best time to get here is early morning and you'll be by yourself the entire stretch and wildlife to see. The road goes through needle eye tunnel where only one car can pass at a time. Since we were there around 5:15 AM on a summer day the tunnel belonged to only us and mountain goats.
Things you need in terms of gear is decent telephoto to wide angle zoom to cover the landscape and wildlife around here. The cover photo was shot during sunrise hitting peaks and the other photo was at the Needle Eye Tunnel with Mountain goat and Kid. If you happen to go after 8 AM drive safe as the drive is mostly bumper to bumper on busy weekends.