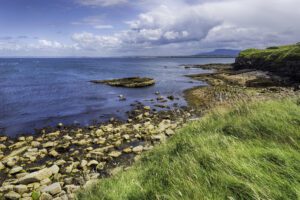 Photo Spot Summary
Country: Ireland
Category: Landscape
City: Mullaghmore
GPS Latitude: 54.465546
GPS Longitude: -8.449455
Directions
Northwest Ireland, county Sligo, Sligo town as a starting point. Travelling on N15 road through Drumcliff, Grange up to Cliffony village. Take left turn onto R279 road heading to Mullaghmore location. Classiebawnie castle as a starting point of the loop view drive along the coast up to Mullaghmore Pier head (basically a boat dock location).
Photo Spot Details
Ireland has many tourist attractions along the Atlantic coastline known as cliffs, the ones of Moher the most notorious to be named. Since I'm based in county Leitrim I can rather access the northwest ocean shore areas of county Sligo, Mayo or Donegal. The Mullaghmore head certainly belongs to one of those spots well known to locals, with the Classiebawnie castle (unfortunately not accessible for visitors) as one of the areas man-made landscape icons. The quite remarkable coastline has much to offer despite it's relatively short distance. Climbing down these cliffs isn't recommended (safety first), but still it isn't too difficult to get down to rich sandstone formations variable in appearance. Several parking spots are available along the road if one wants to watch ocean's tidal works.
I haven't chosen the exactly best time of the day, picture was taken in the afternoon. Season on the other hand is quite ideal, summertime offering long enough daylight. The weather appeared changeable enough as relatively typical for the Irish climate. Perhaps the best time would've been at dawn or dusk, sunrise or sunset situations always look most interesting with colours to be expected. In total I've spent up to 5 hours exploring the local coastline, "climbing" down and back up several times was nothing unusual for on that day.
My basic set-up was as follows:
Camera: Nikon D750
Lens: Tamron SP 15-30mm f/2.8 Di VC USD
Tripod: SIRUI T-1205 Tripod with G-10 ball head
Camera settings: ISO 100 in Aperture priority mode at F/10 and 1/80 of sec on widest 15mm. The final picture is basically a panorama stitched from 4 landscape shots in vertical direction, hence the nearly square final pic result. Software used Adobe Photoshop CC 2015 in combination with Nik software and Topaz labs plugins (both global and several local adjustments).