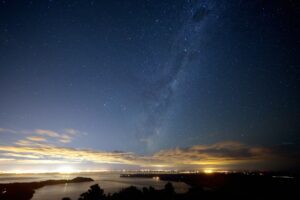 Photo Spot Summary
Country: New Zealand
Category: Astro
City: Auckland
GPS Latitude: -37.015682
GPS Longitude: 174.539932
Directions
High on top of Mt Donald McLean is the high spot that you find above Little Huia. This is a winding gravel road to the parking area and about 20min walk to the top. Well worth the trip and climb for the majestic views.
Photo Spot Details
High on top of Mt Donald McLean is the high spot that you come to once you park and walk up to the top. I walked this in the dark by torch light and spent the night with the night birds all about. During the day the view is from two platforms this one over looking Auckland East ward and the other Looking West ward to the coast and Whatipu. The walk up is not a hard one but you can very easily take your time the view from the top is a full 360 degrees. You are afforded a big view of the West Auckland parks and a great view looking South as well.
This place you could not even get a bad photo or stunning view i was lucky to get a clear night on my holiday i have often wanted to visit this place at night to try some Astrophotography. Great place for all your lens even macro you also can get lucky with native flowers. On a good day this would be a great place to capture Sunrise and Sunset if you are lucky enough to get a open cloudy sky at those times. Whatipu beach is just a short drive West to add to the benefit . This area is a maze of tracks so keep you busy walking for days.