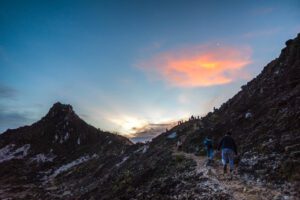 Photo Spot Summary
Country: Indonesia
Category: Landscape
City: Jaranguda
GPS Latitude: 3.238618
GPS Longitude: 98.504730
Directions
Mount Sibayak is one of the most famous and easiest mountain trail in North Sumatra, Indonesia. The summit is pretty easy to reach, especially with a 4-WD car - it could take you midway (final stop for vehicles) to the summit and it takes a 45-minutes fairly easy and enjoyable walk to the top. The nearest town from the mountain is Berastagi (2 hours drive from Medan, capital of North Sumatra), from Berastagi, ask the locals for the road to Mount Sibayak, and it will be straight forward and easy. The trail is fairly easy with clear directions and paths, but if you travel alone, a guide is a must.
Photo Spot Details
Hiking this trail is pretty much a great experience for me, the solitude and serenity of the path is amazing! Although it is pretty cold up there, by walking and taking those photography gears could makes you sweat for sure! There are many spots for grand landscapes and beautiful vistas from the trail to the summit, be it on the jungle, or even from the paved pathways, everything is quite interesting to be captured. Some of the best spots are the jungle trail (with paved road), near the summit, and on the summit.
Things to be considered
Indonesia is a tropical country, it will have a chance of a clear day all-year-long. But for the best possibility, try to travel on the dry season (April – November) since it will be more unlikely raining everyday. A clear day means great visibility and sky/cloud formations.
The trail is best hiked on a clear day, around 3 AM in the morning, to be able to see Milky Way along the road to the summit. And when you reached the summit, a great sunrise will easily welcome you.
Check for national holidays or avoid weekends to be able to shoot a clean view, but some silhouettes of peoples could also do great things to the picture.
Gears used
It is obvious to bring tripod since most of the pictures would be in low light.
Best lenses are fast ultra-wide lenses for the landscapes. Telephoto lenses could be a good (but heavy) companion for shooting mountain ridges lines or some other photos.
Photography Tips
HDR for the sunrise could make a great landscape photo.
Panorama/photo-stitching is also a good option to capture the vast land from the the summit point of view.
Camera settings is pretty much usual for the landscape/sunrise shots, medium aperture openings, base ISO, RAW for better editing, etc.
Wide aperture could be OK to be used for some quick stops when sunrise almost happens, if you don't have the time to set up the tripod (own experience).