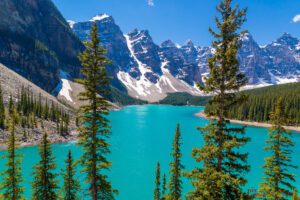 Directions
The best view of Moraine Lake can be taken from the top of the rock pile using the trail around it. Moraine Lake is short 15 minute drive from the nearby Lake Louise and close to 2 hour drive from Calgary International Airport though Highway 1.
Photo Spot Details
Moraine Lake is one of the most photographed lake in the world, it is surrounded by ten peaks mountains and it's waters come from the glaciers. The best time to photograph this is during the golden hour, however, everyone can get a nice shot of the lake all season, spring, summer, fall or winter can give you a variation of scenery, from luscious greens in spring and summer to golden in fall and to white snowy background in winter.
Nearby is another equally enchanting lake called Lake Louise which offers a wonderful scenery, a number of hiking trails from easy to a very challenging but rewarding.
Coordinates: 51° 19′ 21″ N, 116° 11′ 8″ W
I used Nikon D610 with Tamron 24-70mm f/2.8 lens @ 24mm, ISO100, f/4.8, 1/350sec