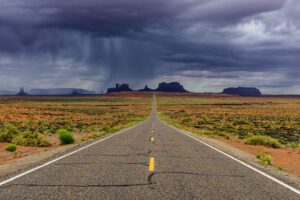 Photo Spot Summary
Country: United States
Category: Landscape
State: Arizona
City: Oljato-Monument Valley
GPS Latitude: 36.991371
GPS Longitude: -110.193871
Directions
Monument Valley is located in the Navajo Indian Tribal Park, which straddles the Arizona-Utah state border. The entrance to the park is from rt. 163 on the very southern edge of Utah, but the park itself resides in Arizona.
Photo Spot Details
There are several 'iconic' locations within the park, many of which you've probably seen in movies and TV commercials. The picture above is the spot in the movie 'Forrest Gump' where he decides that he's tired of running coast-to-coast. Clark Griswold (Chevy Chase), in the movie 'Vacation', jumped the family car off the road in Monument Valley.
There is one hotel in Monument Valley, The View hotel, which is run by the Navajo Nation. It's located adjacent to the Visitor's Center, which you'll encounter when you enter the park. It gets its name from the fact that every room has a spectacular view of the most-recognized part of the Valley – the left and right 'mittens', and Merrick Butte.
There is a single, 15-mile dirt road winding through the valley which you can drive on. You cannot depart from this road without a Navajo guide along. You'll find yourself stopping every few hundred yards to gawk at the scenery and take photos. As you'd expect, sunrise/sunset is the best time to photograph, but you can still get spectacular images just about any time of day. During the summer the temperatures can get quite high, so you might want to visit during a cooler time of year. Most of the time the weather is sunny, but if you encounter rain, you can also get some very memorable shots.
If you sign up for a 'photo tour' with one of the guides (who are located just outside the View's parking lot), they'll take you to spots not open to the general public. They're not the 'iconic' spots everyone takes a picture of, but they're every bit as spectacular, if not more so. My recommendation would be to sign up for a tour ; make sure it's a 'photo' tour, so the guide will take you to the most photogenic places.
As for gear, you'll probably want a wide-angle zoom (16-35mm, or 24-70mm, or so) for the landscapes. A telephoto zoom (70-300mm or so) will be useful for details of the buttes, etc. Since you can't leave the road (or the parking spots along it), zooms, rather than primes, will allow you to frame the shots 'just right'. If you're not shooting too wide, you should use a circular polarizer during the daytime. It will be bright in the desert, so you may be able to get by without a tripod, even at small apertures (e.g. f/16).