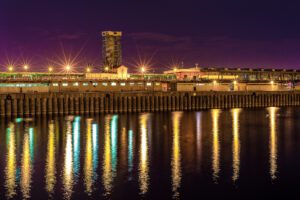 Directions
These images were shot within a few hundred feet of each other on the side of Pointe-du-Moulin Factory in Old town Montreal. Park on the street that runs along the waterfront and closest to the old town shops and restaurants and you will have your pic of shooting locations.
Photo Spot Details
Shooting at night is ideal to capture this area. I took the images at about 10:30 PM. There were people about but not so many to interfere with shooting. The area is quiet, but safe and tripod shooting is not an issue. I set up a tripod, lowered my ISO to 100 on the Nikon D800E…used a Nikon 50mm f/1.8 lens since it was the sharpest I had with me and the field of view was about what I wanted. The exposures were at 30 seconds to try and capture all the details since it was quite dark.
It's an easy area to shoot as you can park close to great shooting locations, pull out the tripod already set up and just add your camera and dial in the settings. You can easily capture multiple views quickly and even drive a few a little more for more angles of the same scenery. There are lots of factories and interesting things to shoot. It is also somewhat easier to park and navigate vs the other side of the waterfront that faces Old Town which offers little parking ops.