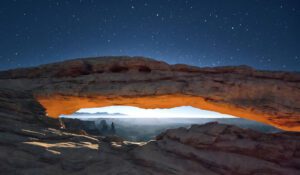 Photo Spot Summary
Country: United States
Category: Landscape
State: Utah
City: Moab
GPS Latitude: 38.388008
GPS Longitude: -109.863556
Directions
One of the most photographed locations in Utah, Mesa Arch is located in the Island in the Sky district of Canyonlands National Park. A few miles past the visitor center, there is a signed parking area with a short (1/4 mile) trail leading to the arch. The arch lights up spectacularly at sunrise. It's about a 45 minute drive from Moab to the arch. Allow an hour for hiking and setting up.
Photo Spot Details
Sunrise is the preferred time, but on a typical day there will be several photographers lined up in front of the arch, making a photograph of the entire arch problematic. However, it is a little known fact that the arch also lights up at moonrise. If you want to try this, plan on arriving a couple of nights after the full moon. Then, a couple of hours after sunset, the moon will rise giving you a solitary light show.
Bring an extreme wide-angle lens because you will be close to the arch. You'll also need a tripod and a remote release for camera stability. Bracket several photos because your light meter probably won't work well for automatic exposures. And don't forget to bring a flashlight.