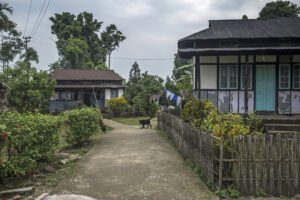 Photo Spot Summary
Country: India
Category: Travel
City: Mawlynnong
GPS Latitude: 25.201763
GPS Longitude: 91.916031
Directions
Mawlynnong is a village in the East Khasi Hills district of the Meghalaya state, India located around 90 kms from Shillong and 92 kms from Cherrapunjee. The nearest airport is Shillong in Meghalaya. India Beacons Sojourn (http://www.indiabeacons.com) arranges transport for its guests from Guwahati, Shillong as well as Cherrapunjee.
Photo Spot Details
Mawlynnong Village has earned the distinction of being one of the cleanest villages in Asia, a fact that every Mawlynnong villager is proud of and other villagers are envy of. The village is quite pretty, especially in the monsoons when there is lush greenery all around, with waterfalls paving the way to small streams and abundance of flowering orchids dangling from the trees and hedges add to the beauty of the village.
The onus to keep the village clean lies with every person residing in the village. Local cleaning the roads, picking up leaves and throwing garbage in the bin is a very common sight. Bamboo garbage bins adorn every nook and corner of the village highlight the consciousness of cleanliness among the villagers. Cleanliness is an age old tradition and a way of life for all villagers.
The village has won accolade for being the cleanest village in Asia in 2003 as well as the Cleanest Village in India in 2005. Suprisingly, the village has hundred percent literacy and most of the villagers are conversant with the English language. The village offers a number of small tea shops, where you can relish a hot of cup of tea with some snacks.
All Photos are taken with the compact Ricoh GR camera.