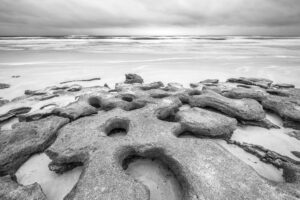 Photo Spot Summary
Country: United States
Category: Waterscape
State: Florida
City: Palm Coast
GPS Latitude: 29.664795
GPS Longitude: -81.210770
Directions
Just south of the Mainland Marina there is a parking lot on the ocean side. The parking lot has a boardwalk that leads to a few paths to the beach. If you go to the southern-most point on the boardwalk, and head out to the beach, you will see a half-mile stretch of the rock formations in the photo.
Photo Spot Details
My family recently vacationed in St. Augustine and one morning I drove along the coast looking for anything to capture. I didn't fine any man-made structures so I stopped at a beach access and noticed these random rock formations all along the beach. The winds were around 25 miles an hour that morning so I didn't keep my gear out for long. I managed to snap this one shot before everything was wet with sea mist.
Best Times & Gear
The sun rises on the east-coast so that would be my recommendation, but I've never see how the sunset lights the rocks, so explore both options. I'm not a Florida native but the day I visited the winds were severe so bring your heaviest tripod and dig the feet in when you find a good composition. The rock formations provide a great foreground subject for wide-angle work, but the details could also provide an endless array of macro shots.