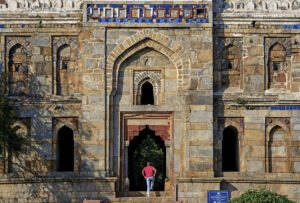 Photo Spot Summary
Country: India
Category: Cityscape
City: New Delhi
GPS Latitude: 28.593096
GPS Longitude: 77.219681
Directions
Lodi Garden in New Delhi, India is situated between Khan Market and Safdarjung's Tomb on Lodhi Road and is a hotspot for morning walks for the Delhiites. it is around 14km from Indira Gandhi International Airport and will take about 24 minutes by Taxi. Also very near to Metro station like Jor Bagh and Khan Market. Lodhi garden is also located beside India International Center which is just 3 kilometers away from Humayun's Tomb.
Photo Spot Details
Spread over 90 acres (360,000 m2),[1] Lodi Garden contains Mohammed Shah's Tomb, Sikander Lodi's Tomb, Sheesh Gumbad and Bara Gumbad, architectural works of the 15th century by Lodis, an Afghan dynasty, that ruled parts of northern India and Punjab and Khyber Pakhtunkhwa province of modern day Pakistan, from 1451 to 1526. The site is now protected by the Archeological Survey of India.
Main features
* A rose garden has been developed on 2 acres land between Gate No. 3 & 4 which has around 5000 rose plants.
* Palm corner has been developed in around 2 acres land which has cycas, fishtail palm, Dak Palm, Erica Palm, China
Palma, Cane, Bottle Palm etc.
* Bamboo Garden : An area has been dedicated to various species of Bamboos.
* Important Tree Species:- Lodhi Garden has an excellent collection of trees. The main tree species include Arjun,
Champa, Neem, Jamun, Semal, Amaltas, Moulshree, Peepal, Bargad, Kachnar, Kusum, Gulmohar, Sheesham, Putranjiva,
Ashok, Shahtoot, Silver oak, Magnolia, Augusta , Karanj, Sirris, Bistendu.
* Lodi Garden provides a very good habitat for birds, which attract large number of migratory birds. There are many
resident birds also.
* A Herbal Garden of medicinal plants has been created in 2007.
* New Tree Species introduced- Sita Ashok, Mahogani, Ritha, Sterculias and Tabebuia avellendi.
Tripod is allowed. Best time to photograph would be early morning during october to April.