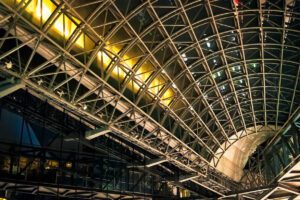 Photo Spot Summary
Country: Japan
Category: Architecture
City: Kyoto
GPS Latitude: 34.985458
GPS Longitude: 135.757751
Directions
Kyoto Station is in southern Kyoto, Shimogyo Ward, and is accessible by most railway and bus systems.
Photo Spot Details
Kyoto's main train station is housed in a huge, open-atrium, futuristic-style building. In addition to the railway station, the structure is also home to a shopping mall, a department store, a movie theatre, government offices, and numerous restaurants. If traveling to or from Kyoto by public transport, you'll likely pass through as the station in served by Japan Railways (including the shinkansen), Kintetsu Railways, Kyoto's subway, and many city and highway busses. One side of the main hall has a large set of stairs which climb to the top of the structure's 15 stories. You can stop at multiple levels on the way up to form all sorts of interesting geometric compositions with the building itself and its exposed steel-beamed roof. The mid-level sky way and rooftop observation deck provide panoramic views of Kyoto and the incoming trains.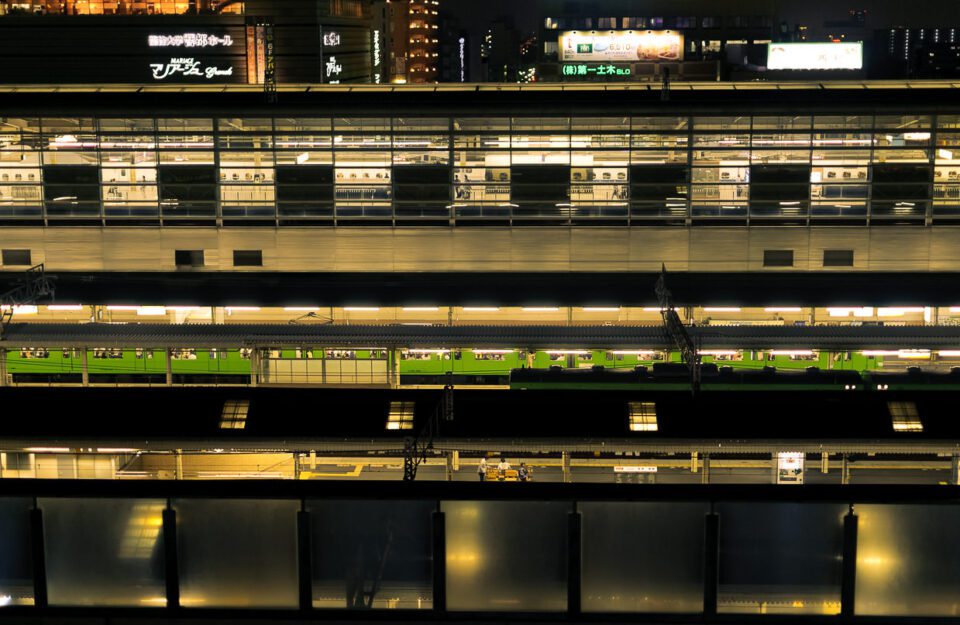 Travel and Gear Tips
The station is open 24 hours a day and admission to the main building is free.
Anything from wide-angle to moderate telephoto work here, depending on your style. Go wide to capture the whole scene; zoom in to abstract detail.
The building itself is a better subject than the city views, mostly because the observation deck is surrounded by glass barriers.
The interior is up-lit at night, making for some really cool nighttime shots. A tripod would be useful.
Don't forget the trains! If you've got a train ticket, arrive early and spend some time shooting on the platform.