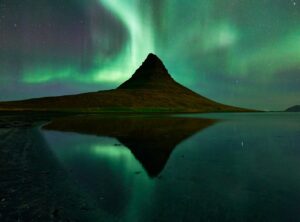 Photo Spot Summary
Country: Iceland
Category: Landscape
GPS Latitude: 64.927361
GPS Longitude: -23.307352
Directions
The famous Kirkjufell is located in the Snaefellsnes peninsula of Iceland. The peninsula itself is about a two and a half hour drive from Reykjavik. The nearest town is Grundarfjordur and Kirkjufell is literally an under 10 minute drive west from Grundarfjordur down Snaefellsnessvegur 54. Parking can be found on both sides of the road at the base of the mountain.
Photo Spot Details
This mountain and the waterfall named after it, the Kirkjufellsfoss are probably among the most photographed locations in Iceland. A quick Icelandic tip would be that Fell stands for mountain and Foss refers to a waterfall. Kirkju means Church so this mountain is popularly referred to as the Church mountain.
There are two main spots that are popular among photographers. The first is by the waterfall on the left side of the road. A short 5 minute hike gets you to a bridge upon crossing which, you happen on the famous view (which I photographed but refuse to show because it looks like every other photograph). It has several interesting cascades at the upper and lower level and both of these can be used to frame interesting views of the mountain in the backdrop. The other spot is on the other side of the main road which has a small lake. This lake can occasionally dry out depending on the tides but when filled, you can get dramatic photographs of Kirkjufell with a symmetric reflection. This location is fantastic for both dawn and dusk photography, but it shines spectacularly in the winter months when the Northern Lights kick off. Again, both of the main spots can be great to photograph the auroras. It is also possible to hike out further from the waterfall to discover some other interesting spots using the same mountain as a backdrop.
Photography Tips
Going extra wide helps. The main waterfall view benefits from a 14-16mm field of view, while northern lights photography always benefits from a wide view so you can capture the maximum sky. The Nikon 14-24mm f/2.8 lens is probably one of the best and versatile lenses for this though the Zeiss 15mm f/1.8 would be a fantastic prime to have.
There are tons of photographers here all year round but there is definitely a lot of space to findf a good vantage spot if you look around.
Scouting a location for Northern Lights photography always helps to pre-visualize a scene as it is very hard to compose a scene at night. The last thing you want to do is to flash your head lamp everywhere and pollute other photographer's shots with your lights.
As I mentioned, pre-focus if possible. On a prime such as the Zeiss 2.8/ 15mm, the infinity hard stop works perfectly but on an auto-focus lens, there is no infinity hard stop so some people pre-focus and lock the focus ring with duct tape.
To shoot the northern lights, start with these settings – maximum aperture (I assume f/2.8), ISO 1600 and an exposure of about 15 seconds. Adjust as necessary from here on.