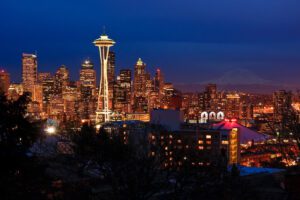 Photo Spot Summary
Country: United States
Category: Cityscape
State: Washington
City: Seattle
GPS Latitude: 47.629547
GPS Longitude: -122.360138
Directions
Kerry Park is located on Queen Anne Hill at the corner of 2nd Avenue W and W Highland Drive. By bus: Take the 2 or 13 from downtown and get off at Highland Drive/Queen Anne Ave N stop. The park is just a few blocks to the West.
Photo Spot Details
No trip to Seattle would be complete without bringing home that one, iconic postcard shot of the city skyline with the Space Needle in the foreground and Mount Rainier off in the distance. The place to get that shot is Kerry Park.
Travel and Gear Tips
Sunset is the best time to visit, and while there will be a few other photographers there too, the park typically isn't very crowded. That said, if you want to claim a specific spot for your tripod, it's probably best to get there early, especially if "the mountain is out" (see #2).
Clear days with a good view of Mount Rainier are somewhat rare. If you have a clear day, that's when you want to visit.
Bring a tripod. If you don't have a tripod, or forget to bring one, there is a small ledge that you may be able to set a bean bag or something similar on to steady your nighttime shots (but ideally you'll want to be a little higher).
A normal zoom lens (24-70mm) or moderate telephoto (70-200mm) will get that postcard view; a super-wide won't really help.
Photography Tips
Shoot at base ISO when using a tripod and at whatever aperture your lens is the sharpest. An aperture of f/8 is probably perfect.
Take shots all through sunset until the sky turns black to make sure you have the one you want when you get home.
Consider exposure bracketing to pull out more detail when processing.