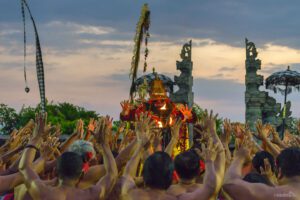 Photo Spot Summary
Country: Indonesia
Category: Other
City: Uluwatu
GPS Latitude: -8.829632
GPS Longitude: 115.085541
Directions
There are many locations for watching Kecak Dance, a Bali traditional dance. One of the best to watch it is in Uluwatu. It will take one and a half hours to reach this place from Denpasar (Bali provincial capital city). There is lack of public transportation in Bali, but we can rent car or motorcycle from central city (with the driver - if needed).
Photo Spot Details
Kecak Dance in Uluwatu is the best because the performance starts at the afternoon until the sunsets. It is also located on the edge of the cliff. It is a great dance performance with the stunning scenery on the background of the stage.
Use fast wide and tele lens, because this dance begins in the afternoon.
Travel Tips
1. Come earlier if you want to explore more of the area.
2. Be careful with the monkeys.